The United States Women's Softball National Team member Monica Abbott is one of the most well-known American athletes in Japan.
Starting with the 2008 Beijing Olympics and last year's Tokyo Olympics, she played an active role as a core player in the United States lineup of strongest pitchers in numerous international competitions and friendly matches.
For Japanese people who have had many opportunities to watch Japan national team games, she presents a strong impression of just what a wonderful pitcher she is, someone who is able to maximize her height to zip down fastballs to keep the Japanese national team in check.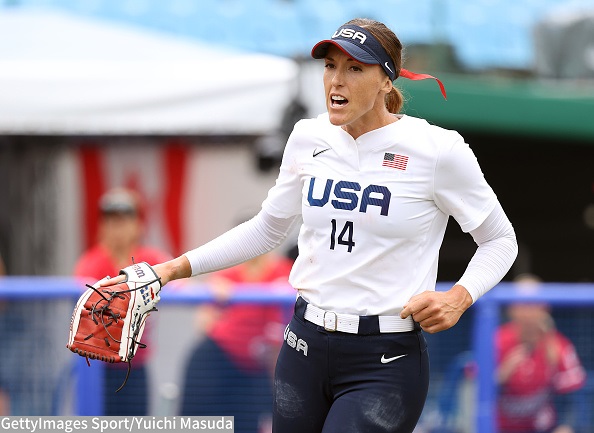 Did you know that Abbott, one of the world's most famous players on the U.S. national team, actually played for the Toyota Red Terriers in the Japanese women's softball league for 14 years since the year after the 2008 Beijing Olympics?
In 2010, in her second season with Toyota, she achieved a record of 14 wins and 0 losses in the season and a perfect game in the final tournament, and it is no exaggeration to say that she has made the greatest single contribution to shaping Toyota into a victorious winning machine.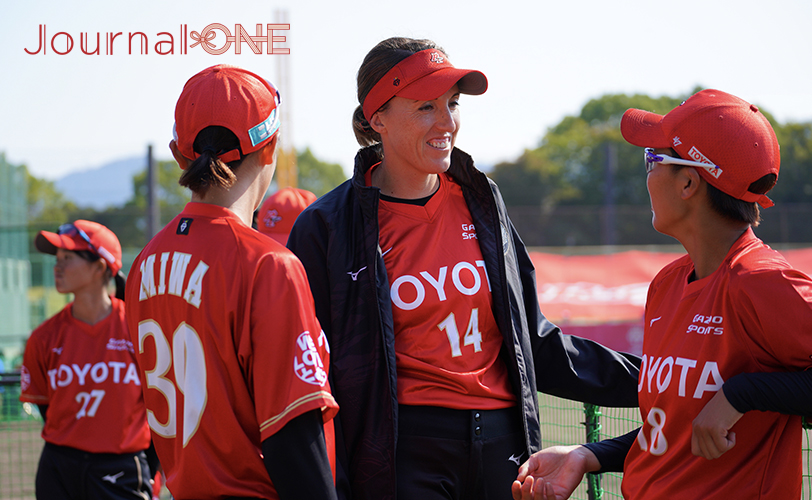 This season, the first year of the JD.LEAGUE, Toyota has already won the West Division championship.
Abbott has announced her retirement in Japan at the end of this season, as she attempts to become the first Queen of the Diamond Series, which will be held in Chiba City from November 12.
A host of fans gathered, packing the Toyohashi Municipal Stadium to watch the final game of the league (matchday 15) held in Toyohashi City, Aichi Prefecture, which is close to Toyota City, Aichi Prefecture, to support Abbott in her last appearance on the pitch, and her retirement ceremony close to the team's hometown.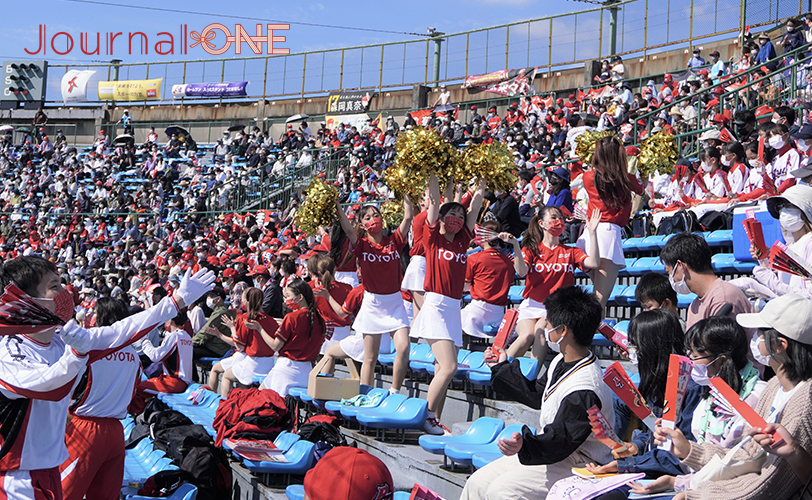 Journal-ONE reported on the impressive final pitch and retirement ceremony with Saki Yamazaki, a former Toyota Red Terriers member and Tokyo Olympic softball gold medalist.
In addition, Saki Yamazaki, who spent time with Abbott as a teammate and rival in the Japanese and U.S. national teams, also managed to get an exclusive interview with Abbott!
The report of the exclusive interview will also be distributed. Stay tuned!
Yamazaki, who with Abbott has also represented her country and shares the experience of playing against each other, commented on Abbott as an opponent.
"Monica's greatest characteristic is that she is a riseball pitcher. She is able to take advantage of her long arms and legs to step in and pitch to a distance of about 10 meters (the distance from the pitcher's plate to the home base for ordinary women is 13.11 meters), making her very hard to get a hit from. In addition, she had the stamina to always hit 110-111 km/h, so it was very difficult to overcome. "
"On the other hand, my impression as a 12-year teammate at Toyota was that she had an excellent pitching rhythm, and I was careful not to lose Monica's rhythm while guarding the outfield. "
In addition, Yamazaki, who was a catcher in the first and second years after joining the team, said that she had the opportunity to receive Abbott's pitches during practice, commenting that "Basically, her pitches were mainly fastballs, but she also threw curveballs, drops, riseballs and changeups—every ball is just really great. I had never seen such balls before in terms of speed and sharpness." She spoke nostalgically about her impressions of that time.
Regarding Monica's retirement this time, "Last year, when I (Ms. Yamazaki) reported my retirement, she (Monica) looked very sad and listened to me. So I had a feeling that she might be thinking about retiring. "
Pitched with lots of cheers from local fans
Abbott, who started against Shionogi Rainbow Stokes in the first game, pitched no-hitters until the 4th inning!
In the 5th inning, she was in trouble with two hits, but she shifted into high gear and struck out both of Shionogi's offensive pinch hitters Nakamura and Sato.
Pitcher Abbott stayed on the mound also in the 5th inning.
In the ballpark, the spectators asked, "Is she going to show us a shutout at the last game?" and there were voices expecting excellent pitching in this inning, but then…the figure of Miu Goto was spotted warming up hastily in the bullpen…
And the moment she took the leadoff batter, the atmosphere in Toyohashi Municipal Stadium seemed to freeze.
Manager Sachiko Baba, who played with Abbott to create the Toyota powerhouse, and fought to the death for the gold medal at the Beijing Olympics, slowly headed to the mound.
As if guessing "everything" that was about to happen, the venue was enveloped in silence for a moment, with everyone seeming to hold their collective breath as they watched the players gather on the mound.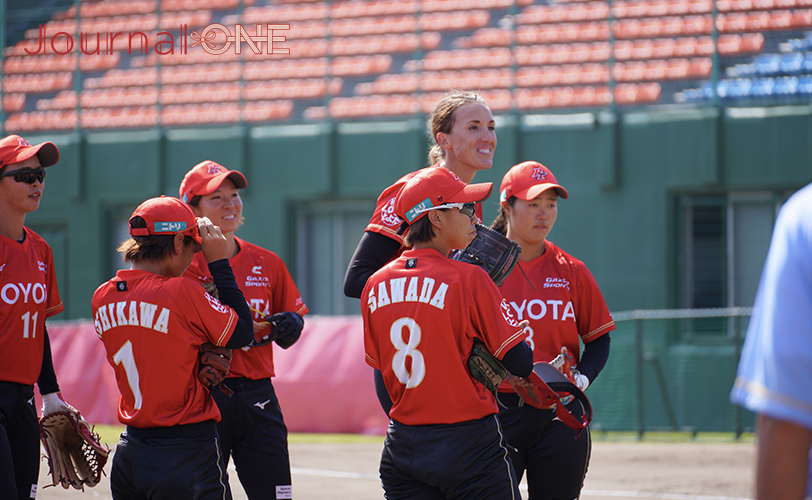 Abbott hugged Kiriishi, the catcher. Everyone at Toyohashi Municipal Stadium realized that the time had come.
Starting with Baba, Abbott hugged each player.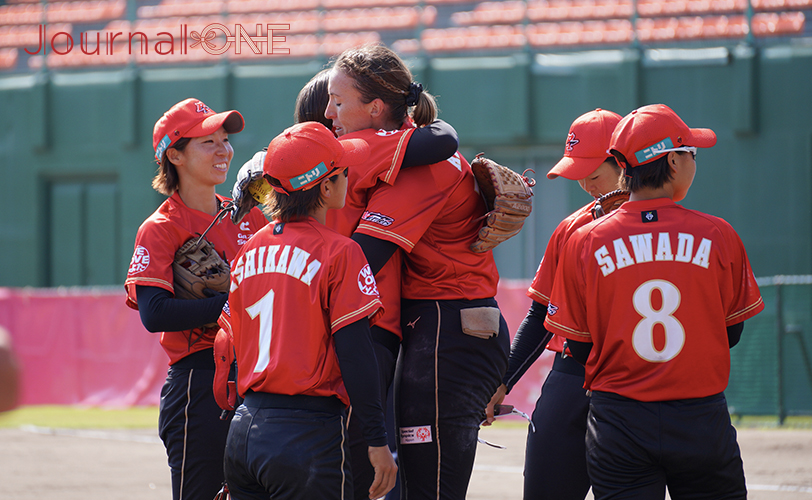 The spectacle of everyone clapping without saying a word created a truly solemn atmosphere, and the stadium is enveloped in the utmost gratitude honoring a great player who was active in Japan for 14 years.
After leaving the mound, Abbott passed the ball to Goto, giving her a hug. It was symbolic of the passing of the baton to the next generation ace.
I felt that everyone was fulfilling a duty as an eyewitness who was present at that moment by simply sending thunderous applause without anyone cheering, other than for the announcement of the player substitution.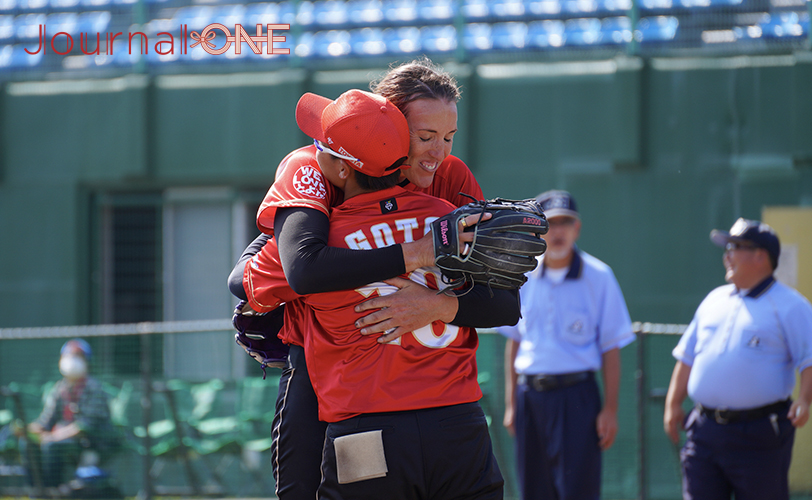 As Pitcher Abbott said after the game, "I got goosebumps," I think everyone who was there shared that moment with similar sorts of feelings.
"I apologized to Shionogi for stopping the match. "After expressing her apologies to her opponent, she said, "I wanted to reward the ace who has been making a spectacular showing for many years. Although it became a kind of ritual in which Monica entrusted Goto with the ace, I hope I could convey our gratitude to Monica, even just a little…" Manager Baba said.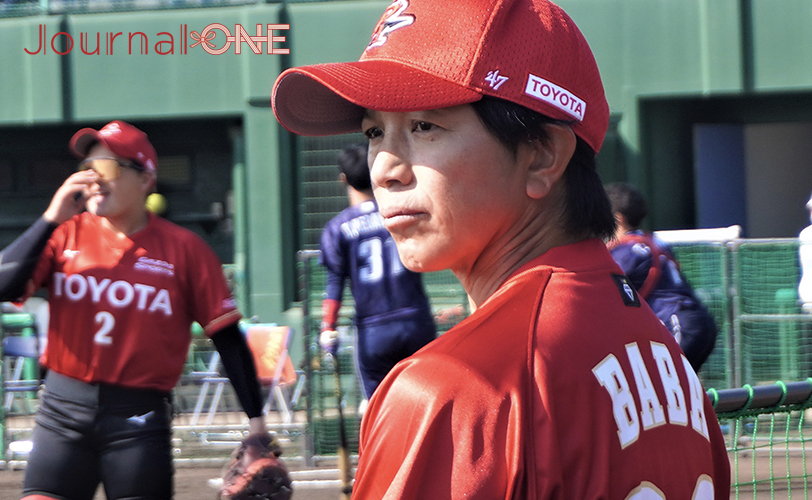 Interpreter Miyako Jimbo, who also showed her emotions during the ceremony that took place immediately after the game, said "Monica was worried about how she could draw a line on her athletics career in Japan this year. She could have retired last year… but she felt gratitude for the support she received from so many people in Japan. "As a staff member who supported Abbott on her side, she commend her for her outstanding personality.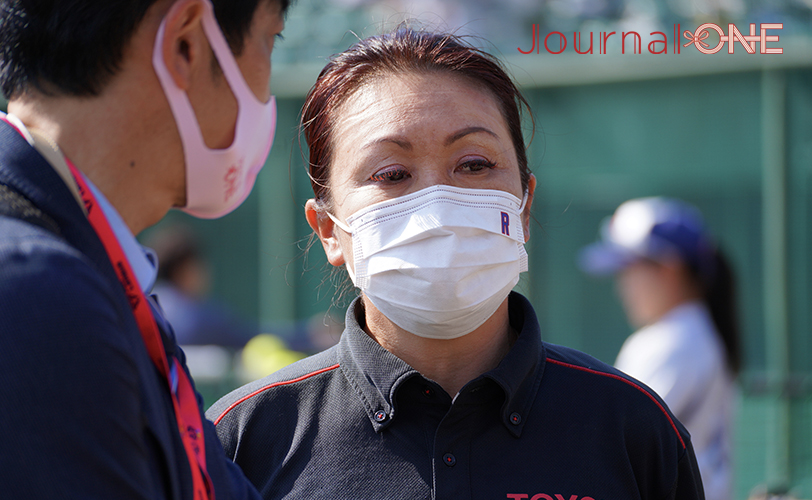 Akane Nakanishi, the manager of Tokai Rika Cherry Blossoms who worked with her as Toyota's manager until last year, said, "She worked hard to make Toyota stronger, and I had a really happy time. Also, thanks to Monica's presence, the level of softball in Japan has risen and we have been able to develop to where we are today. I can only thank her for all the wonderful service she has performed. "She allowed us to share her touching hug with Abbott at the ceremony.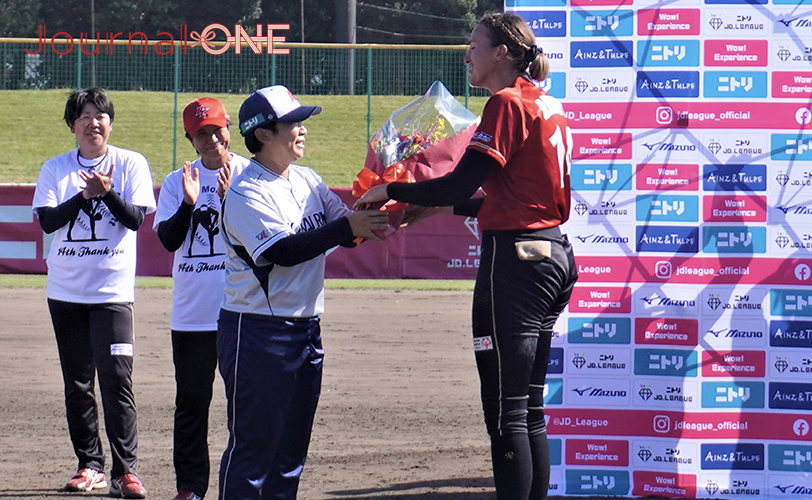 Mitsuru Kawai, an adviser to Toyota Red Terriers, also said, "Amid the company's difficult situation caused by the Lehman shock (Toyota Motor Corporation recorded a deficit of 461 billion yen in the following fiscal year, 2009), I remember how much Abbott's never say die attitude inspired all our employees. "He looked back on the days he spent with Abbott over the course of 14 years with friendly eyes.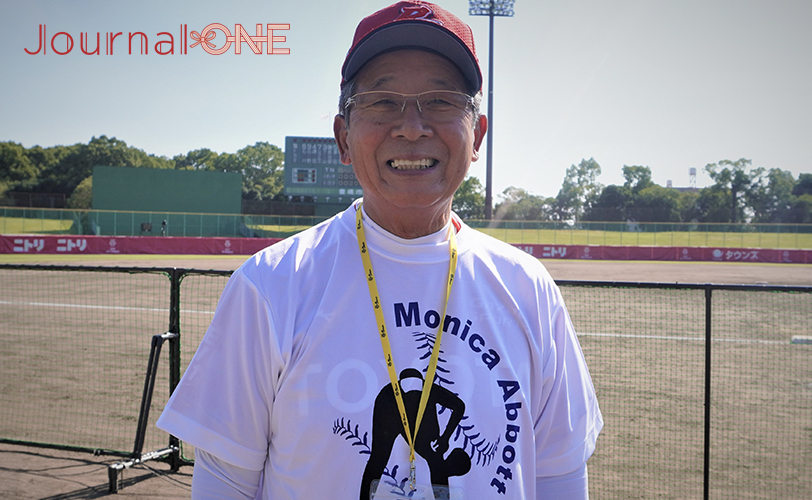 At the ceremony, Abbott said, "After the Beijing Olympics at the age of 22, I had nowhere to go professionally, so I'm really grateful that Toyota approached me. "As she said, it's not too much to say the fateful encounter between Abbott and Toyota made this moment today.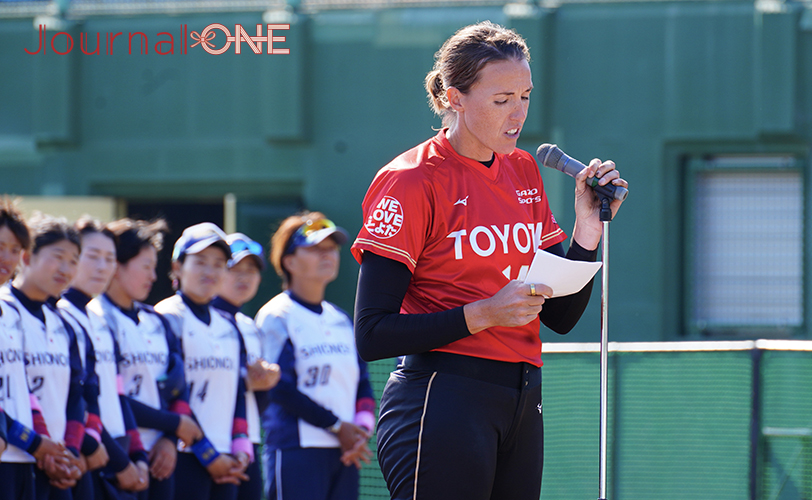 Toyota's teammates surprised Abbott by wearing a unique white T-shirt that they showed off during her comments…then Kazuki Watanabe, who formerly formed a famous battery with Abbott, presented her with a bouquet and gave a tearful hug…
Finally, a commemorative photo session was held with all the players and managers of Shionogi, Tokai Rika and Iyo Bank, and there were a lot of ceremonies that comprised a fitting sendoff for a person who has rendered such distinguished service and who has contributed so much to the world of softball.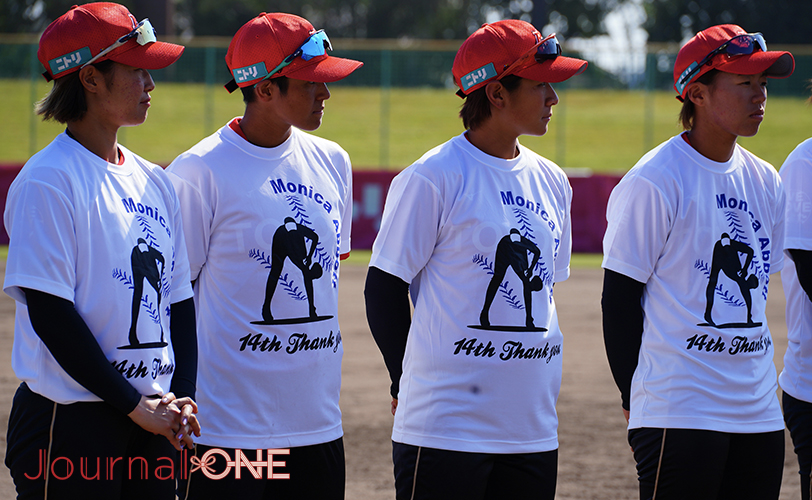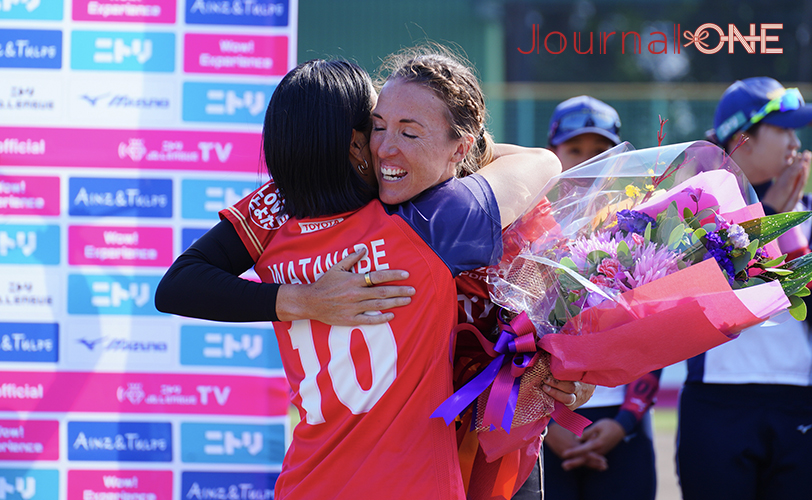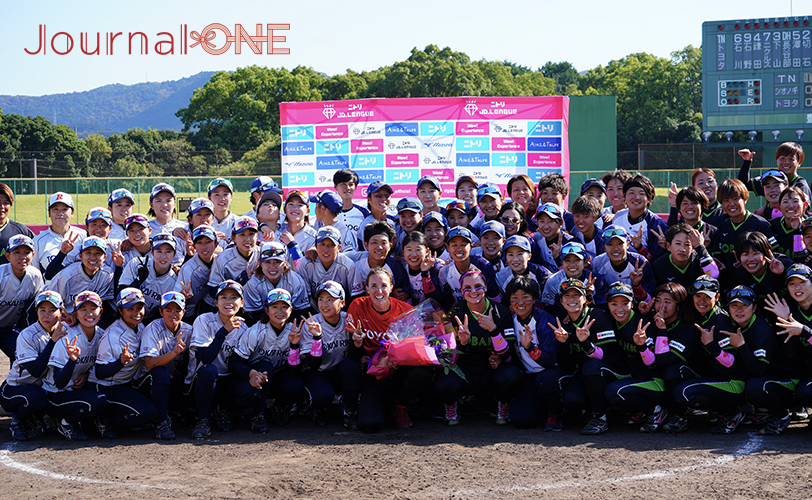 The first season of the JD.LEAGUE wrapped up its entire regular season schedule on Monday, October 24. The Diamond Series, which will finally decide who are the first Queens of Japanese softball, will be held on November 12 and 13, and you can see Abbott's very last pitching appearance in Japan!
Also not to be missed are the play-offs on November 5-6 to challenge the East Division champions, BicCamera Bee Queen, and the West Division champions, Toyota.
The winner of the wild card game between Honda Reverta in fourth place in the East Division and SG HOLDINGS Galaxy Stars in third place in the West Division will play a match against TOYOTA INDUSTRIES CORPORATION Shining VEGA in second place in the West Division, and the winner will challenge Toyota, the West Division champions.
The winner of HITACHI Sundiva in second place and DENSO BRIGHT PEGASUS in third place in the East Division will have a chance to challenge BicCamera. Every game is white-knuckle one-shot deal.
Don't miss the drama at Okazaki Red Diamond Stadium in Okazaki City, Aichi Prefecture!