The headquarter of judo located in the center of a metropolis
Korakuen in Bunkyo-ku, Tokyo is one of the best touring spots famous for the Nippon Professional Baseball (NPB), Tokyo Dome, which is home to the baseball team Yomiuri Giants, and Tokyo Dome City Attractions, known for its roller coaster running through a wall of a building (Thunder Dolphin).
Kodokan, the headquarter of judo stands close to Tokyo Dome City, in Kasuga, Bunkyo-ku, Tokyo. Succeeding the desire of master Jigoro Kano, the founder of judo, it has over 140 years of history after its construction in 1882.
Kodokan consists of two large buildings: the "Kodokan International Judo Center" with 8 floors, and the "Kodokan Main Building" with 7 floors. It is literally the "Mecca of judo" visited not just by Japanese judokas, but also by judokas and tourists who are interested in judo from abroad. Some tourists come to Japan just to visit Kodokan.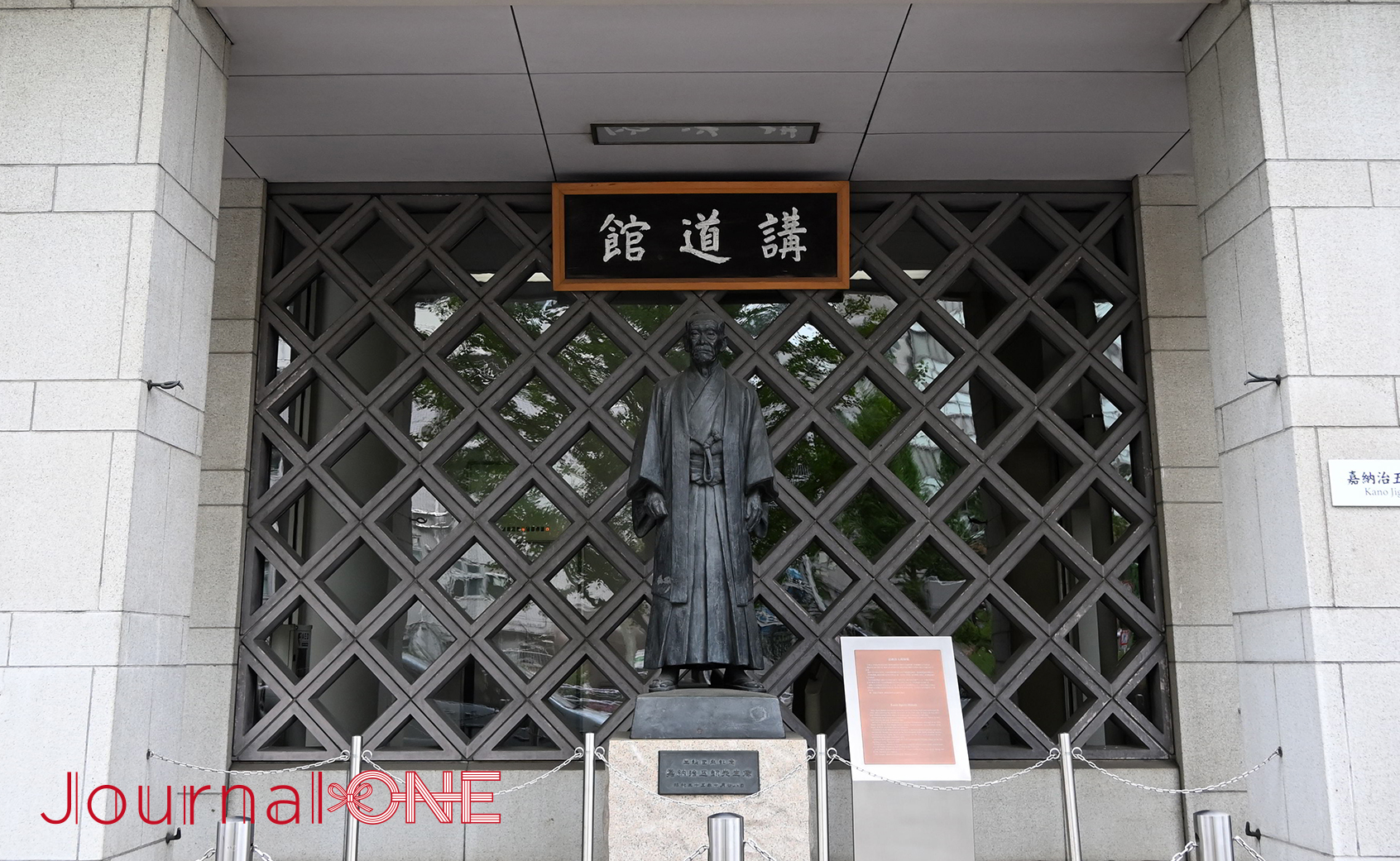 In recent years, all of Japan is enthusiastic of welcoming people from abroad (inbound tourists), however, Kodokan has attracted foreigners long before this movement. So why is this?
Journal-ONE interviewed Haruki Uemura, who is the 5th director of Kodokan, the headquarter of judo popular among people from around the world. He has also become a gold medalist in the Olympic Games. Following the special interview with Director Uemura, we visited various facilities in Kodokan! We'll introduce the very best of Kodokan, the "Mecca of judo" visited by tourists from all around the world.
A bow to the founder of judo, Jigoro Kano
We are here at Kasuga, Bunkyo-ku, surrounded by the hustle and bustle of the city, to visit Kodokan. Standing at the entrance, stillness can be felt, strangely making you forget about the crowd around you.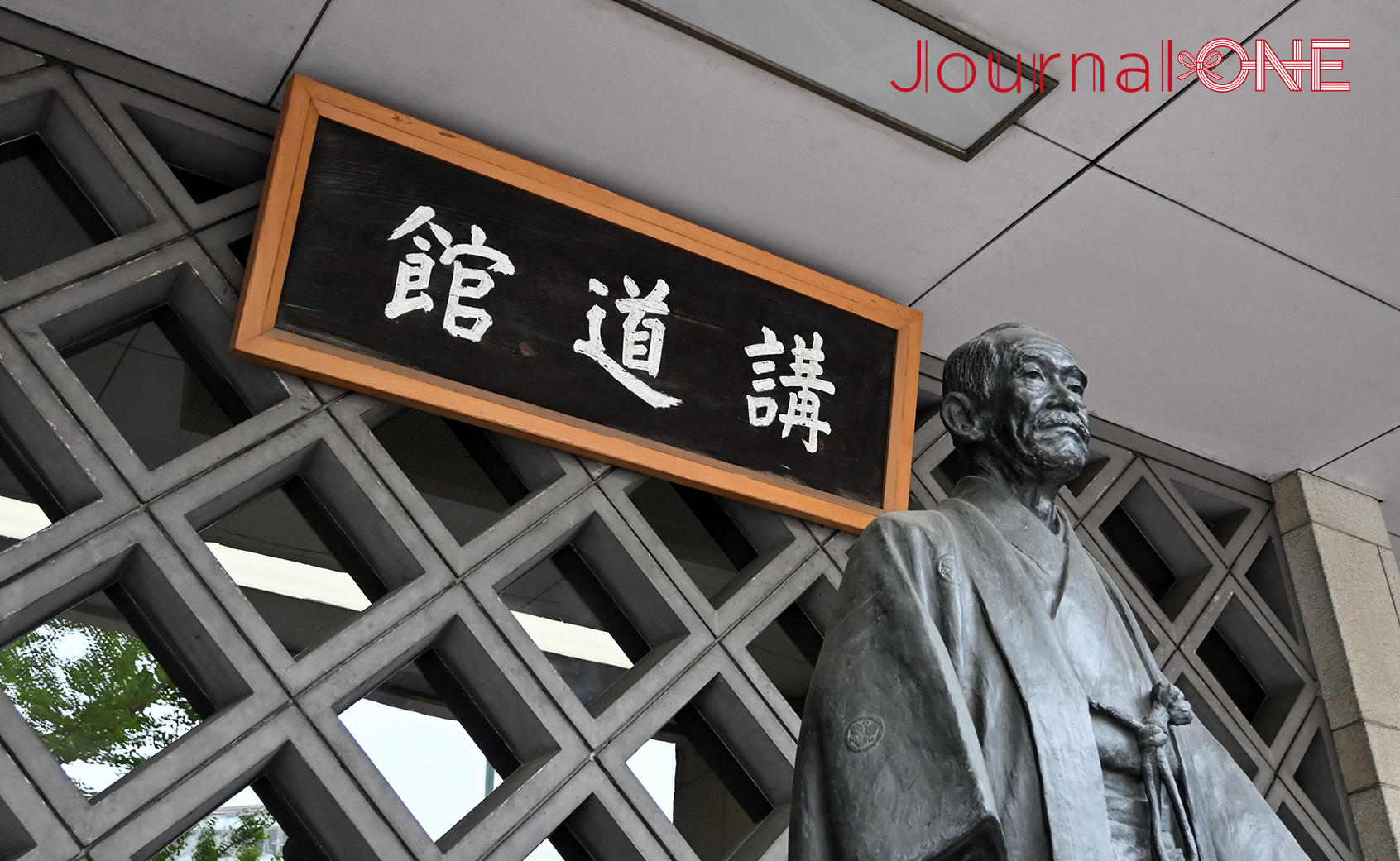 The dignified posture in traditional Japanese clothing is "shizentai". A bronze statue characterized by its eyes looking far beyond, and the kind look on its face welcomes visitors.
"Shizentai" is a basic posture in judo that is most suitable for both attack and defense. The man standing without tightening any parts of the body, with both feet apart at shoulder width, weight distributed equally, and the right foot diagonally forward, is the bronze statue of master Jigoro Kano, the founder of judo.
The statue of Jigoro Kano, which looks as if it is going to move any moment, was made by Fumio Asakura. He was a sculptor who was active during the Meiji and Showa period, and was called "Rodin of Japan". The statue of Kano is a masterpiece by a prominent figure of Japanese modern art who left artworks such as "Keeper of a Cemetery (Hakamori)", which is designated as an Important Cultural Property, and "Shigenobu Okuma statue" located in Waseda University. We bowed to the statue of master Kano and entered the Kodokan International Judo Center (new building).
Learning Judo from valuable documents ~Kodokan Judo Historical Materials Display Room
The 8-floored new building constructed in 1984. First of all, we decided to visit the Judo Historical Materials Display Room on the 2nd floor.
The room with a sign that says "Display Room" is the Materials Display Room. Documents and photographs that show the development of Kodokan are exhibited here.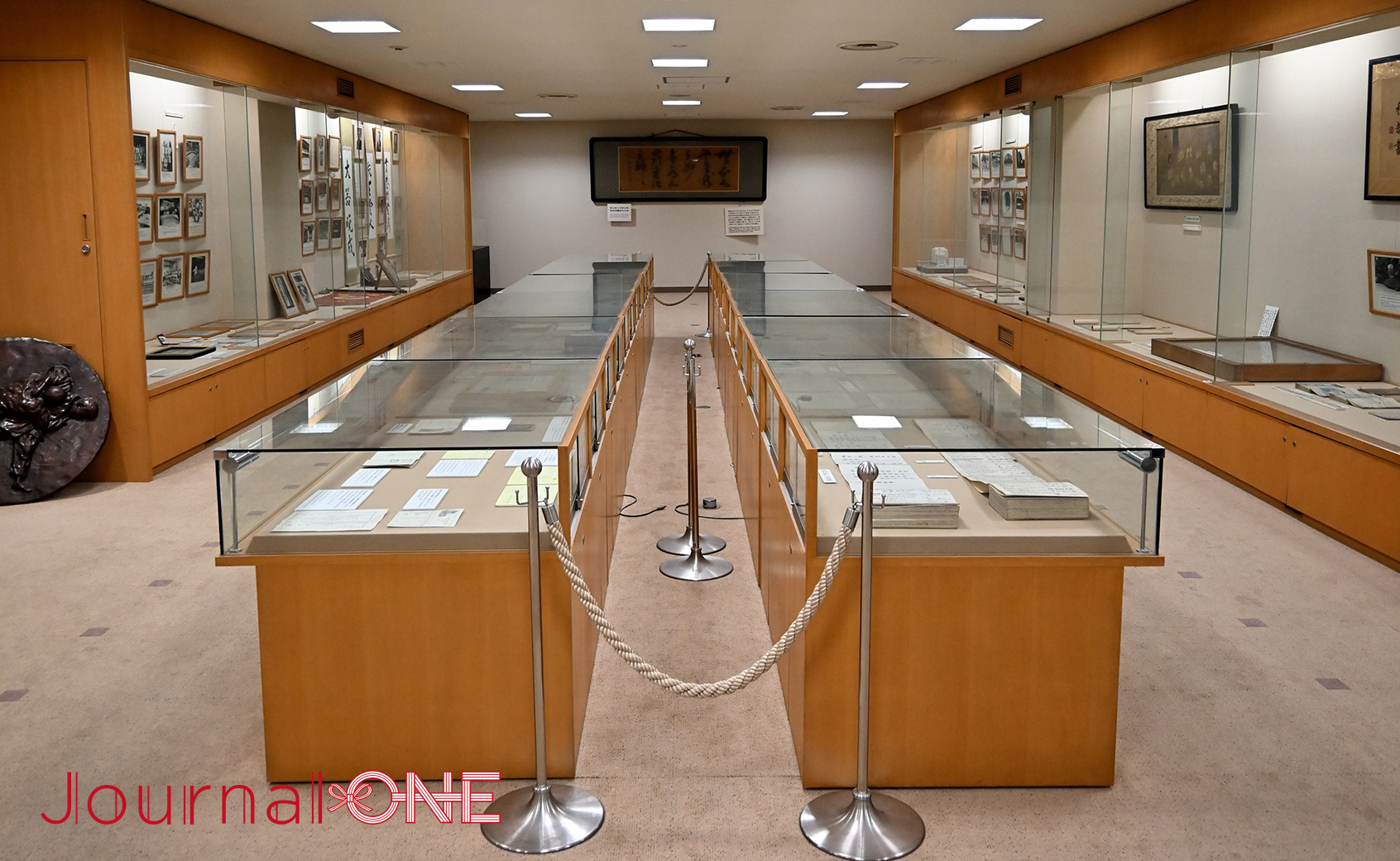 A large writing is the first thing that comes into view when you enter. It says, "With no disturbance in mind, feel the wonder of nature and without intentional actions, pursue the essence of changes". This was written by Kaishu Katsu, a great figure who played an important role in the Meiji Restoration! It is a valuable calligraphy that was brushed and sent as a present by Kaishu Katsu, expressing his appreciation for master Kano's demonstration in the inauguration ceremony of Kodokan Judo Shimotomizaka Dojo in 1907.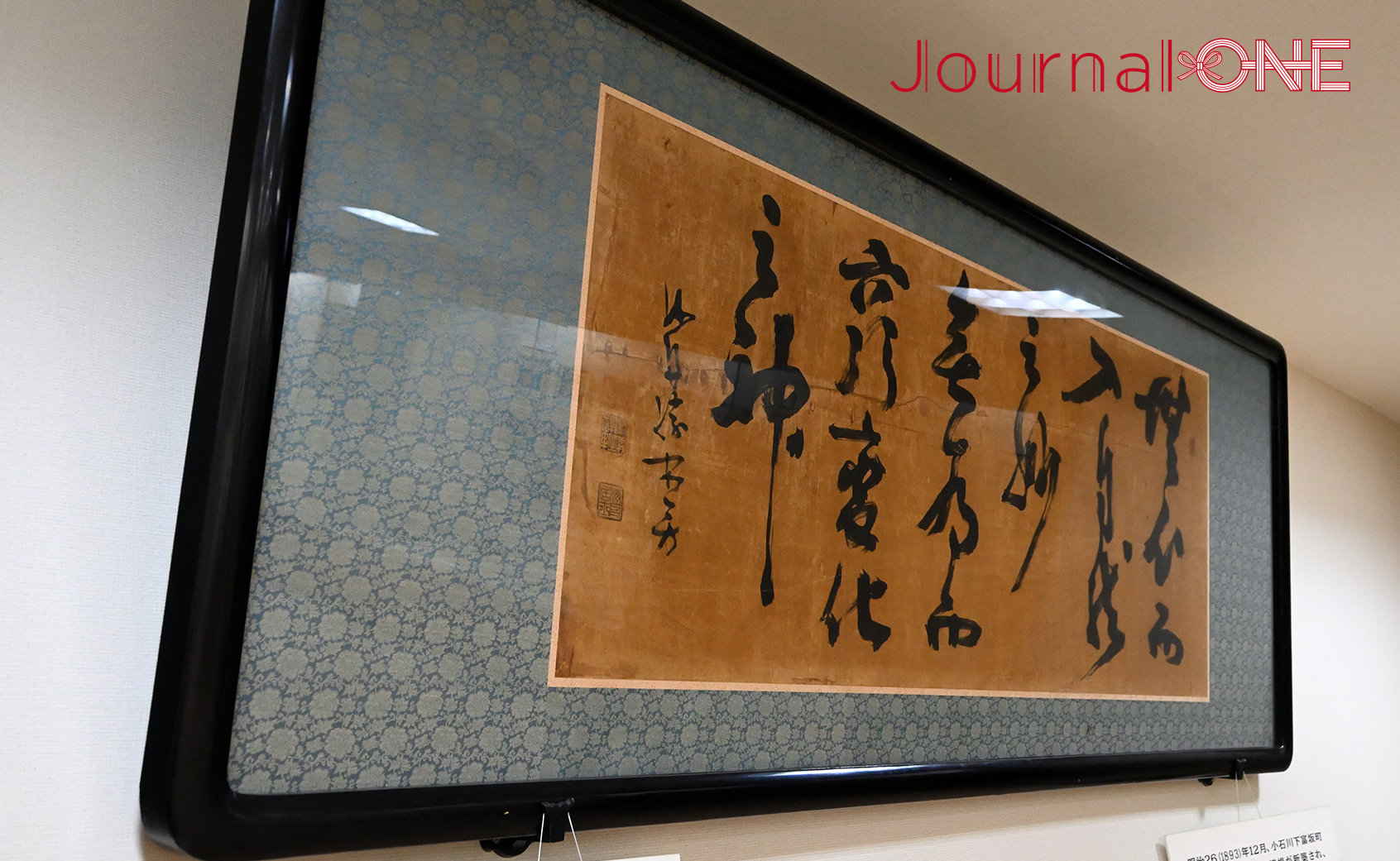 Other exhibitions that show the development of judo can be found, including photographs, documents, and valuable writings. On that day, we met two men who came from USA on vacation, and they were studiously looking at each document and discussing with each other.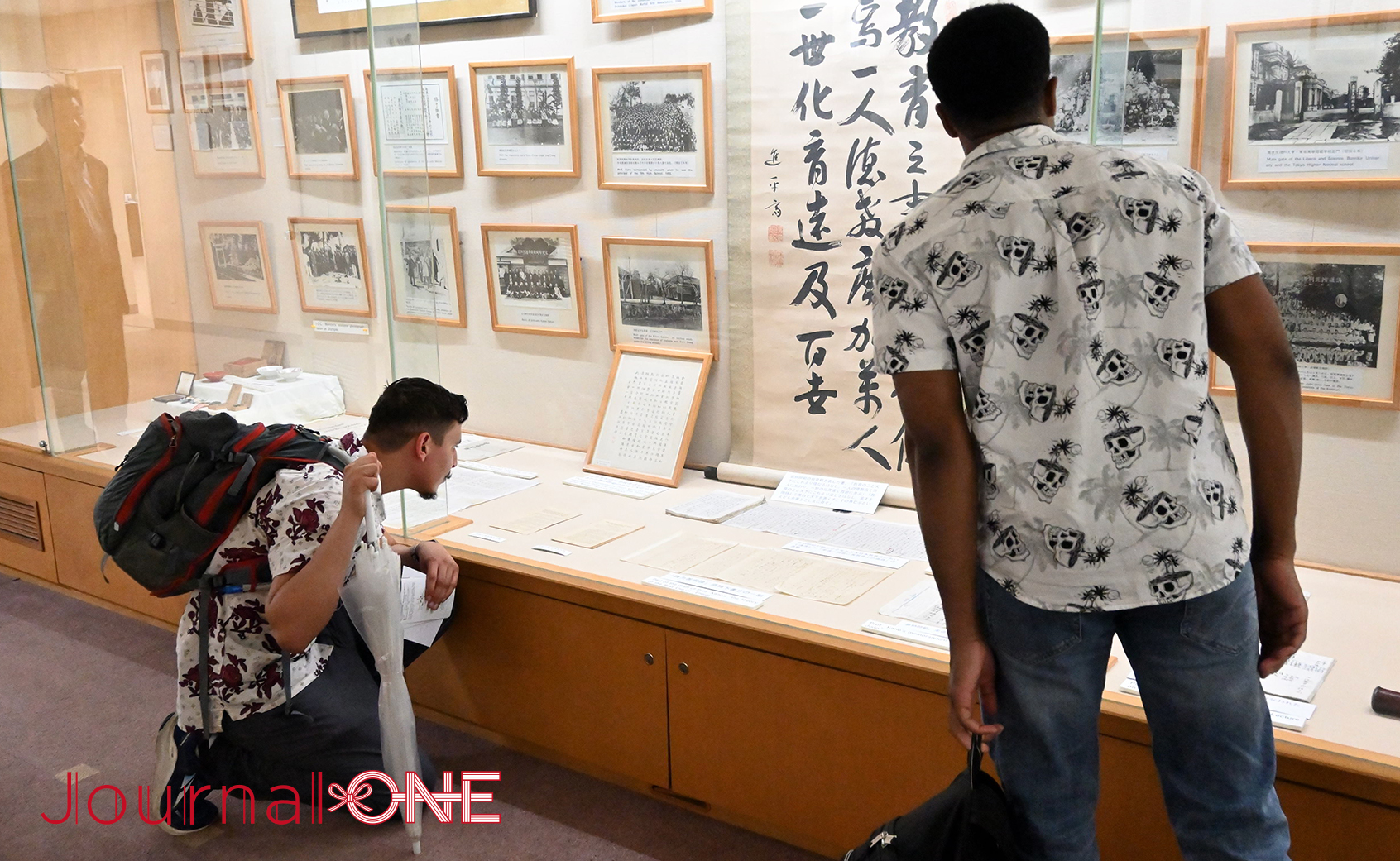 Next to the display room, there is another room. In the room with a sign written, "Instructor Room", there is a collection of materials related to instructor Kano. The exhibition includes calligraphies that show judo's philosophy such as "maximum efficiency (seiryoku zenyo)" and "mutual welfare and benefit (jitakyoei)", documents and photographs related to instructor Kano's accomplishments, and brushes and ink stones that he used to cherish.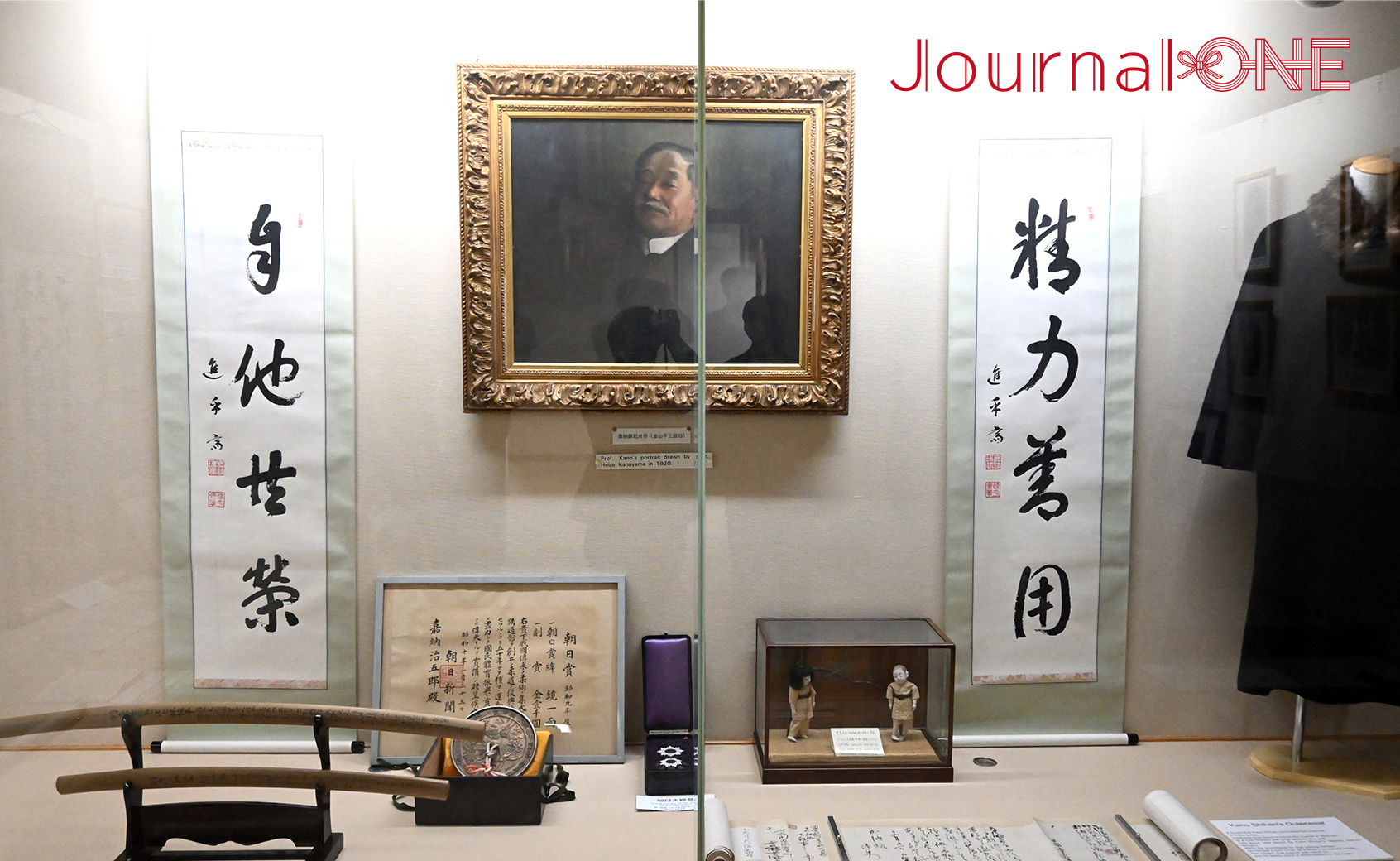 The material that caught my attention the most was a practice wear kept carefully in a case made exclusively for it. Astonishingly, this practice uniform was actually used by instructor Kano!
Looking at the tattered uniform with signs of countless repairs, you can see how much effort instructor Kano put into his judo practice, and how well he took care of his cherished belongings. Also, the exhibition that shows instructor Kano's career as a teacher, and not just a judoka, was something to look at for hours.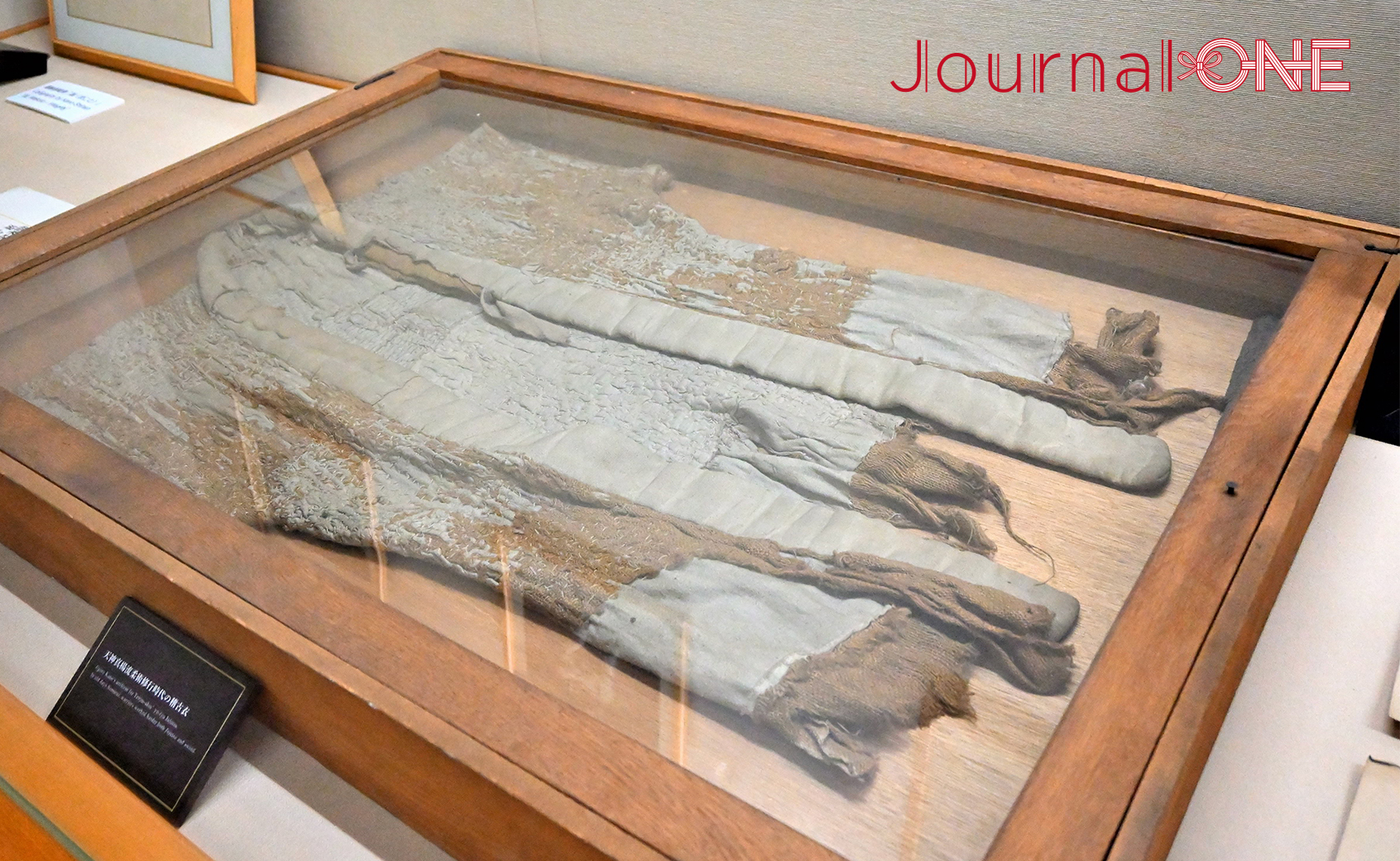 Many might wonder, "how many dan (ranks) are there in judo?" The highest rank in Kodokan judo is 10th dan, and only 15 people have managed to get there.
19 people who played a remarkable role in the founding and development of Kodokan judo, including these 10th dan owners, are introduced in the part with a sign that says "Hall of Judo Luminaries".
The displays include photographs and brief biographies of 6th dan Shiro Saigo, who is said to be the model of the novel "Sugata Sanshiro", 10th dan Yoshitsugu Yamashita, who taught judo to president Roosevelt, and 7th dan Tsunejiro Tomita, who was the first student of Kodokan.
Staying overnight and being immersed in judo 〜hostel
Judokas from overseas or from rural areas of Japan stay for several days to practice, so the lodging is something they look for before anything else. Normally, people would think, "I need to look for hotels or ryokans (Japanese inns) …", but their costs cannot be ignored.
We heard that a hostel, which solves this problem, can be found at Kodokan, and we were given special permission to have a look at it.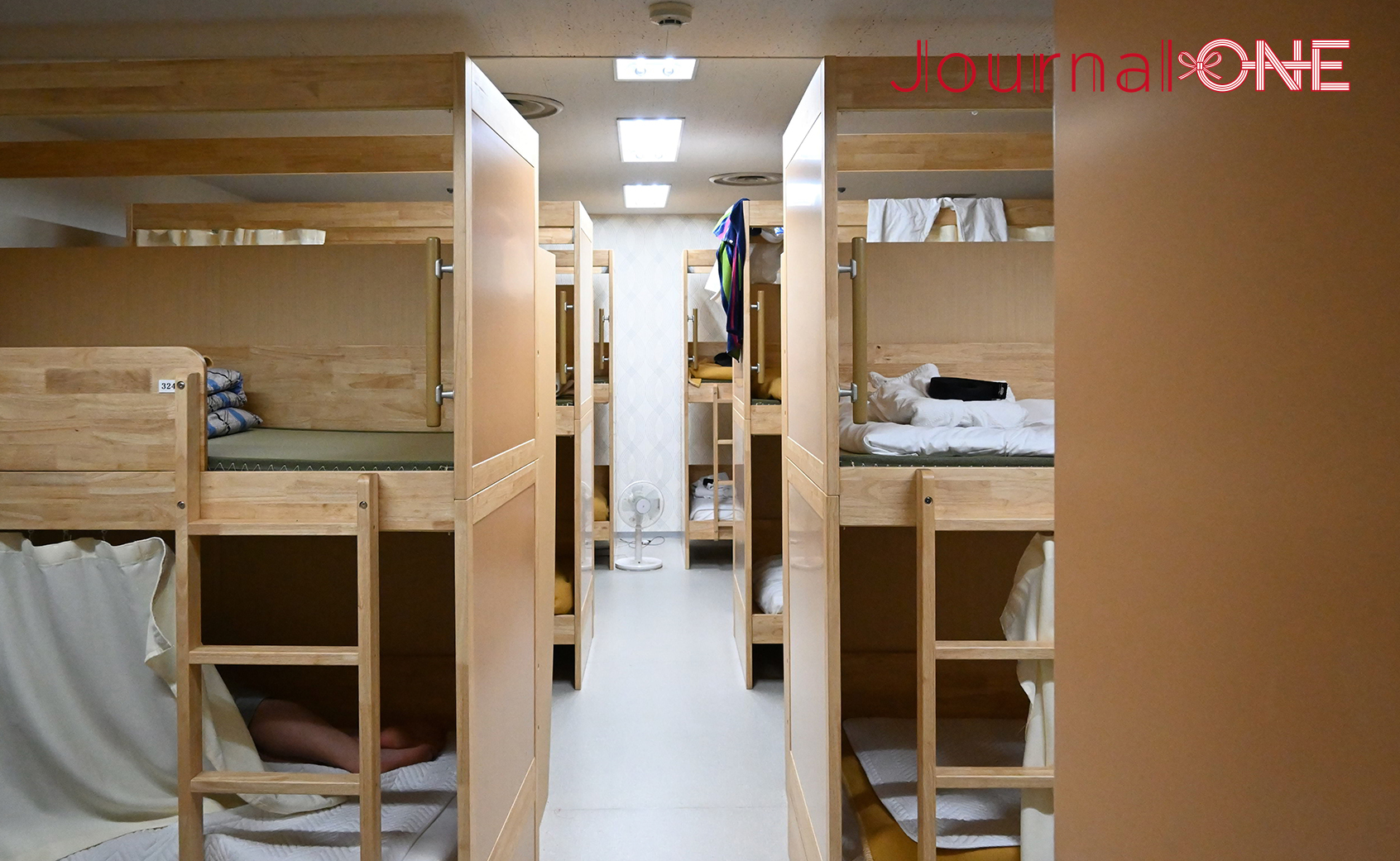 The lodging located on the 3rd floor of the new building is 3,300 yen for a large room for 12 people, and 5,500 yen for a single room. The price is very reasonable, and perfect for judokas staying long term. There are other types of rooms such as a deluxe single room and a deluxe twin room, and its location allows you to head to the practice dojo as soon as you wake up.
※ The prices listed are per person, per night.
On the day we visited the hostel, we managed to interview a judoka from France.
"I stay here every time I practice at Kodokan. It's easy to use at a reasonable price, and it's so comfortable," the man who told us this, to our surprise, had 50 years of experience in judo! "The teachings of judo are the teachings of life itself, respecting others and developing oneself," he said with a nice smile.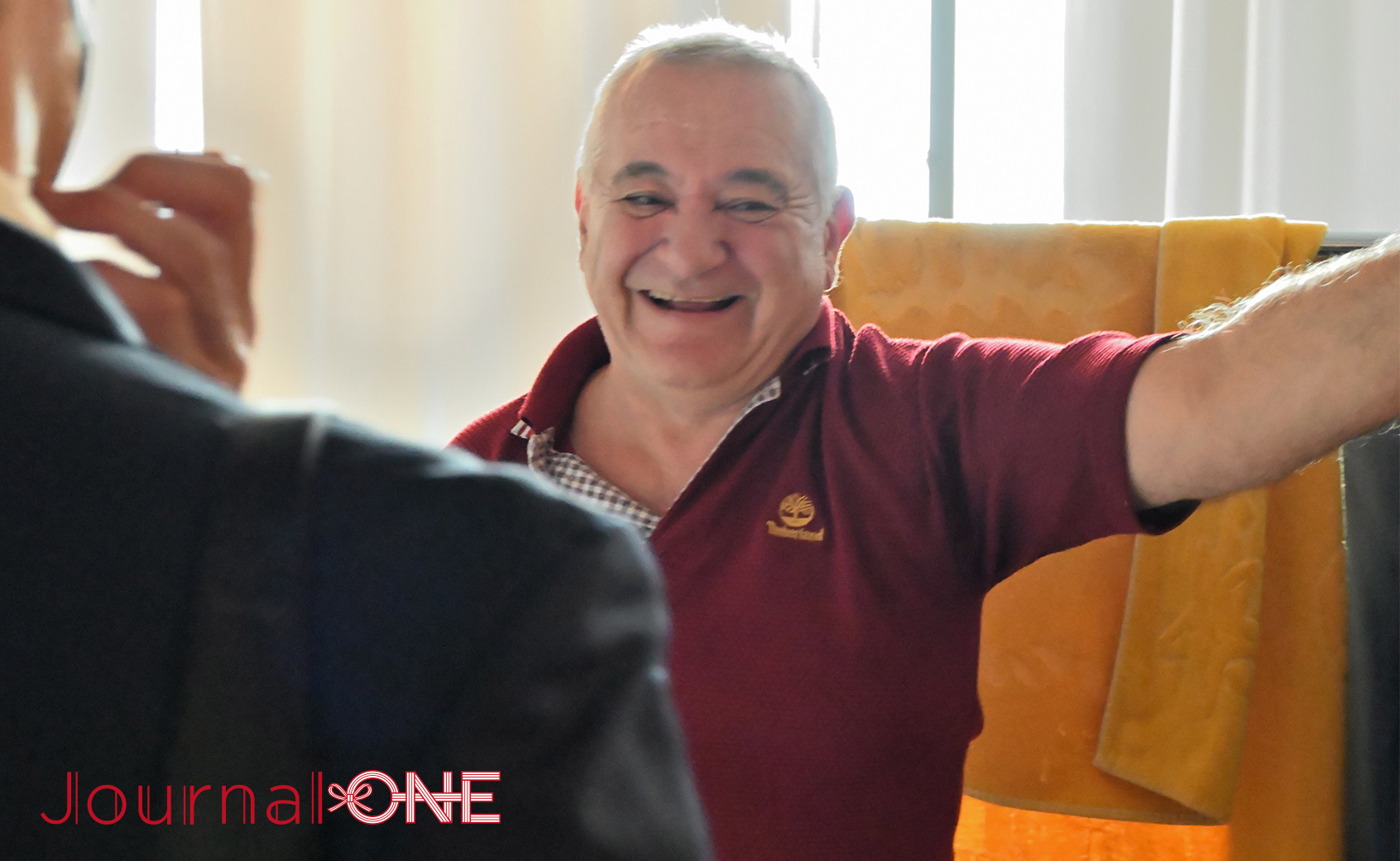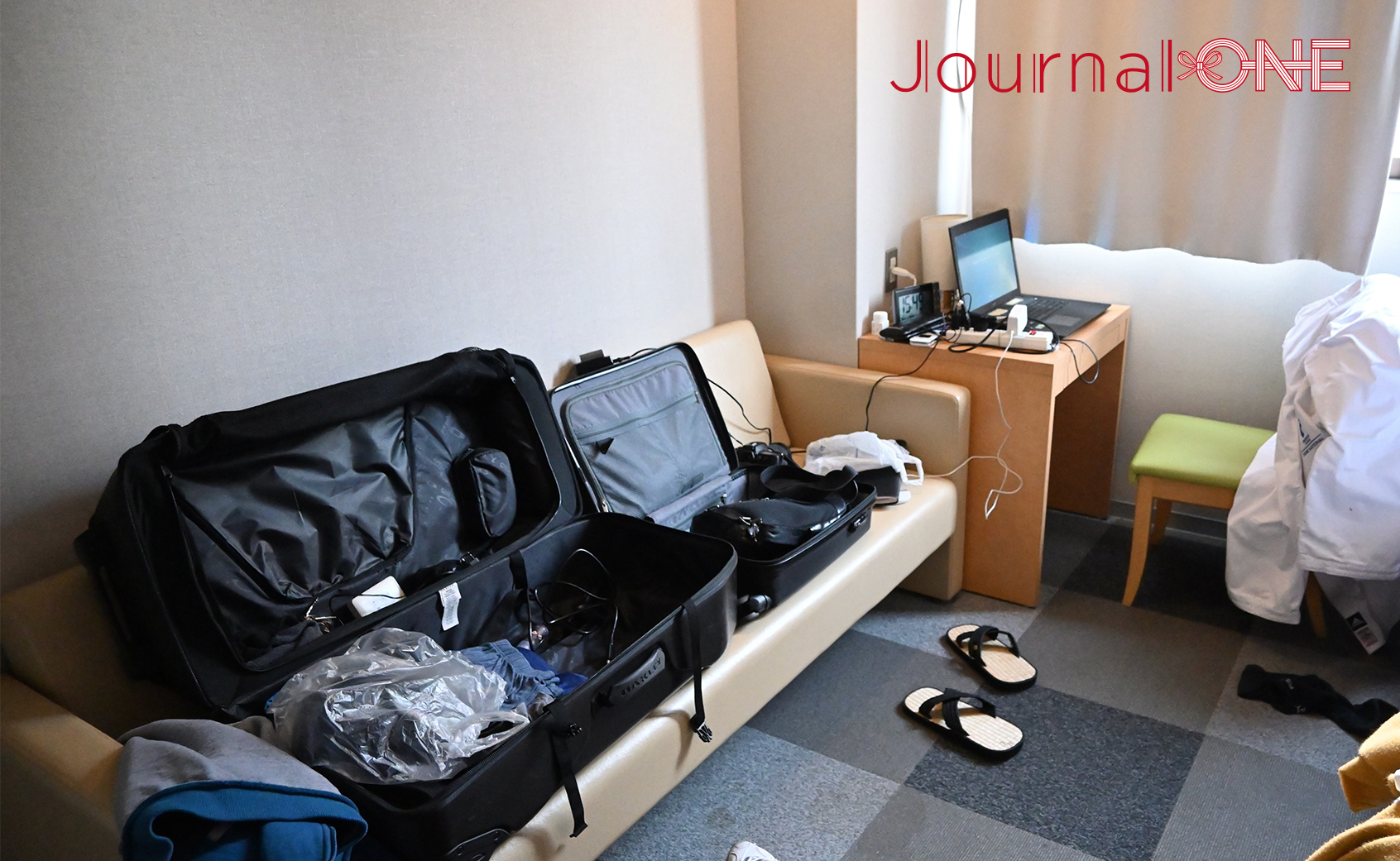 Numerous dojos where all kinds of people can learn
The headquarter of judo, Kodokan, where trainees from different countries gather and practice.
The judokas who come here are not just athletes who participate in international competitions. So how does Kodokan welcome women, children, and people who have never done judo before?
Looking for the answer to this, we went to see the numerous practice dojos on the 5th and 6th floor of the new building.
First, we took a look at the "women's dojo" and the "children's dojo" on the 5th floor. Classes with varying levels, ages and genders are available at the spacious women's dojo that has 240 tatami mats and at the children's dojo that has 114.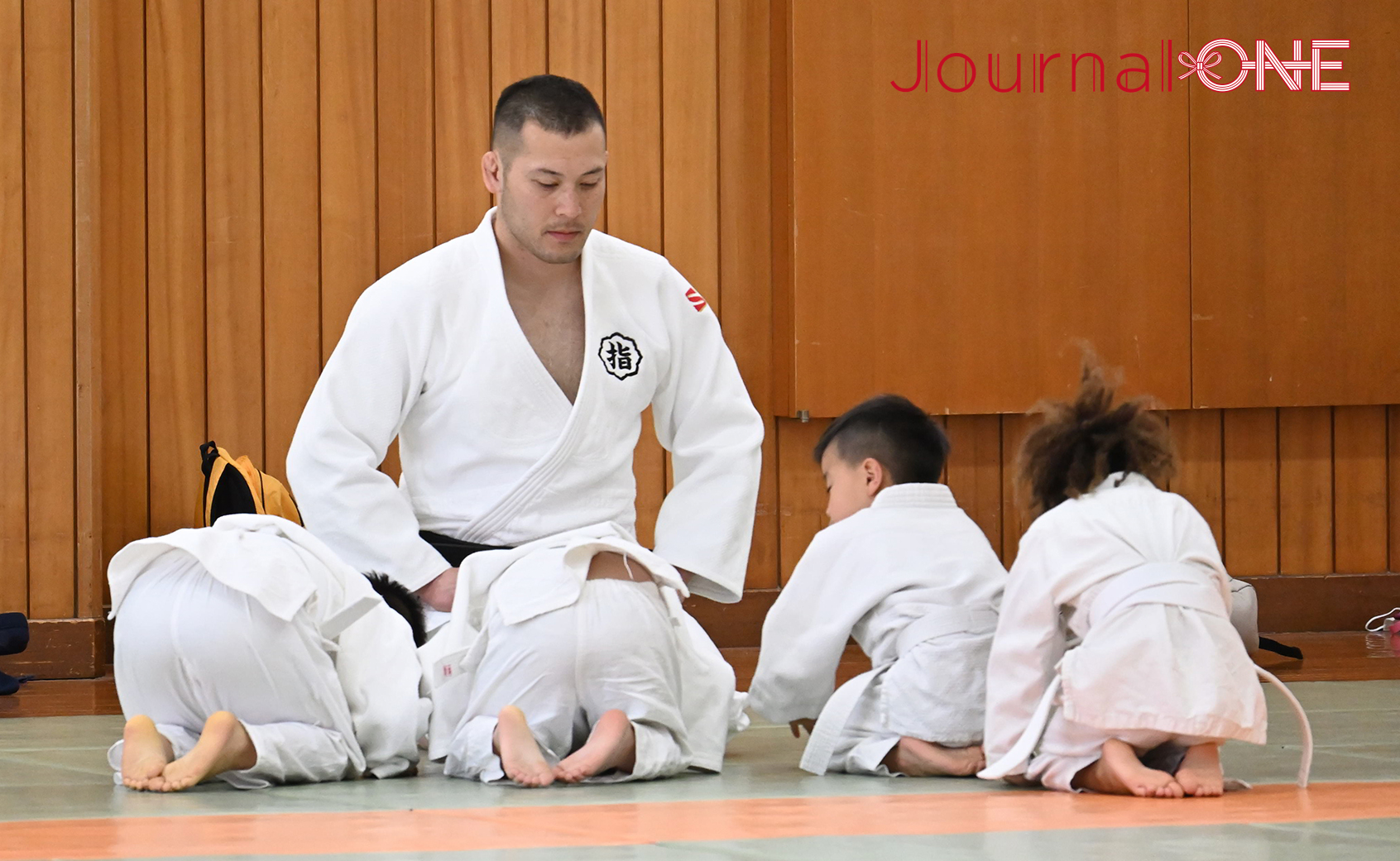 The objective of Kodokan boys and girls' class is the healthy upbringing of children with the principles: "maximum efficiency (seiryoku zenyo)", and "mutual welfare and benefit (jitakyoei)". Its curriculum aims to develop children's healthy body and mind through judo, in addition to techniques and courteous attitude.
The eager looks and happy smiles on the faces of children who practice judo with their instructing teachers is heartwarming.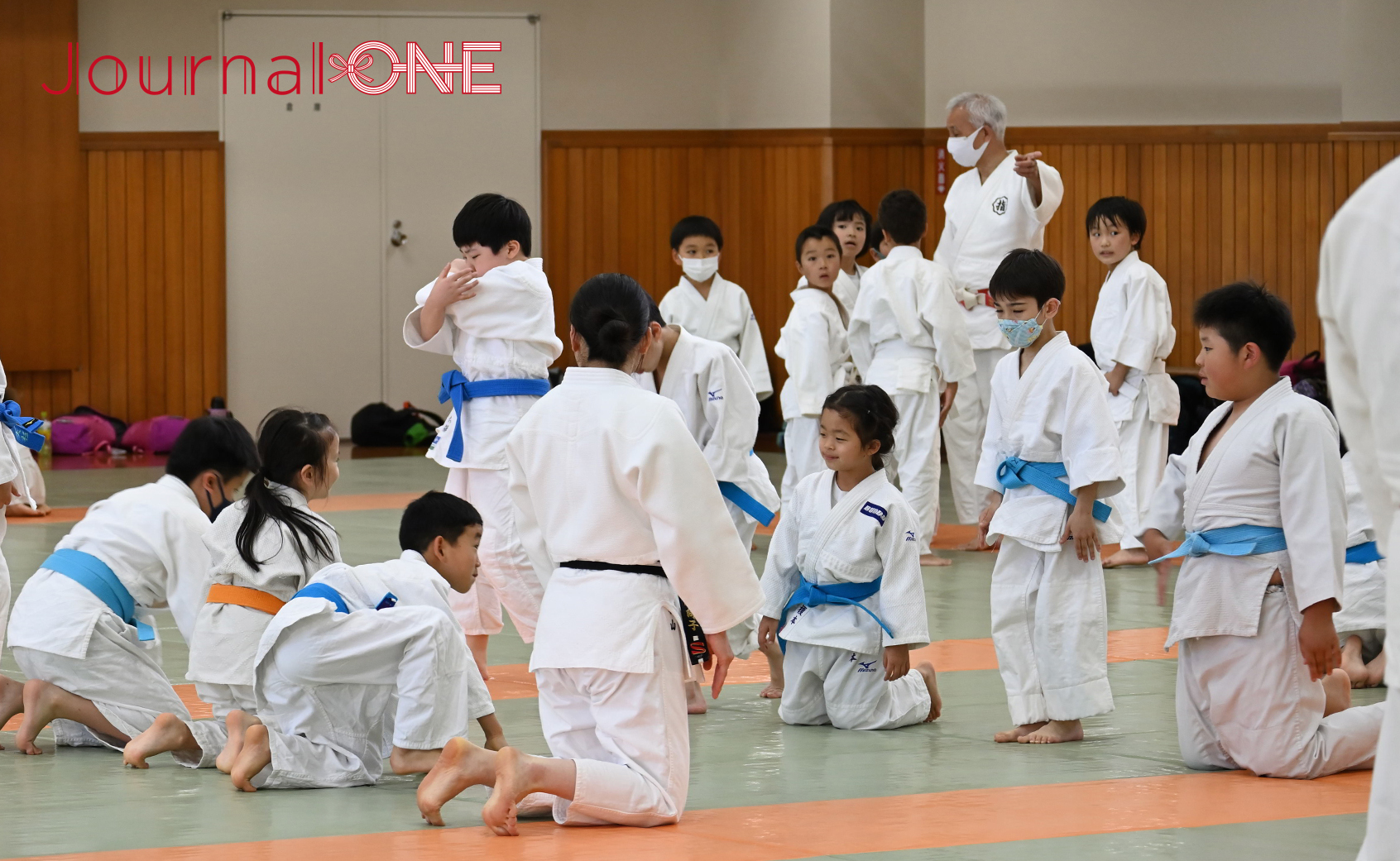 Child judokas have valuable experiences learning judo here at Kodokan, the headquarter of judo, before they even enter elementary school. Some may grow up to be athletes who participate in the Olympic Games, and there is no doubt that the valuable experience of learning judo at Kodokan will become useful in the future.
On the 6th floor, there is the "school dojo" with 240 tatami mats, and the "International dojo" with 192 tatami mats.
It offers classes based on a curriculum named the "Kodokan School of Dojo", where you can learn theories and practice of judo, and matters of general education.
The Kojokan School of Dojo has an adult division and a boys and girls class. Beginners first train for 3 months in the futsu-ka class, and then move to the tokushu-ka class. The adult division aims for the 1st dan after 9 months of practice.
In the adult division, there are people who start judo after their retirement.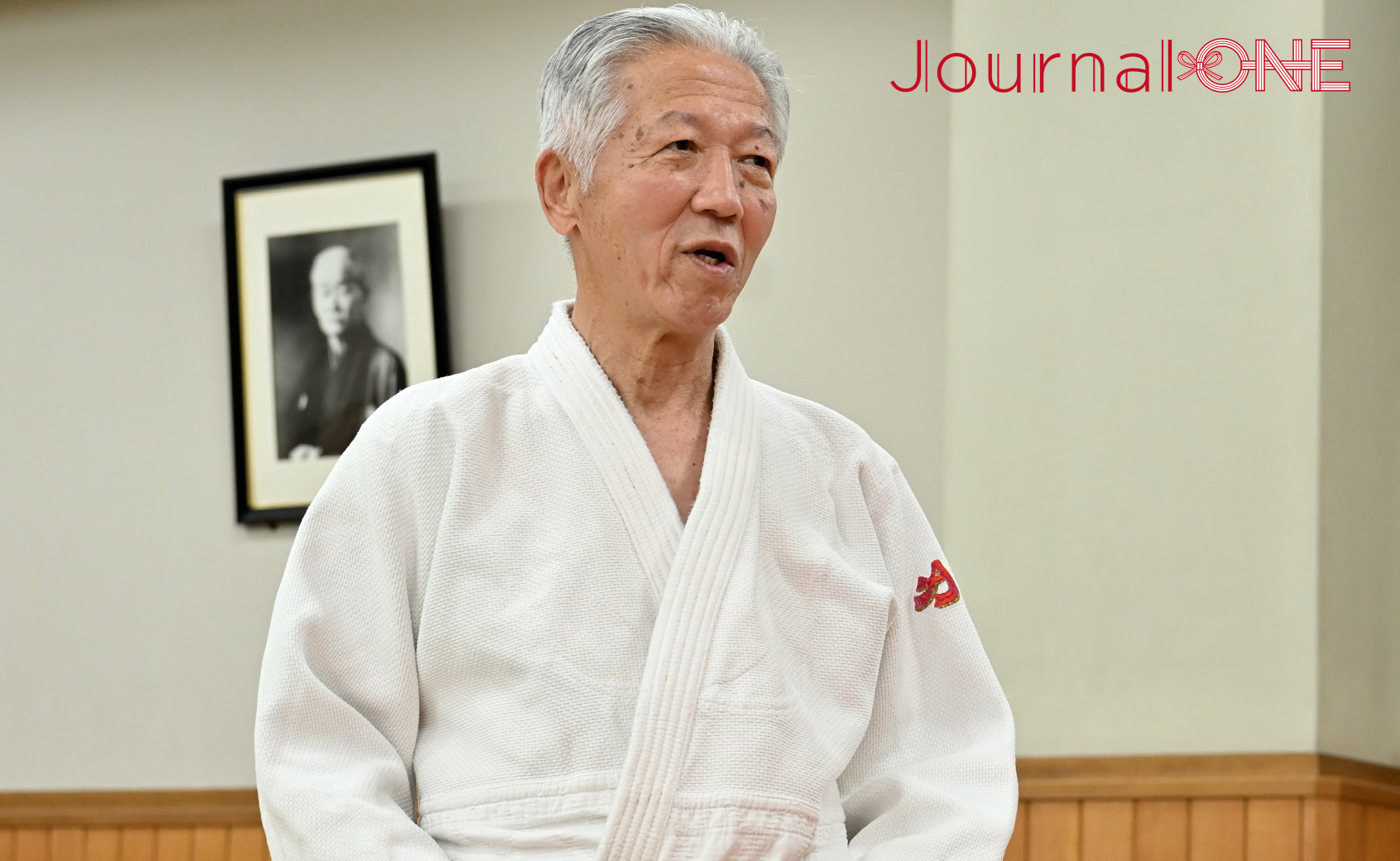 "I started learning judo after turning 60," Mr. Takashi Yoshioka told us. "I learnt judo little by little, every day, and when I got my black belt, my eyes naturally filled with tears." A black belt could be seen on his waist.
"My body doesn't move as I want it to, and I'm struggling on the next dan test, but I still want to work hard," he said with a smile, his posture in "shizentai". Japan is said to be an aging society, and it is important that elderly people lead a healthy life every day. Learning and practicing judo makes it possible to form an energetic body, just like the case of Mr. Yoshioka. We saw how judo contributes to the solution of Japanese social issues.
In the international dojo, there were about 20 people from abroad practicing foot techniques.
Many of the judokas who practice at the international dojo are international students studying in Japan or people who work in a foreign affiliated company's Japanese branch office. Regardless of their experience in judo, they practice enthusiastically, taking advantage of their stay in Japan.
"I want to learn judo at Kodokan as a memory of my stay in Japan." From this attitude, we can see how judo is loved by people from all around the world.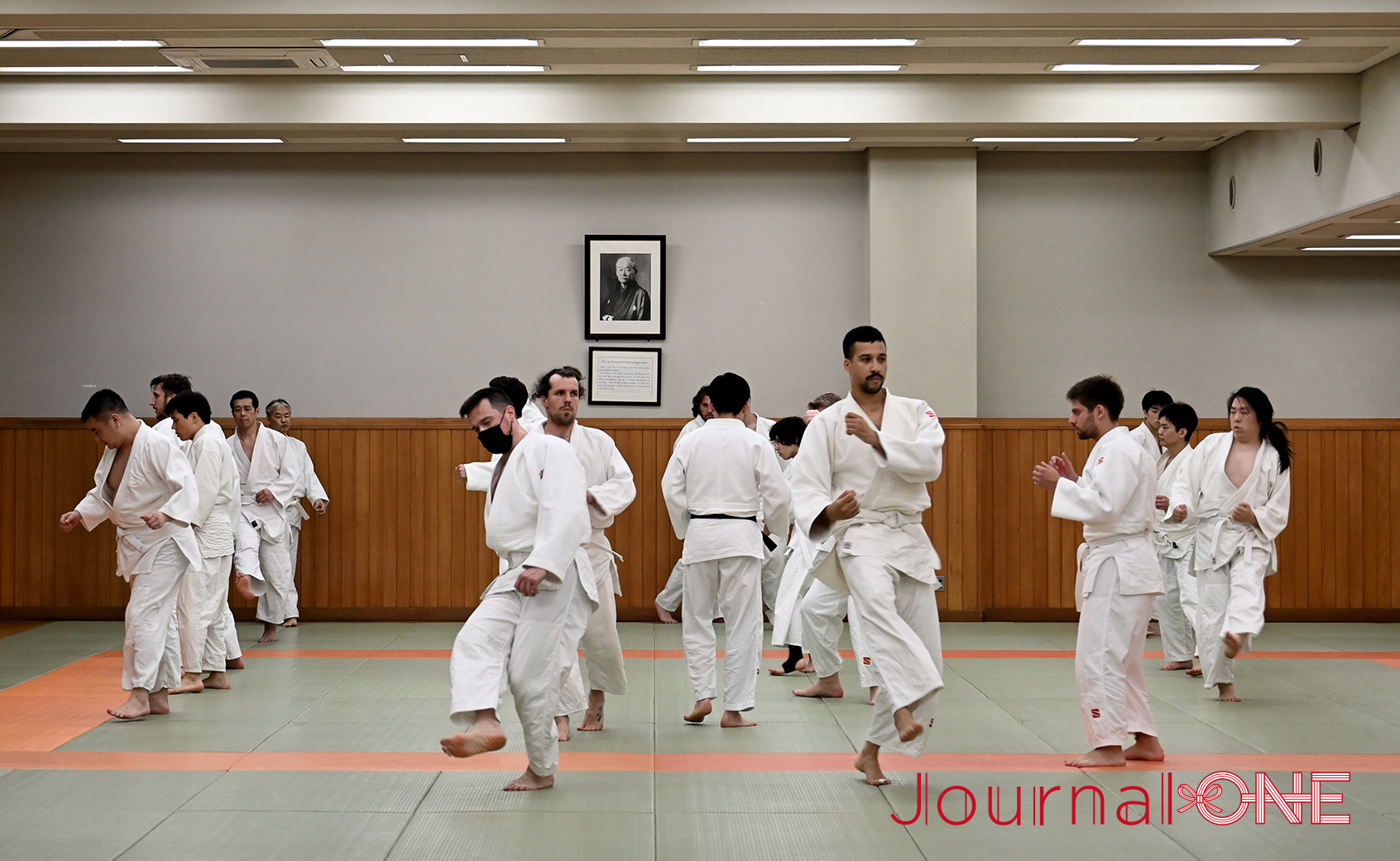 Judokas gathered in the dojo with 420 tatami mats
Finally, we came to the 7th floor to visit the "main dojo".
Four matches can be held in this dojo with 420 tatami mats spread across the floor. The size and the atmosphere of the Mecca of judo where veterans from Japan and other countries gather creates tension in the air.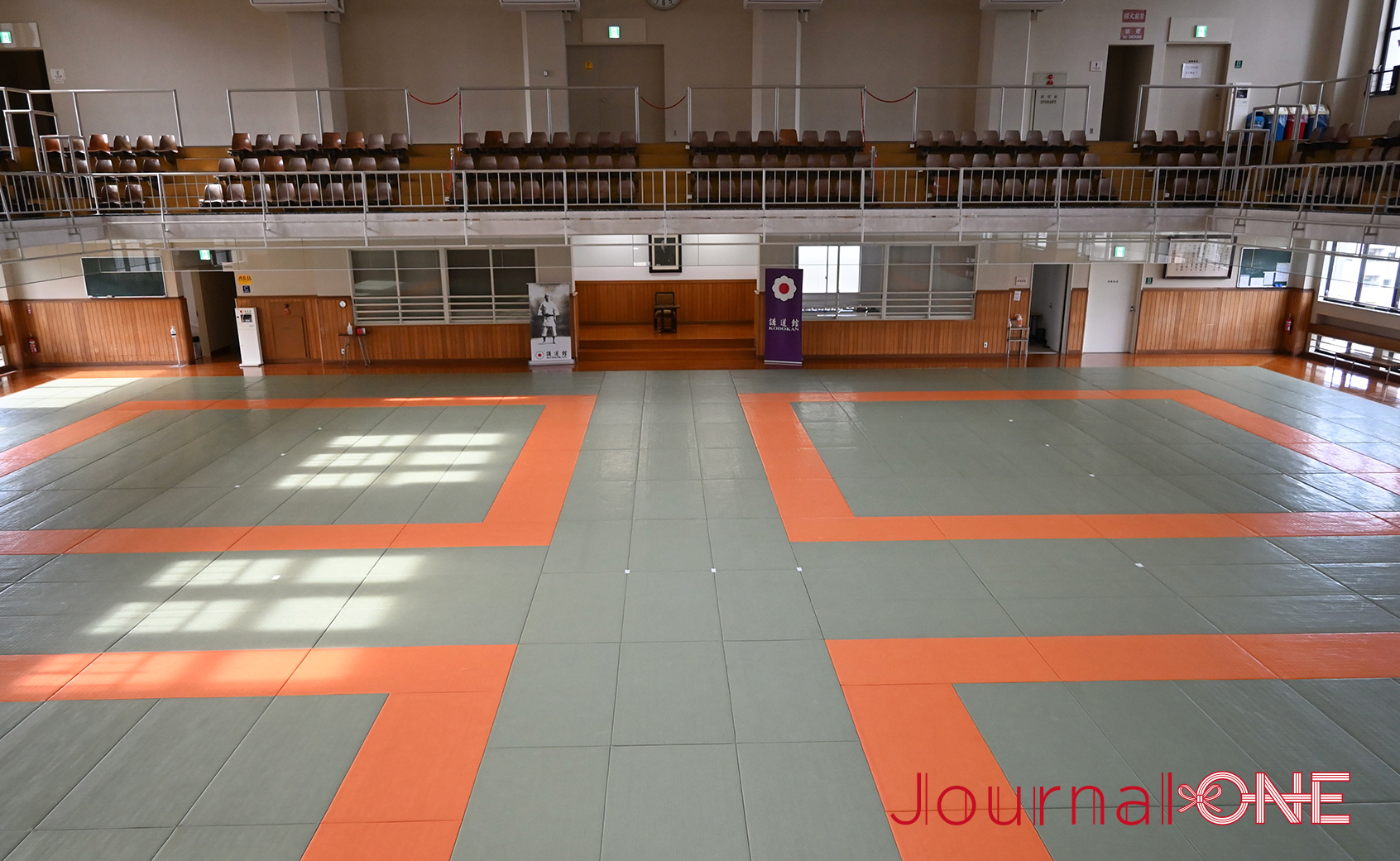 Various events such as practices, matches, practice sessions, and workshops are held at the main dojo. On the day of our visit, athletes from the All-Japan Businessmen's Judo Federation were having a joint practice. Counting the strong judokas representing famous companies or judokas from universities and from abroad, there were about 200 people in the practice session. With a shout by the instructor, they all knelt down to the position of seiza and bowed to a photograph of master Jigoro Kano hooked on to the wall of the kamiza.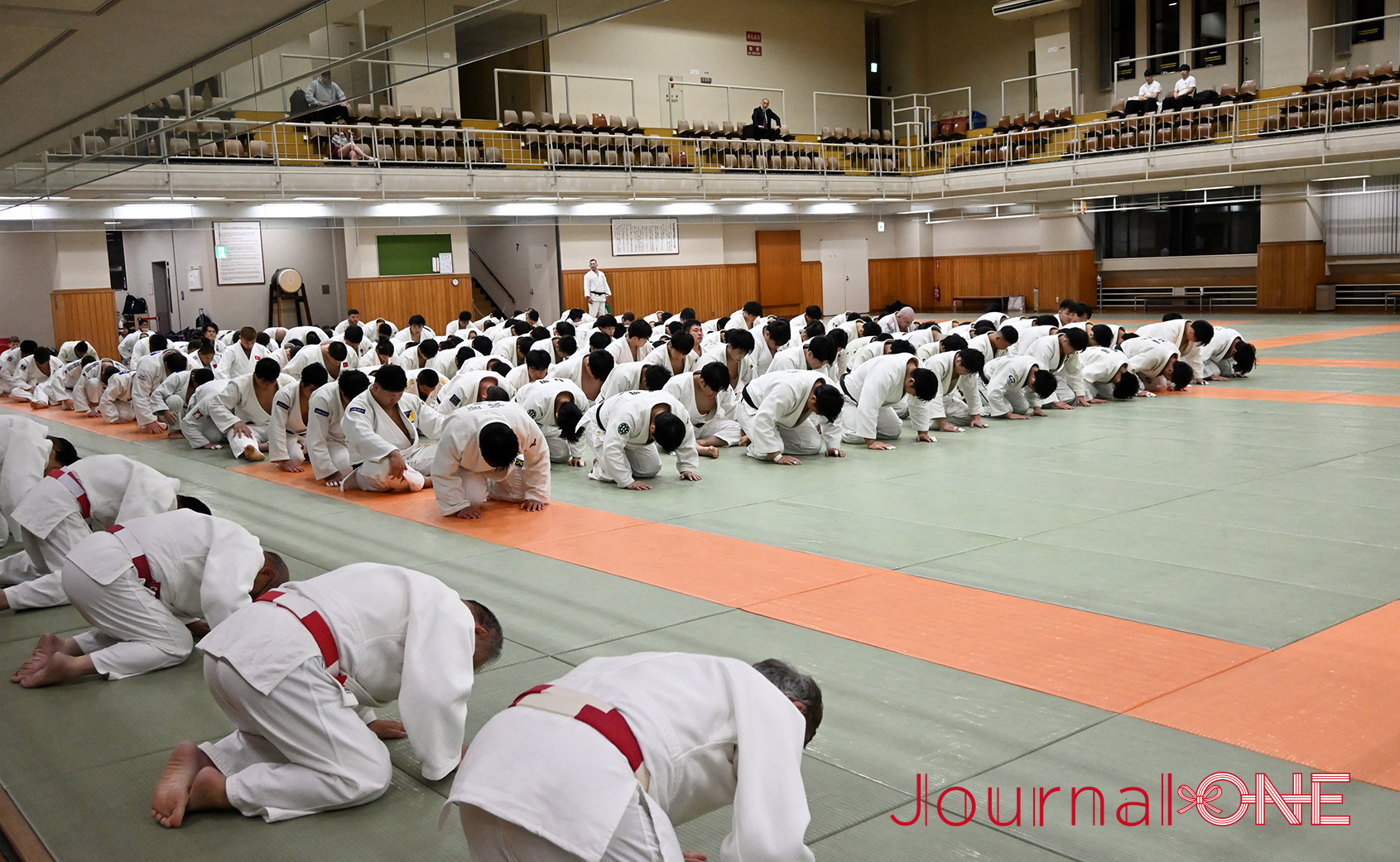 In the kamiza of the dojo, there is a photograph of master Jigoro Kano, and a chair on a space one step higher than the rest, so that master Kano can get a full view of the practice. The fact that the founder of judo, master Jigoro Kano, is watching you practice creates tension, and may be the reason to the enhancement of each athlete's movements.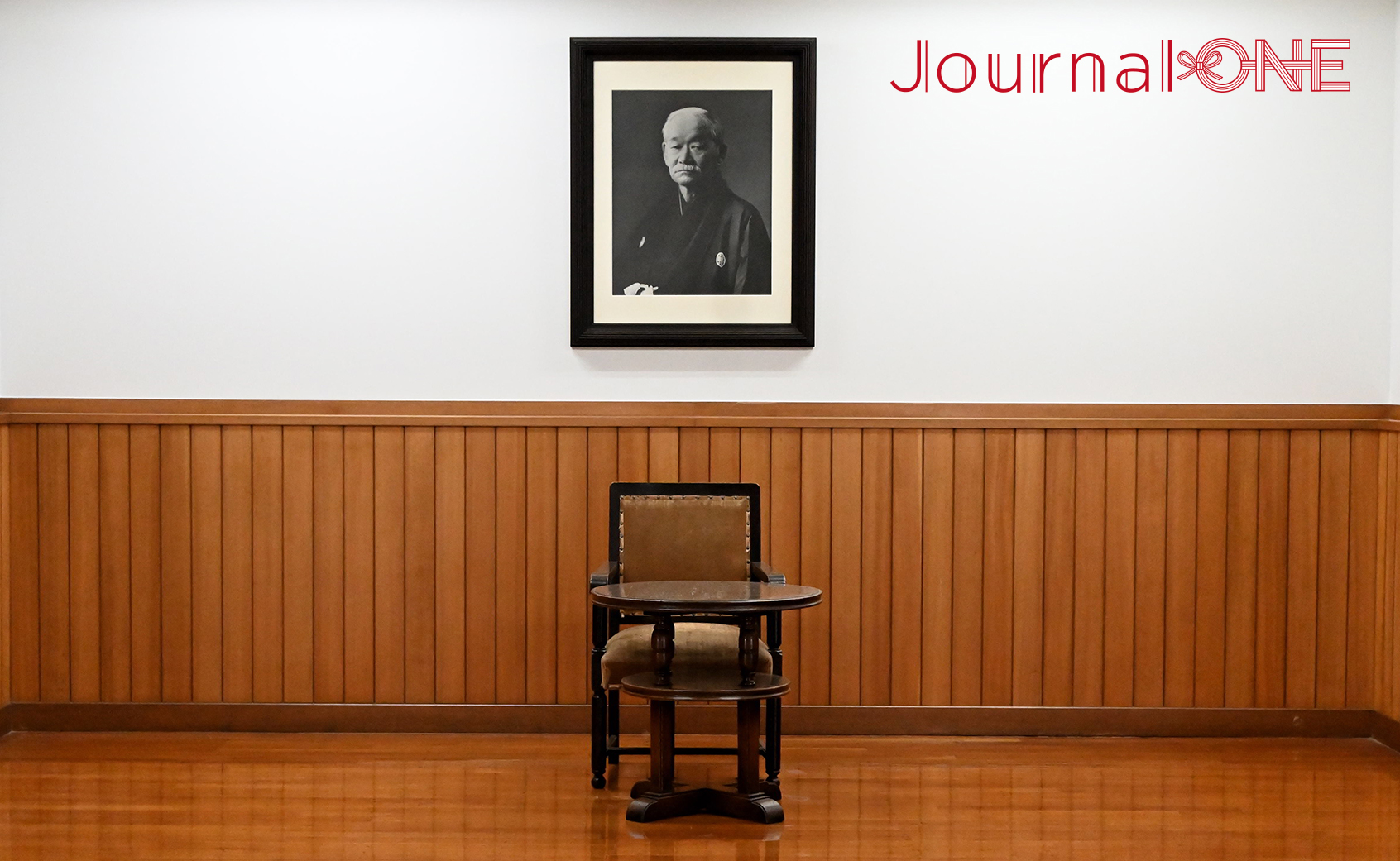 Mr. Haruki Uemura, the 5th director of Kodokan, whom we interviewed earlier on, was also watching the athletes' movements with his judo uniform on.
Mr. Uemura is actually a world-famous athlete who won a gold medal in the open-weight category in the 1976 Montreal Olympics! On his waist is a red belt. The red belt can only be worn by people who own the 9th and 10th dan. Mr. Uemura has had many years of experience as the Japanese Olympic team's head coach, instructing athletes and strengthening them. He was watching the practice with a serious look on his face, and went to instruct the athletes whenever he noticed something.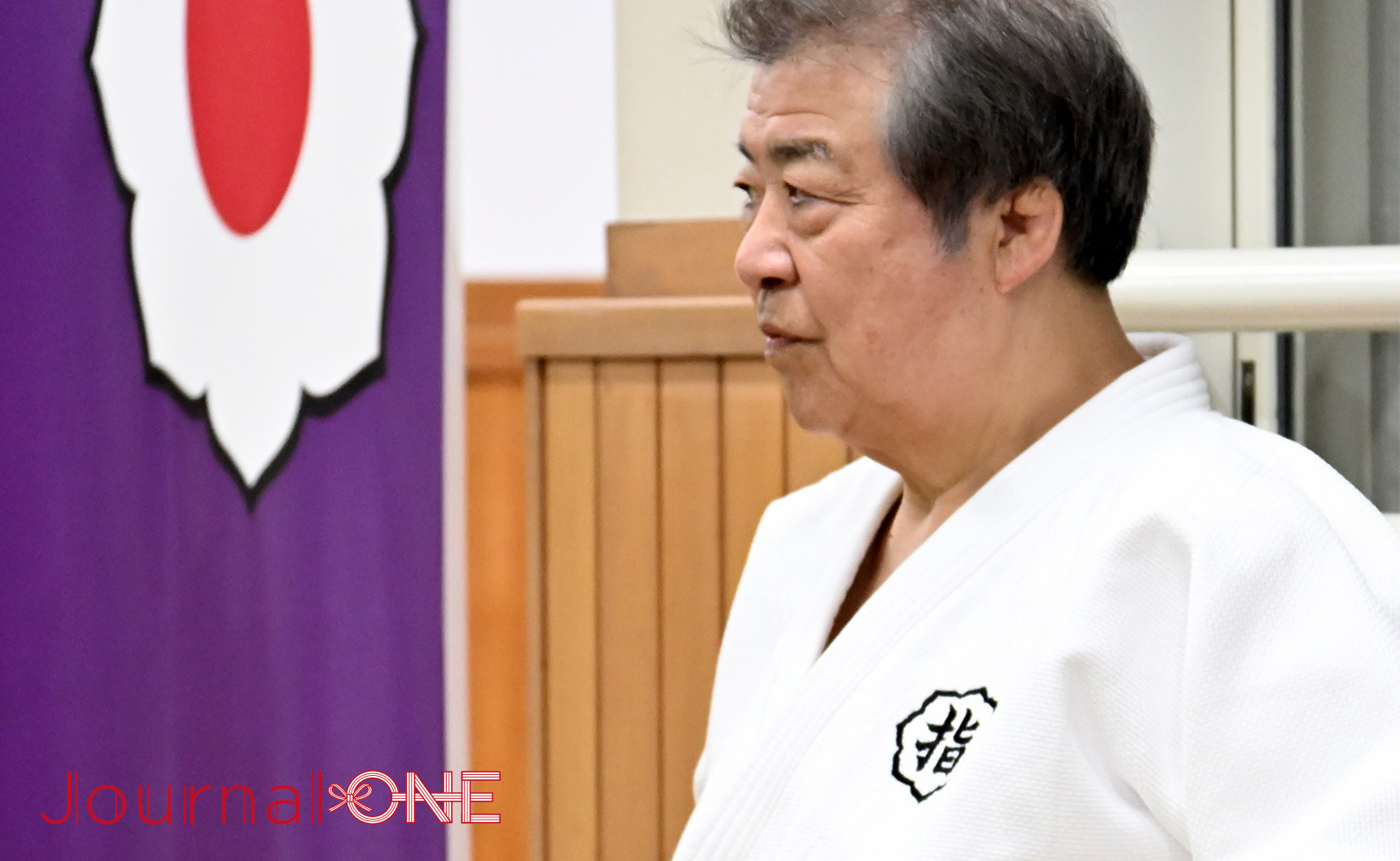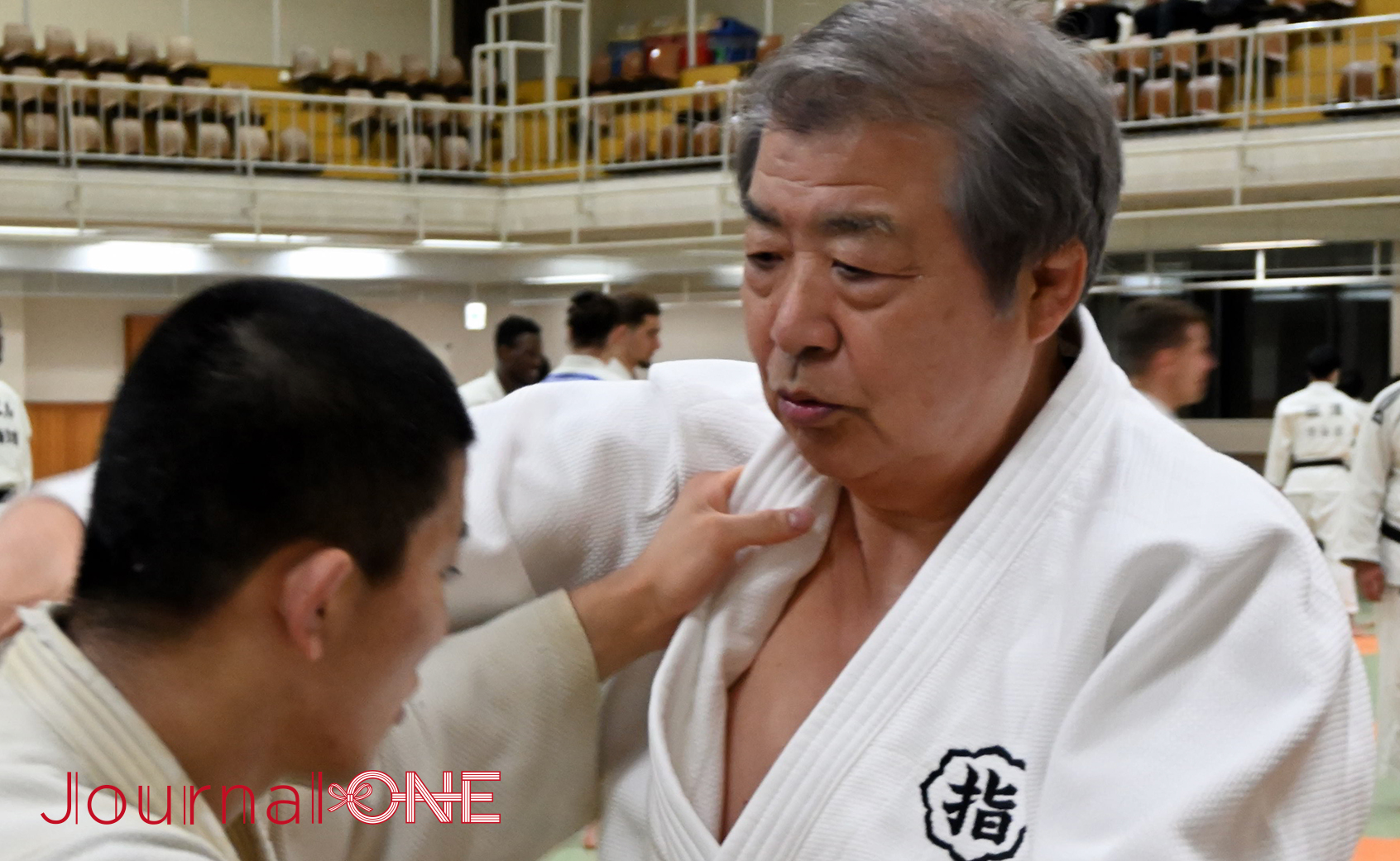 The athletes were doing a randori (free sparring). With the time duration of an actual match in mind, every time a buzzer goes on, the athletes find someone to compete with, using different techniques for self-improvement. Athletes with bibs that say country names such as France, Slovenia, and Turkey could be seen finding opponents and doing randori, bathed in sweat.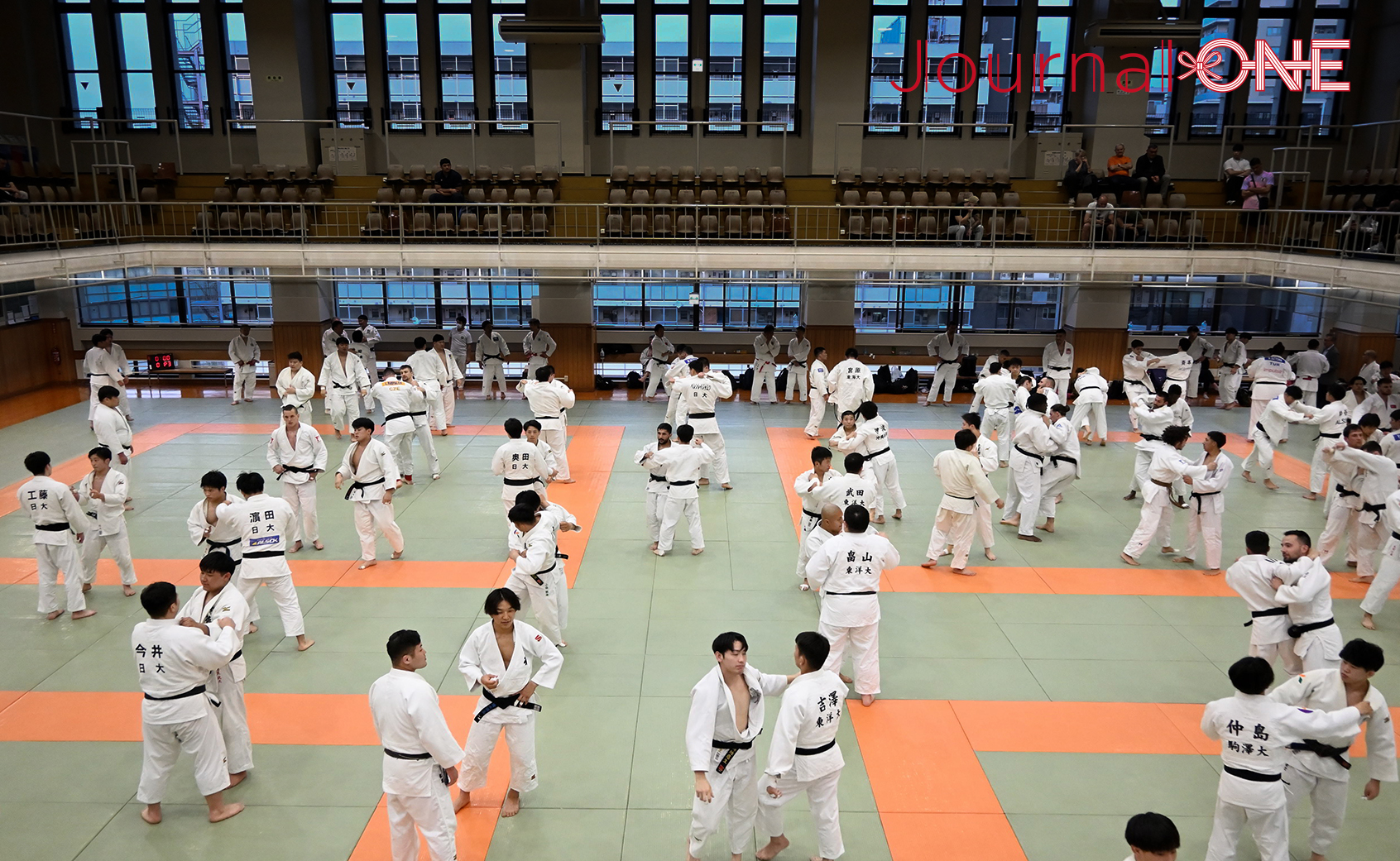 A judoka stood out from the rest, doing groundwork techniques using his large body skillfully. Taking a look at his bib… It is shining in gold. What! He is the hero of Czech Republic, Lukas Krpalek!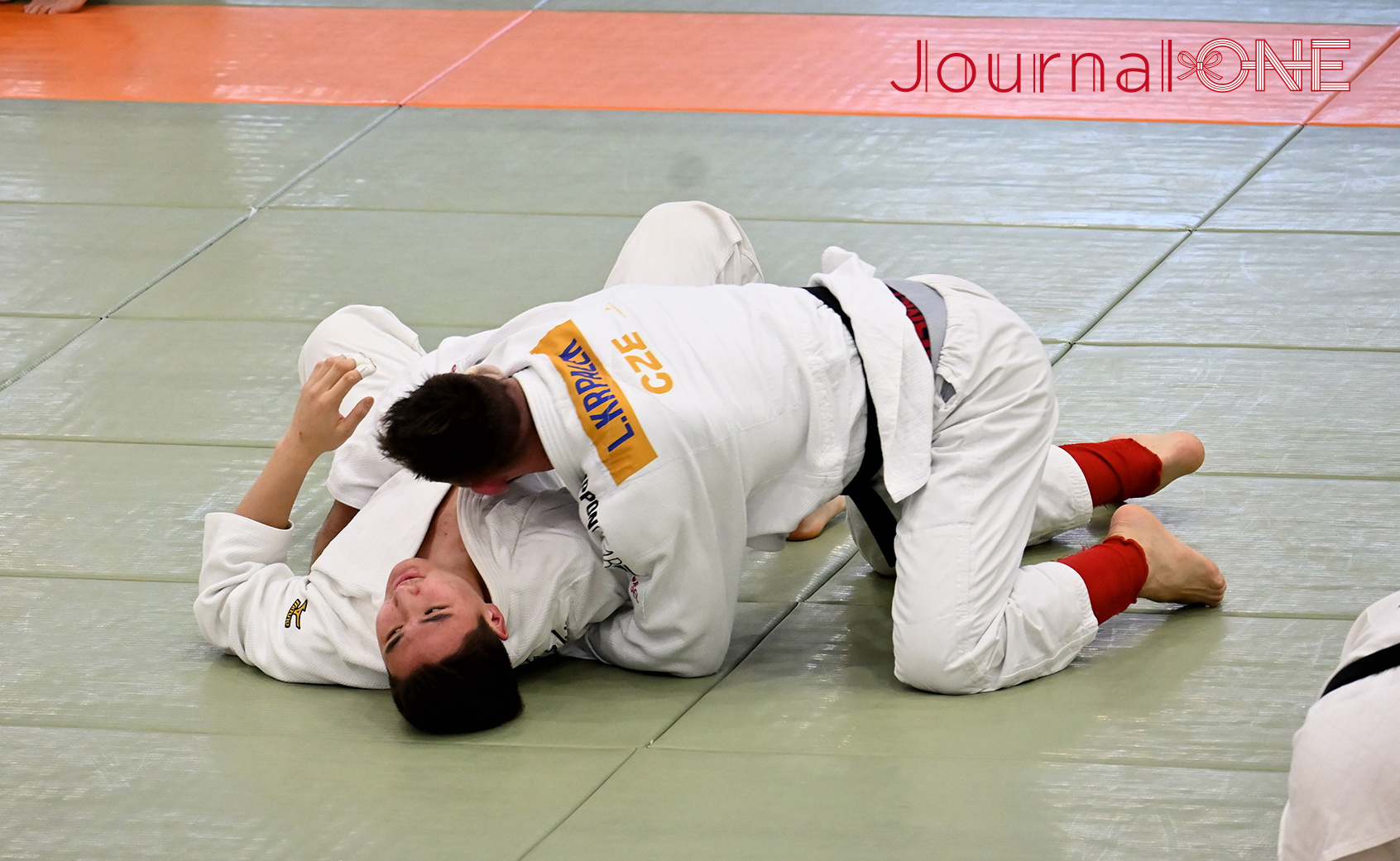 Krpalek won a gold medal in the over 100kg category in the Tokyo Olympics. He is also a gold medalist in the 100kg category in the 2016 Rio De Janeiro Olympics. In the World Judo Championships taken place in Doha on May, 2023, he returned to the 100kg category and won a silver medal. He is a potential gold medalist in next year's Paris Olympics, and carries Czech Republic's citizens' hope, Mr. Uemura told us, "Japanese athletes have high skills, and have different tactics. Practicing with athletes like this comes in use when competing in an International Competition, enabling one to handle any kind of athlete. Not only Krpalek, but other athletes from national teams come to Kodokan from time to time, to practice with Japanese athletes."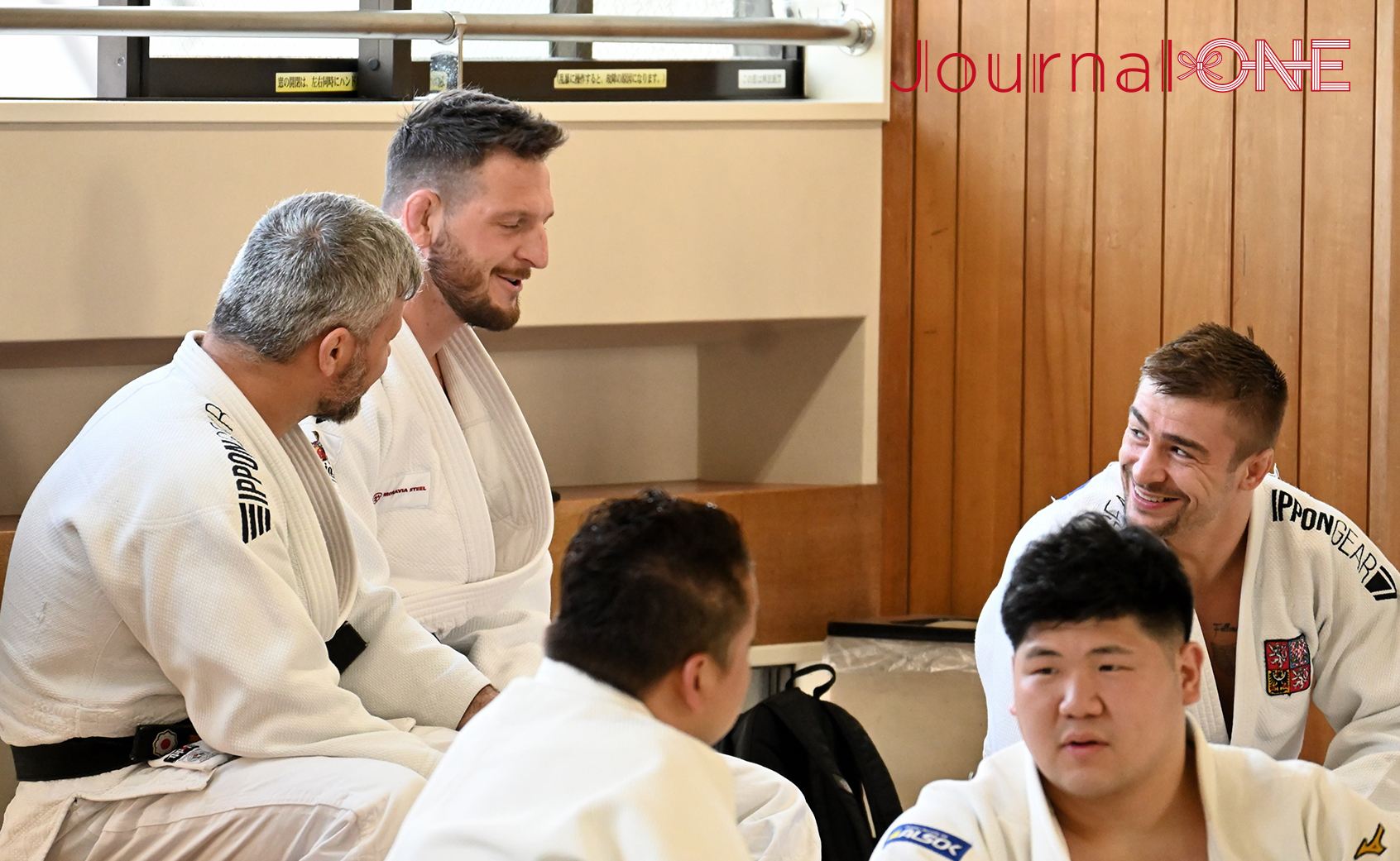 On the 8th floor, the top floor, there are bleachers on all sides of the wall, and on that day, many people from in and out of Japan could be found looking around.
Visitors including the 2 tourists from USA we interviewed earlier on, a French tourist who came to cheer his friend practicing in the main dojo, and children from the judo team from Slovakia who just finished doing randori were eagerly watching the practice.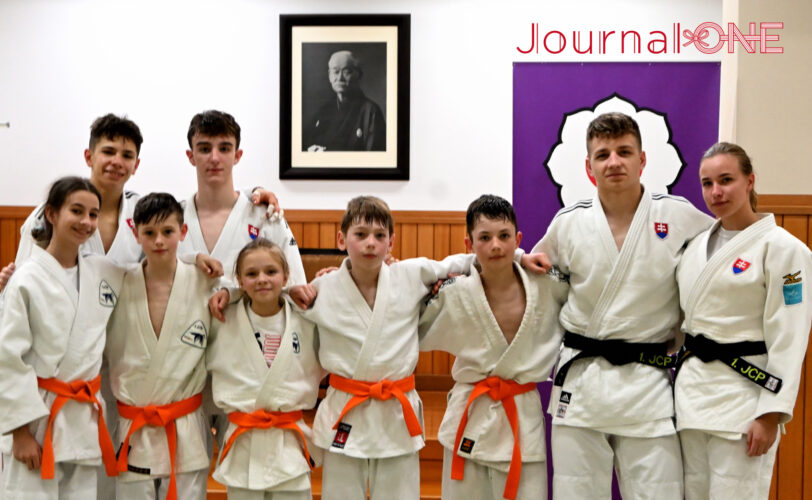 On their way home, visitors could be seen looking at the gift shop on the 1st floor.
The shop was crowded with people looking for souvenirs from their visit to the Mecca of judo. There were shirts with words written in kanji, and key chains. There was even a judo belt with the symbol of Kodokan stitched on it! Maybe with the belts they bought at Kodokan, the athletes practice in each dojo of their home country, always remembering the things they learnt at the Mecca of judo.