American football is one of the four most popular sports in the U.S.
The National Football League (NFL), the premier professional league, is said to be the highest grossing professional sport in the U.S. At the Super Bowl, the championship game, We can even hear saying "tickets start at $4,500! or "A 30-second TV commercial advertisement costs about 700 million yen!" On Japanese TV.
In addition, in the U.S., not only in professional leagues, but also in high schools and universities, the popularity of the sport is enormous! In particular, "college football," in which American universities participate, is so popular that it is broadcast on TV just like the NFL.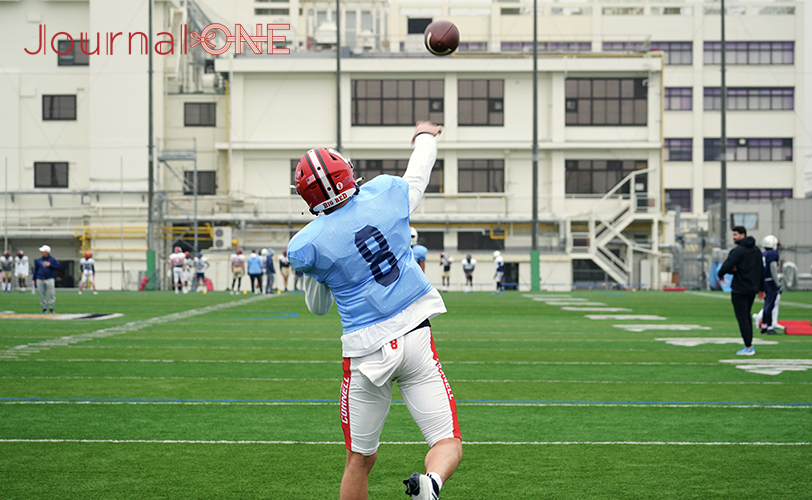 College football, a symbol of football's popularity (in the United States, it is called football, not American football), is as popular as MLB and NBA in the United States. In states and cities where there are no teams in the four major professional sports leagues, college football is the only sport of choice.
Each university campus has a large stadium with spectator seating, and many spectators come to watch the game each time it is played. It is truly a big sporting event rooted in the community.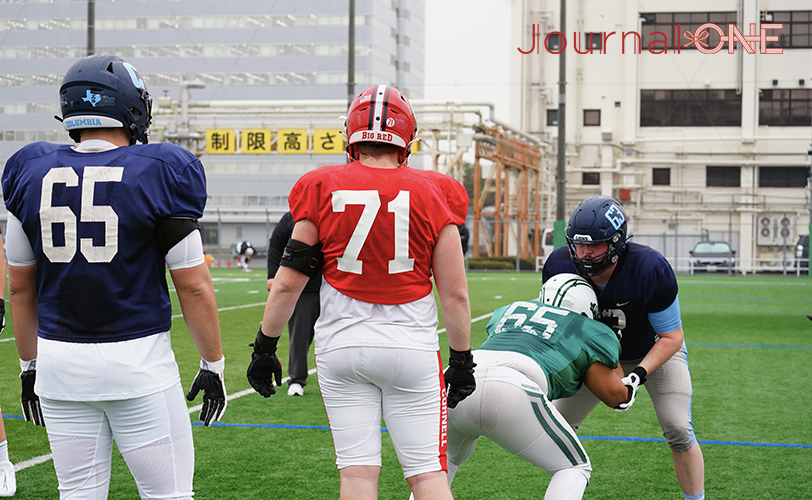 The Ivy League All-Star team, one of the oldest and most popular college football teams in the world, came to Japan!
On January 22, 2023, 51 players (and staff) came to Japan as the Ivy League All-Star Team to play an international game against the Japanese national team, made up of selected teams from the X-League, a Japanese American football league for working adults!
In order to introduce the Ivy League, which has a long history and tradition and is very popular in the U.S., as well as to show you how good American football is, the Journal-ONE has been closely following the Ivy League team!
The Ivy League Selected Team has a lot of events in Japan, not to mention practices and games.
We will also cover a test-ride of the Superconducting Maglev developed by Central Japan Railway Company (JR Tokai), experience Japanese culture and history in Kamakura, and interact with high school students in Kawasaki City, Kanagawa Prefecture, where the Ivy League team practices. We will introduce the true faces of the players and staff, and the bonds between Japan and the U.S. that American football has created.
We hope that you will feel the wonderful international exchange that sports can create, which is full of beautiful smiles.
We came to Fujitsu FRONTIERS Field in Kawasaki City, Kanagawa Prefecture, to cover the first day of practice. It was suddenly cold and drizzling, and we were worried about the condition of the players who had arrived at Haneda Airport late the night before.
As we waited for the players with a shiver in our hearts… Alex Felkins, a kicker from Columbia University, the team with the most players selected this time, and Parker Lefton, a long snapper (LS), came over to the field. Before changing, they first went to the field.
Before changing, they came to check the condition of the field. They are checking the condition of the grass and the practice equipment." I'm not tired from the trip. I'm really excited to be here in Japan. I am really excited to be here in Japan," they said with a smile.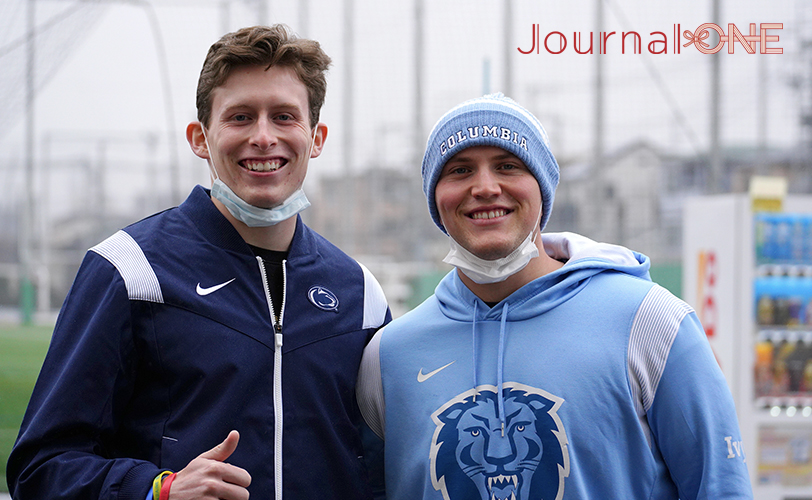 Gradually, the players began to gather. We greeted Al Bagnoli, the head coach of the selected team.
"I would first like to thank everyone involved in Japan and the U.S. for the wonderful opportunity to play in Japan. About 50 student-athletes, including myself, and about 20 staff members will have a really good experience," said Al Bagnoli. "We arrived in Japan late last night and had practice the next morning, so I am worried about the players' condition… It is also an important mission to experience Japanese culture and history and to interact with the Japanese people. I will do my best to ensure that this effort continues and that we achieve good results." He was really happy to be playing in Japan.
"I haven't been to Japan since… 2006, I think. I am looking forward to enjoying Japan after a long absence," said HC Bagnoli. HC Bagnoli said with a smile, showing no fatigue from the long flight.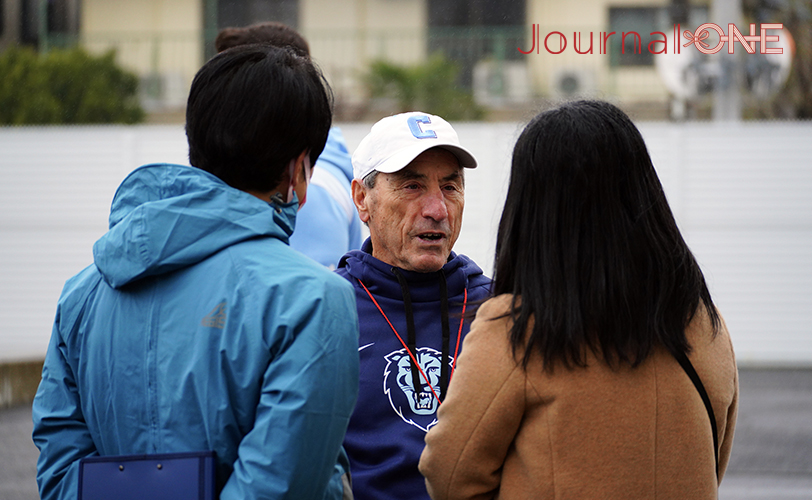 After all the pilots had gathered and stretched together, they began to practice in their positions. This scene of players practicing in several different positions was shown at the Rice Bowl, the championship game held on January 3 to determine the number one American football player in Japan, but it is a scene that is hard to see in other sports.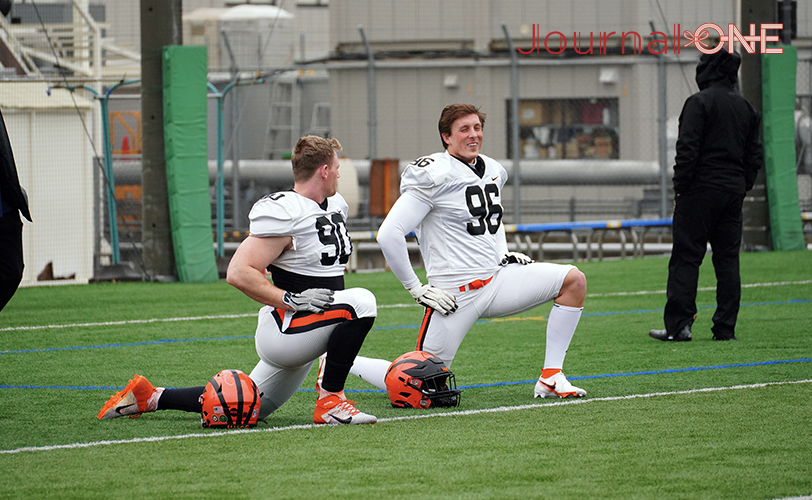 "That's one of the charms of American football," Fumiaki Takamoto told us. Mr. Takamoto is the deputy general manager of the Japan U.S. DREAM BOWL 2023, a general incorporated association that organizes the Japan U.S. DREAM BOWL 2023. He said, "Unlike sports where you have to be good at everything physical to be successful, this is a sport where you have to be good at running, good at throwing, good at kicking, and so on, to bring together specialized plays to lead your team to victory."
I see! American football is a sport in which anyone can participate by taking advantage of their strengths. Perhaps the diversity of the sport's characteristics is the reason why it is one of the most popular sports in the United States.
The Ivy League All-Star Team is selected from eight prestigious private universities in the northeastern U.S. The Ivy League, which belongs to the FCS (Football Championship Subdivision) of NCAA Division I college football, has produced many NFL players, presidents, and other celebrities.
They are all really polite and nice guys with beautiful smiles. During water breaks, they are always smiling and willing to be interviewed. Wide receivers (WR) coach Jerry Taylor also spoke to us between practices, saying, "I'm really happy to have the opportunity to come to Japan. We'll take a light workout today and see how it goes, and then gradually work on getting into better shape." The players are also smiling and enhancing communication among different universities.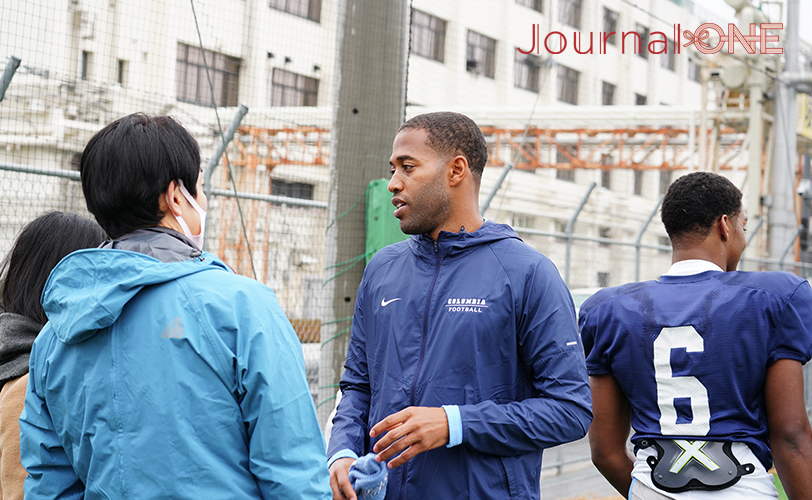 The first day's practice ended with stretching and basic exercises, and in the afternoon the team visited Kamakura City in Kanagawa Prefecture to experience the history of Japan.
The first place everyone visited was Kotokuin Temple (detailed name: Dai-Izan Kotokuin Seisen-ji Temple). The temple is a Buddhist temple of the Jodo sect, founded by Honen Shonin, and its principal image, the bronze statue of Amida Nyorai (the Great Buddha), a national treasure, is a popular tourist attraction for foreigners visiting Japan.
The first person we spoke with was Ryan Glove, quarterback (QB). Ryan, a graduate of The University of Pennsylvania, alma mater of the 45th President of the United States, Donald Trump, said happily, "I was really looking forward to coming to Japan." I was really looking forward to coming to Japan," he said happily. "I've only been here a day, but Japan is a safe and clean country. I am looking forward to visiting Kamakura and experiencing many other places and getting to know more about Japan. I bought a can of Coke as soon as I arrived."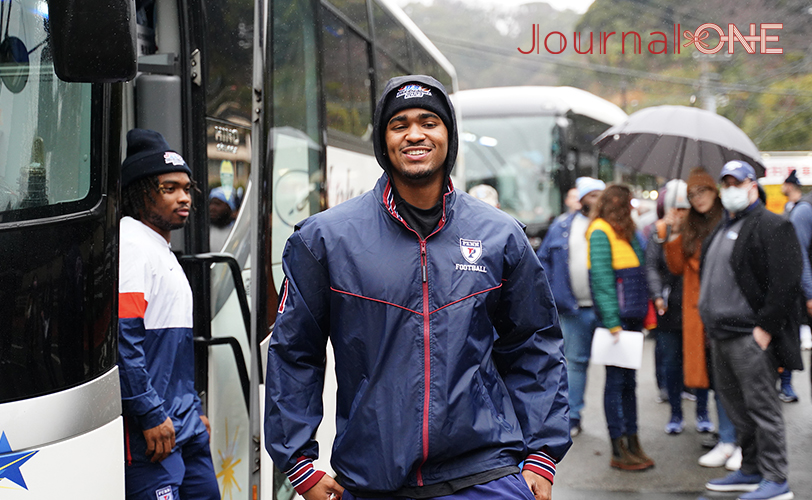 Everyone seemed to be very interested in Japanese vending machines. They pointed at the samples one by one to check what kind of drink they were buying. Buying a drink from one of the many different types of vending machines located all over Japan. This is another Japanese cultural experience.
Staring at the big Buddha from afar was defensive back (DB) Jaylan Granberry. Jaylen was selected from the famous Yale University in Japan. The school is also known as the alma mater of many Academy Award winners and presidents Bill Clinton and George W. Bush.
"I'm really happy to be here because I've always been interested in Japanese history and culture." He said as he eagerly looked for a good angle to take pictures.
Without his uniform on, Jaylen is so quiet and friendly that it is hard to believe that he is an athlete. We will look forward to watching his agile play at the National Stadium.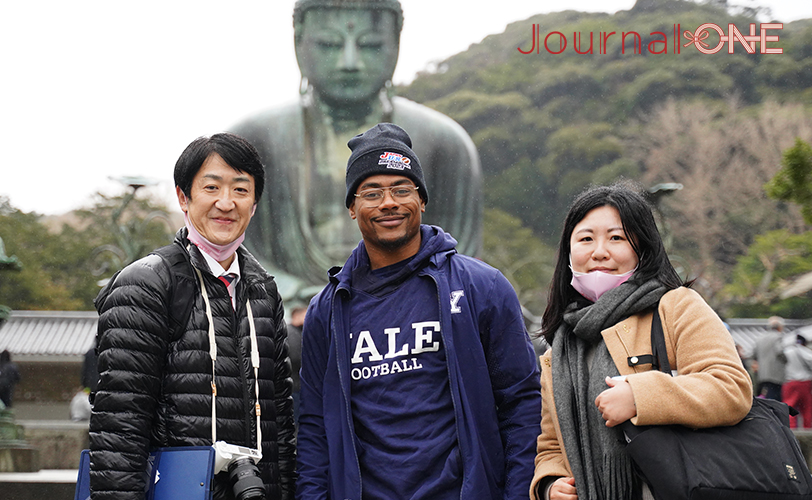 Next up, the Brown University  quintet posing for a photo in front of the Great Buddha!
From left to right, Camden Gagnon, Hunter Folsom, Chad Broome-Webster, Allen Smith, and Charles Dallape. Charles Dallape.
They all were getting along really well! All of them were visiting Japan for the first time, and they gazed at the Daibutsu statue, as well as various architectural structures and gardens, with great interest, capturing the scenery on their smartphones. When we introduced them to our Journal-ONE, which we had been following their Instagram account before their visit to Japan, they said, "I've been watching. This media." and Hunter introduced us to his teammates.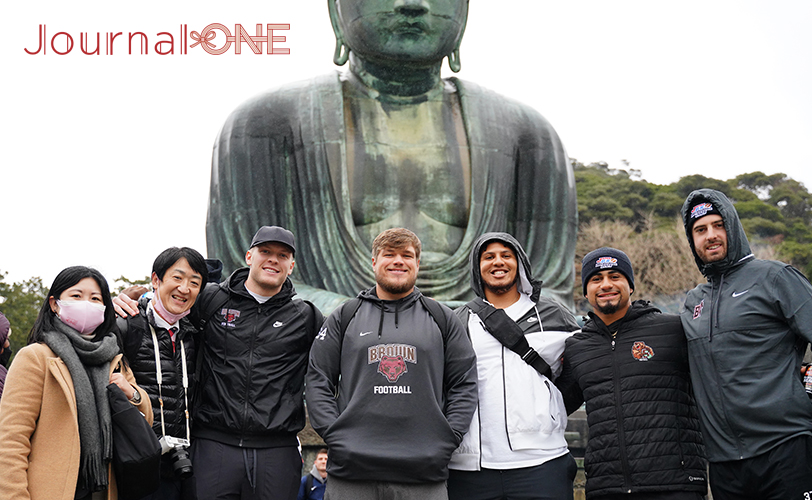 After this, he wrote a message to Charlie for our popular Journal-ONE Instagram project, "Powerful message from Athletes," for all of us in Japan!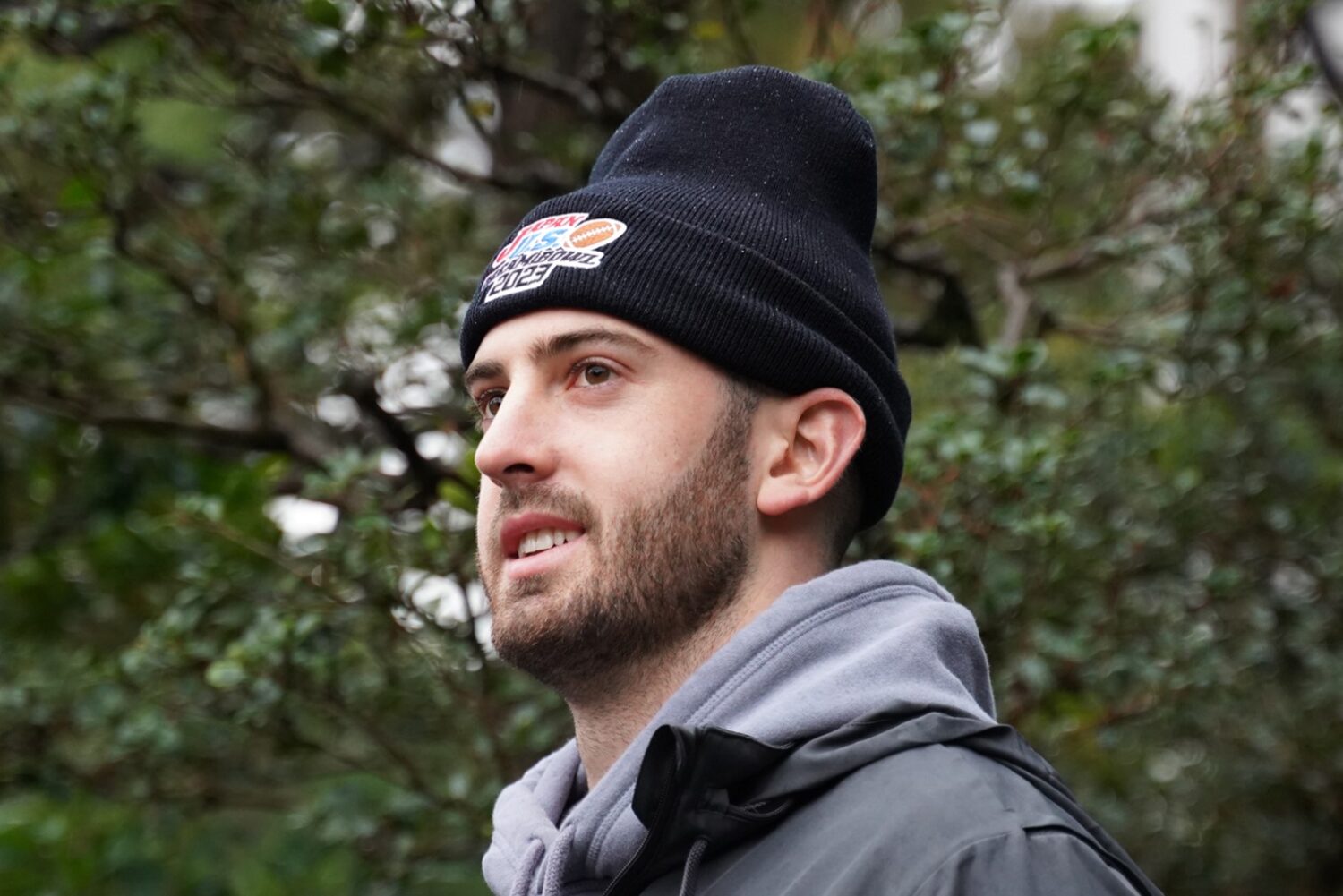 Athletes eagerly read the panels of English letters inset in the corridor. He is CJ Wall, a DB selected from Princeton University.
CJ said, "The history and culture of Japan is very different from that of the U.S., so it's very interesting." He was eagerly reading the English guidebooks he found, which were few and far between, to broaden his knowledge of Japan. CJ's smile as we took a photo together! Very nice.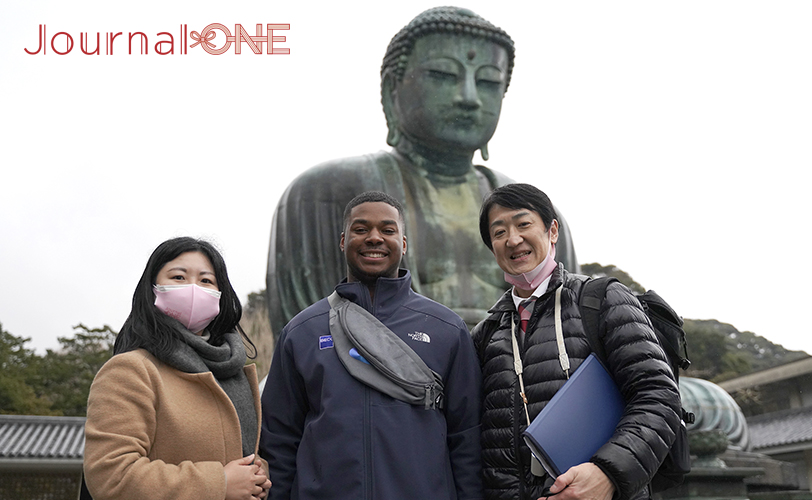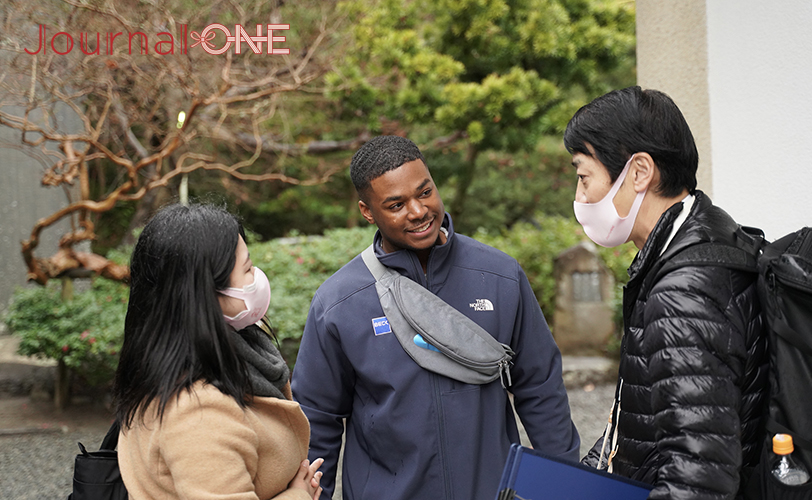 Next, we came to Tsurugaoka Hachimangu Shrine, also in Kamakura, Kanagawa Prefecture. This is one of the most popular tourist attractions in Kamakura in Japan, which saw a resurgence of popularity last year with the historical drama "Kamakura-dono no 13-nin" (The 13 Lords of Kamakura).
The history of the shrine, which was founded in the late 11th century, and the view of the city of Kamakura from the top of a small hill. The buildings and torii gates painted in vermilion are the focus of many players' shutterbugs.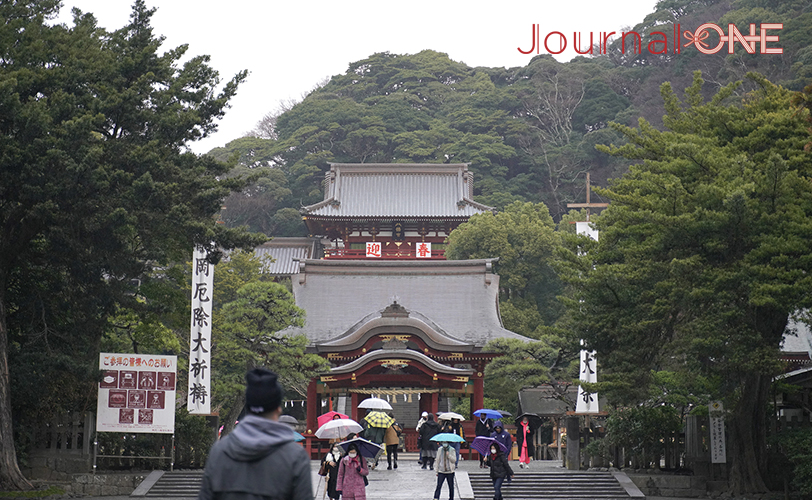 One player quietly prays.
He is Noah Aaron, a wide receiver (WR) selected from Yale University. "I have always been interested in Japanese history and culture, especially religion. I bought a book about Shintoism in English at a store," said Noah.
Noah, whose father is a pastor, has been interested in religious studies since he was a child." I didn't really get into the religious studies curriculum in college, so I didn't major in it," said Noah, who majored in economics. After graduation, Noah plans to work on Wall Street in Manhattan, New York.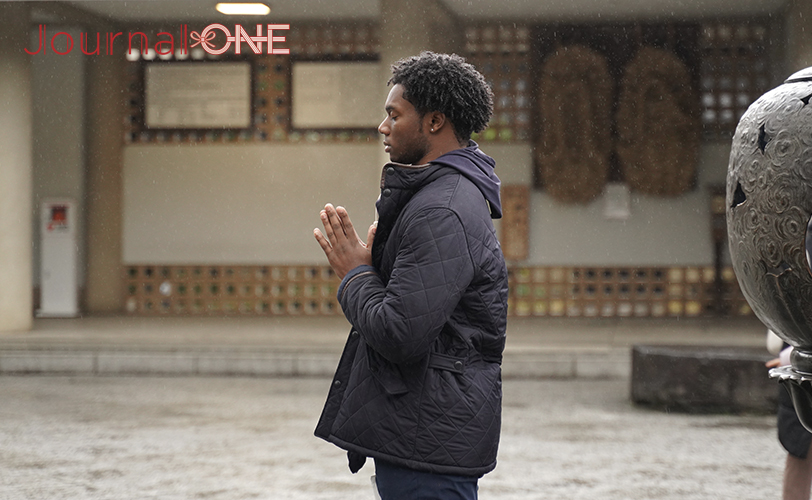 As for football, he says, "Football is a catalyst for me to expand my world. Thanks to playing football, I was able to come to Japan, which I wanted to do. My work in finance takes me all over the world, so I would like to come back to Japan someday to relax and experience the history and culture." He also talked about his dreams for the future.
Noah looked very satisfied as he performed the Shinto rituals of "Bow twice deeply, Clap your hands twice, And bow once more deeply" with us.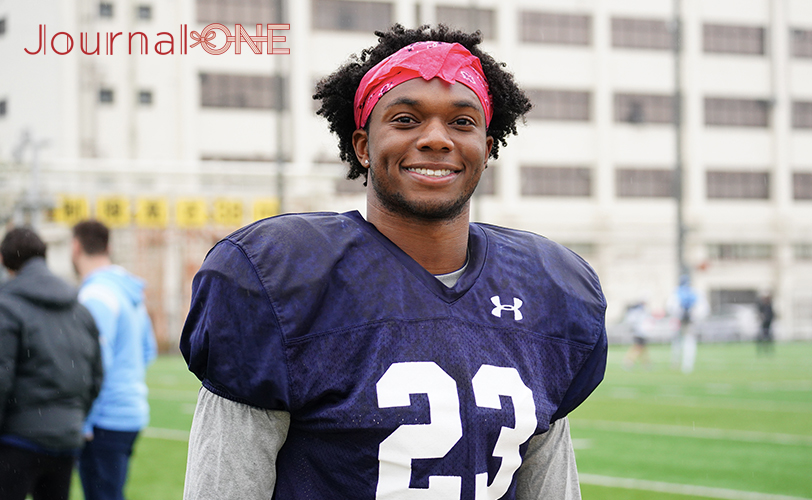 After leaving the temple grounds, it was time for some shopping! Everyone seemed to enjoy strolling in small groups.
We talked to a player who was looking at the big red torii gate by himself. Japanese culture is really interesting to me," said one of the players, who is a Cornell University student.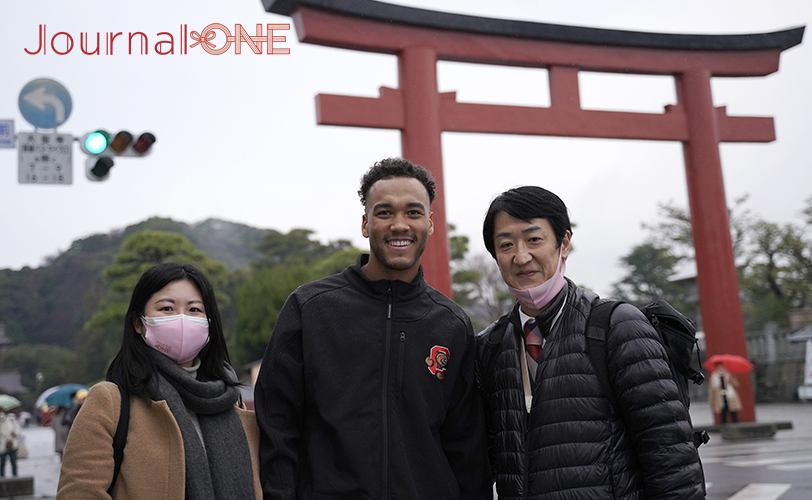 Next were two big players who were shopping for croquettes to eat. They are Princeton University's linebacker (LB) Isaac Hall and defensive lineman (DL) Michael Azevedo.
Ike's Instagram account is a profile picture of a young Ike wearing a potholder from the popular anime "Naruto." We asked him if he had liked Japan since childhood. "I have loved Japanese anime since I was a child. My current favorites are probably "ONE PIECE" and "COWBOY BEBOP." I like "Attack on Titan" as well," Ike said happily. Michael joined in with a smile.
It is a great pleasure to be able to talk about Japanese anime with people from all over the world.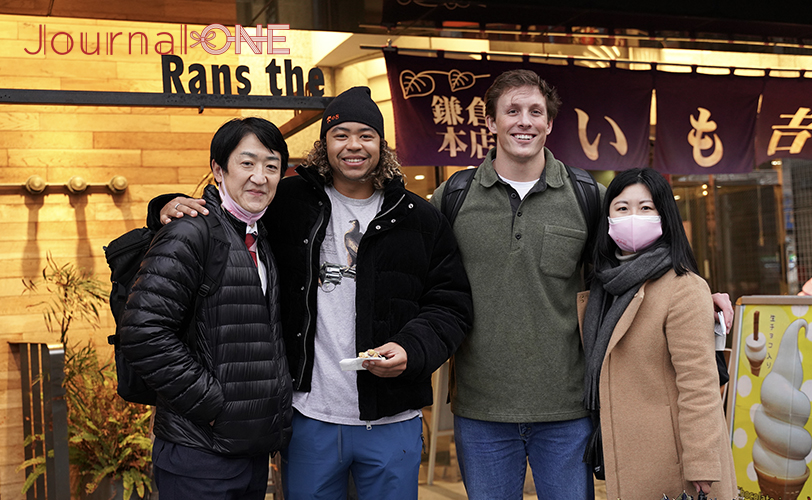 Five minutes before the meeting time… Oh? There are still some players waiting for their croquettes in the restaurant.
They are Will Powers and James Stagg, both punters selected from Princeton University." I'm most looking forward to riding the SCMaglev," said James, "which is on the menu for learning about Japanese industry." Will agrees with James.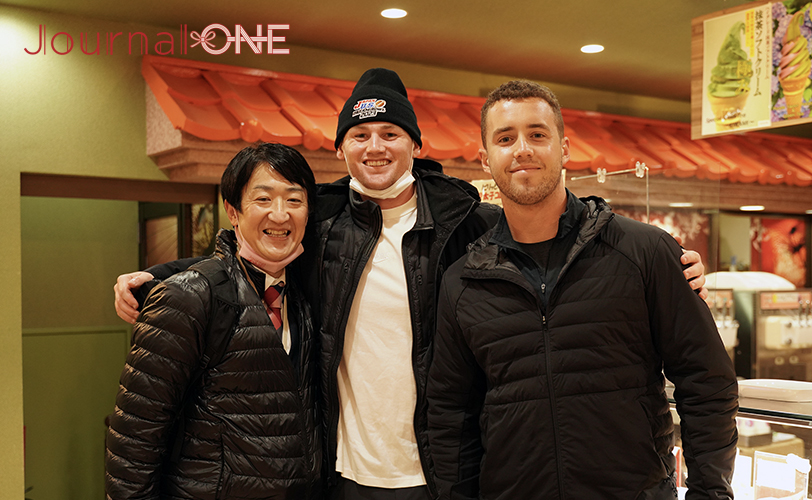 Will was buying sake at the liquor store next door. Will, making us wander if he and James will have a lot of fun talking about the SCMaglev tonight.
While waiting for the freshly fried croquettes, Will and Stagg also wrote messages to the Japanese people. You can see them here, too, on Journal-ONE's popular Instagram project, "Powerful message from Athletes!"
The Ivy League All-Star team showed no signs of fatigue from their long trip to Japan and finished their first day in Japan. The Ivy League All-Stars will continue to work on their jam-packed schedule to get in shape and prepare for their games.
On January 22, 2023, the Japan U.S. DREAM BOWL 2023, the first international American football game to be held in Japan in nine years, was held at the newly renovated National Stadium in Yoyogi, Tokyo, for Tokyo 2020.
Please be sure to read the Journal-ONE's report on this dream matchup between the Ivy League All-Star Team, which we introduced here, and the Japan All-Star Team, the strongest team in the world, which includes foreign players playing in Japan, just like the Japanese national rugby team. Please read the report from Journal-ONE's point of view.
We will continue to report on the activities of the Ivy League All-Star Team in the days to come. We hope you will take this opportunity to support American football.