October 23, 2022. The final match of the women's softball JD.LEAGUE league games held at Toyohashi Municipal Stadium.
A ceremony was held for Monica Abbott of Toyota Red Terriers who announced her retirement in Japan this season.
There is also a report featuring Abbott's performance, and the ceremony, so please check it out!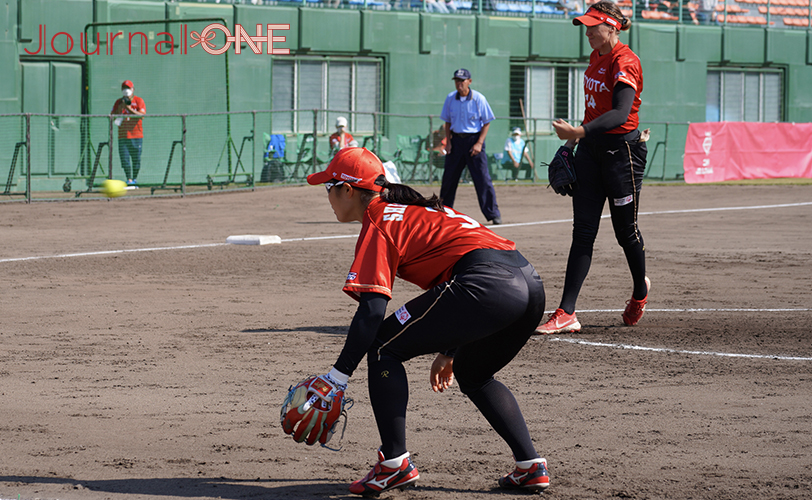 Abbott, who started Game 1 against Shionogi Rainbow Stokes, pitched 5 1/3 innings with 12 strikeouts and no runs allowed, helping her team to 8 wins in the season and extending her winning streak to138 from the Japan League.
The ceremony that took place immediately after the match was a wonderful experience that impressed not only the spectators but also the players and officials of all the teams.
In the midst of all this excitement, Tokyo 2020 softball gold medalist Saki Yamazaki (Toyota Motor Corporation), who has been playing as a teammate at Toyota for more than 10 years, and has been competing as a player representing her own country, gave an exclusive interview to Abbott as a Journal-ONE reporter!
It was a wonderful interview full of laughter as Abbott and Yamazaki talked about memories that could only be understood by each other.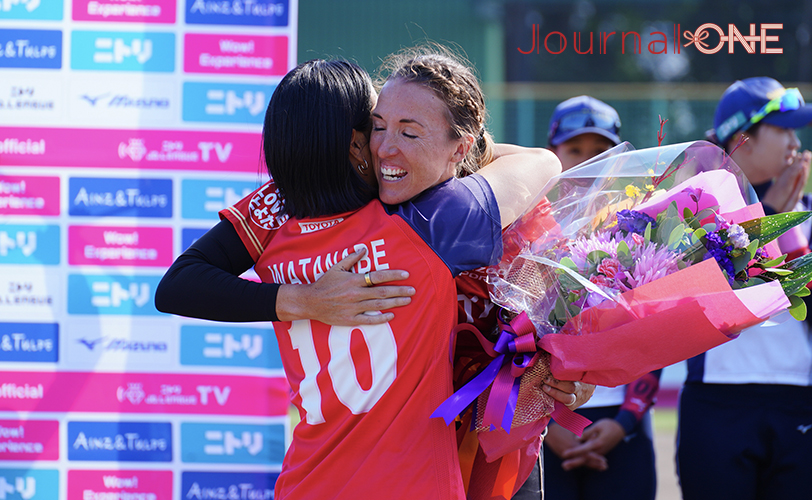 < Exclusive interview >
[Yamazaki]
It's been a little while since the ceremony (held after the match), but could you tell us what was going on in your mind during the event?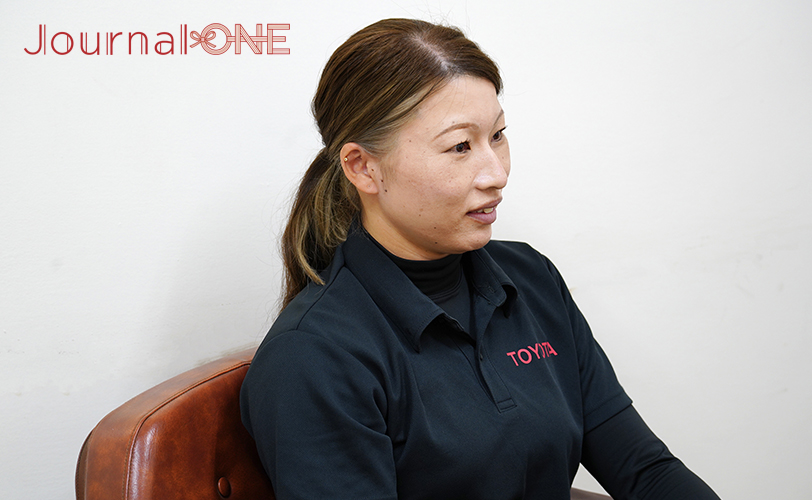 [Abbott]
Hmm. It was all a wonderful time, but at the end of the ceremony, the players and managers of all the teams (Shionogi, Iyo Bank and Tokai Rika who all also had matches on the day) came together and we had a great time getting pictures of each other.
Also, a bunch of Toyota teammates and officials made T-shirts for the day (white T-shirts limited to those involved expressing gratitude to Abbott)…
I was surprised that they secretly changed into them during my speech!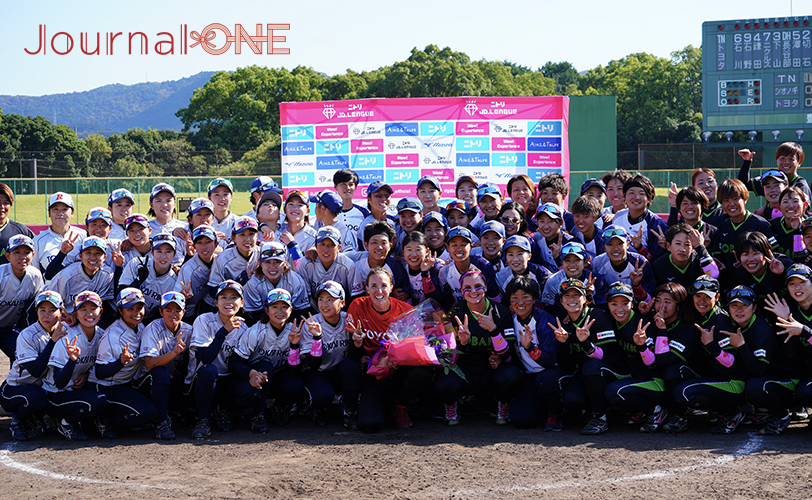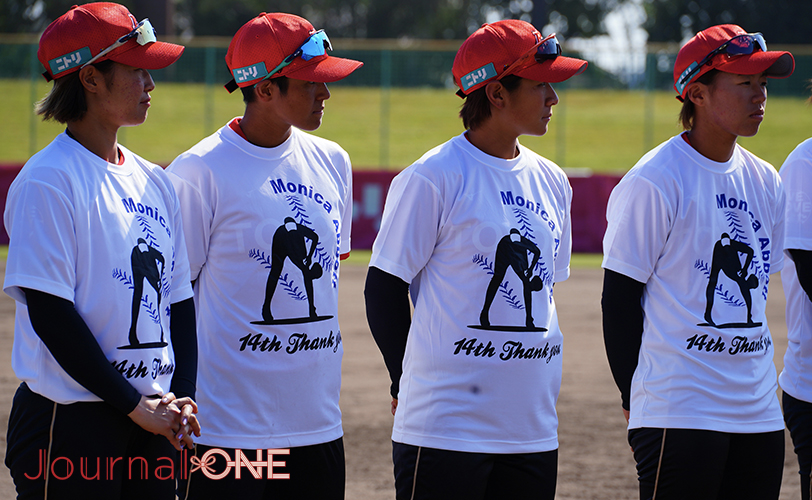 [Yamazaki]
Everyone was secretly changing clothes behind her back without her noticing, but then Monica suddenly turned around in the middle of her speech!
I laughed because you looked so surprised during the speech.
[Abbott]
Yes Yes! (laughter) I could see everyone changing!
[Yamazaki]
Monica, you didn't know about the T-shirts, did you?
[Abbott]
I had no idea. But I was really happy that they made a such nice T-shirts and everyone wore them.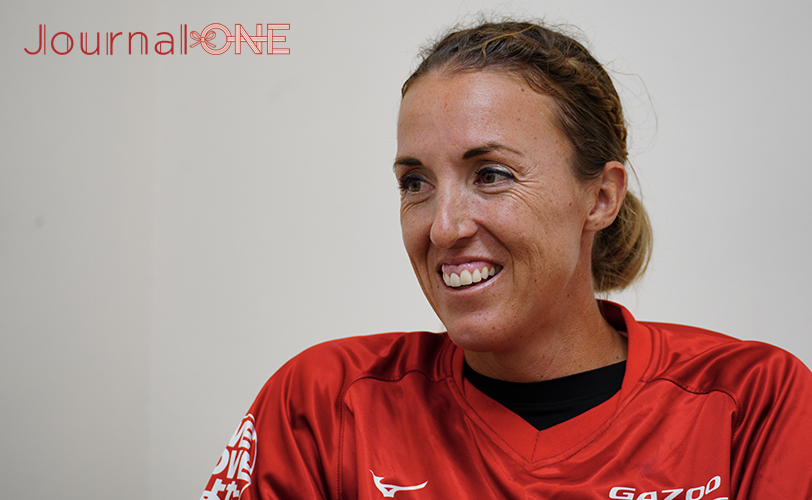 [Yamazaki]
Looking back on your 14 years of activities in Japan, what do you remember most?
[Abbott]
There have been many special memories every year, so it's hard to pick just one…
I guess, the victory in the third year after joining the team (on November 6, 2011, in the 44th Japan Women's Softball Division 1 League, the match in which Toyota won the championship for the sixth time for the second year in a row) left the biggest impression on me.
Saki, you were in your second year, right? I still remember that game very vividly.
(After this, the two talked in detail about the development of the game at that time for a while.)
Well, I guess I remember that match very well, and more than anything, I feel that the victory transformed the Toyota team hugely.
Also, when I came to Japan, it was hard to maintain the grounds (Toyota Sports Center)!
The outfield is also dirt, and I remember that it took a very long time to maintain the ground!
Didn't take about 45 minutes each time? (Laughter)
Do you have any memories with me, Saki?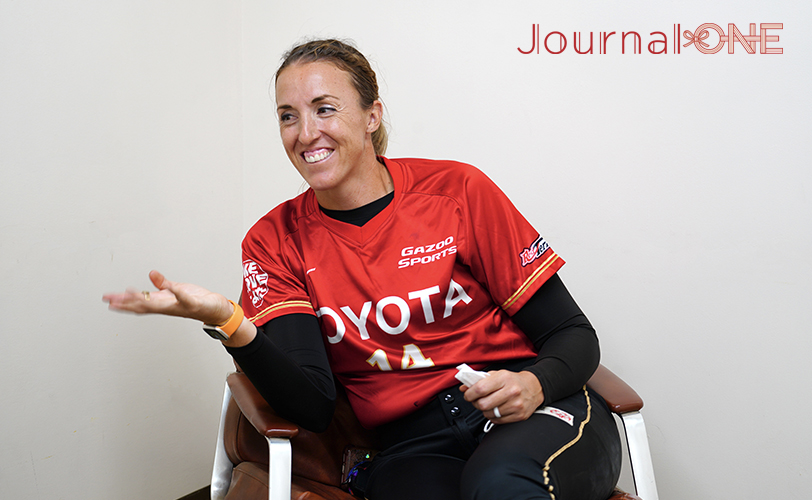 [Yamazaki]
I remember the preparation practice just before the final. It was when I played against Monica for the first time in situational fielding practice.
I hit Monica's ball! Just when I thought that, the ball turned as a comebacker and hit Monica's leg…was it the knee? I thought I had injured her right before the final, and I turned completely pale.
[Abbott]
Yeah! It was a practice for the final, so it was a serious situational fielding practice for both of us.
When I got a hard hit on my knee, I knew that Saki was in great shape, and I thought, "We would win!" (Laughter)
[Yamazaki]
But the final was just a few days away, so I was really sorry…and I kept apologizing.
[Abbott]
It's okay! It's okay! It was a good ball! (Laughter)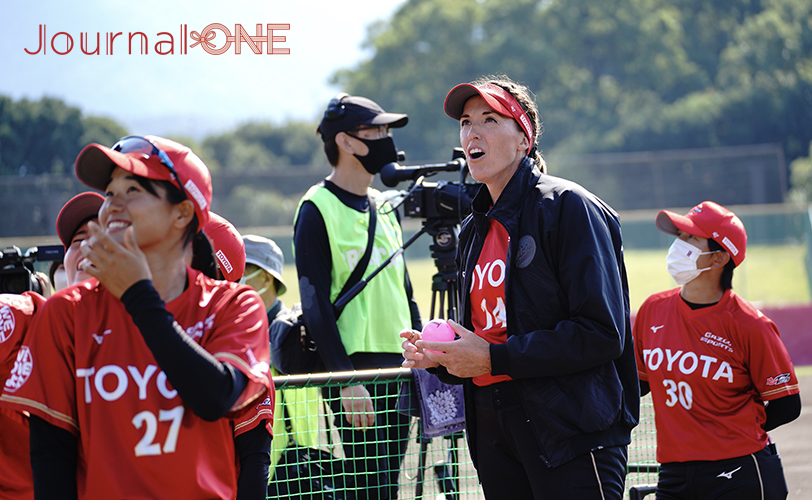 [Yamazaki]
Then, both of us were selected for our national teams, so we often sort of had mixed feelings about being Toyota teammates even though we were rivals representing our respective countries.
[Abbott]
Yes, sometimes the relationship became a bit difficult.
I definitely wanted to win when I got on the field. However, because we were friends, I did have mixed feelings about it all, too. All the more when we had to play at a very high level like the Olympics.
I also had some mixed feelings like "Hey, but we're also friends, right?" (Laughter)
When Japan and Canada fought at the Tokyo Olympics (Game 11 of the first round on July 25, 2021), I think it was a 0-0 overtime tiebreaker. You came out to bat with the chance of a walk-off, and I was rooting for her, saying, "It's a big chance here! Saki, hit it!", but it was an intentional walk. (Laughter)
It was your big chance to be the heroine, wasn't it?
[Yamazaki]
Yeah! The next batter Yamada (Eri Yamada) hit it!
I went to bat thinking I would definitely hit it. (Laughter)
[Abbott]
Yamada is a world-famous great hitter.
So, Toyota fans and Japanese fans alike must have been thinking, "Are you going to let Saki walk and compete with Yamada!? (Saki is a better player than Yamada!)" It was also a very memorable moment.
And I have another favorite memory of Saki. Can you guess it?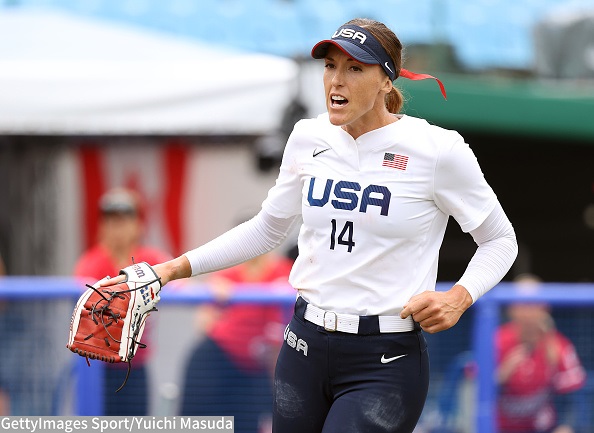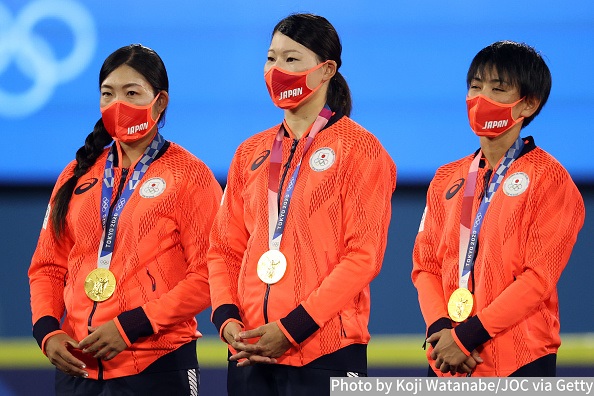 [Yamazaki]
Huh? What what? I wonder what?
[Abbott]
Saki's first year. When we first met and introduced ourselves!
[Yamazaki]
Maybe…"the Mountain"?
[Abbott]
Yes! That's right! (Laughter)
When we first met, Saki introduced herself to me by saying, "Hi! I'm Saki Yamazaki. Yama is a mountain!" It was really fun! That's why I called you "Mountain" for about two years. Mixed with jokes.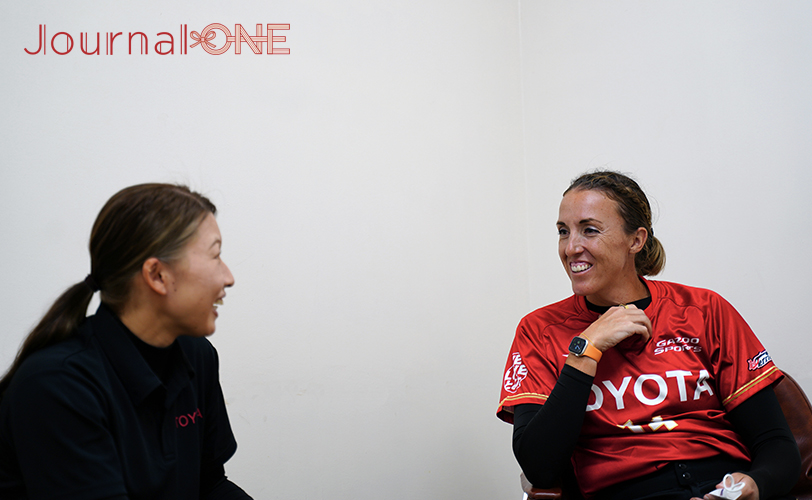 [Yamazaki]
So, do you have any plans for the future?
[Abbott]
I'm not sure yet.
Well, because I've spent so long dedicated to softball every day, maybe I'll just take a little break for a while at first.
After that, I think I will think about what I can do.
For example, TV commentary, softball coaching, online stuff…etc…
Yes, I think it's probably going to be related to softball or some kind of sports.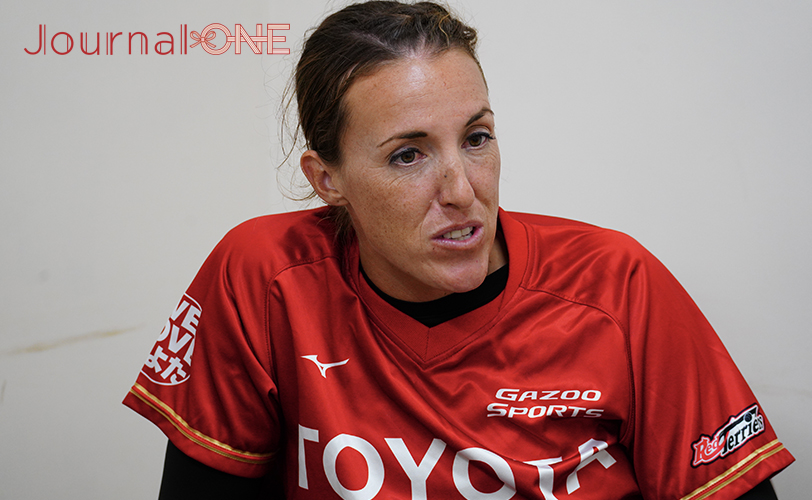 [Yamazaki]
Anyway, you should take it easy at first.
[Abbott]
Right. I'm not going to stress about it… I don't want to make any hasty decisions.
I think I will wait for the right opportunity, hoping that something will happen that will set my heart on fire and really fire me up.
If something comes up, I will naturally go with it.
Saki, you retired a year earlier than me, but isn't it hard to find what you want to do?
[Yamazaki]
Yes, that's right. I retired a year early, but it's still hard to find something…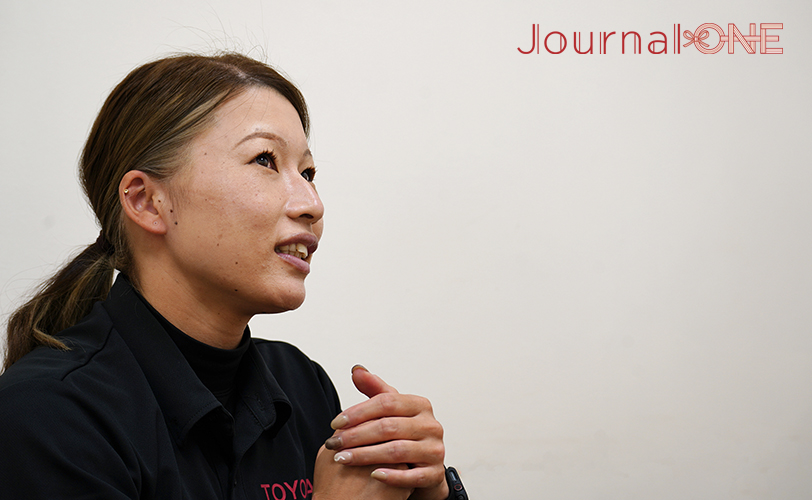 [Abbott]
I have a lot more time now that I quit softball. If you quit softball, you won't have to spend all that time practicing, so you'll have a lot of time, right?
Are you still training?
[Yamazaki]
Time slows down when you retire.
I don't train at all (Laughter), I just go for runs.
I want you to take it easy too. I want you to take time and work on what you couldn't do before.
[Abbott]
(For a senior who retired earlier) That's really good advice. Thank you very much.
[Yamazaki]
Lastly, please give a message for the many Japanese fans who wanted to come to support you today.
[Abbott]
First of all, thank you for always supporting me for 14 years.
There were always so many people who came to support us and cheer us on at Toyota's ground, at various match venues all over Japan and in the final league.
The fact that you all came to support me helped me and gave me strength, and I think that's why I have been able to continue doing this for 14 years.
Thank you very much to all of you.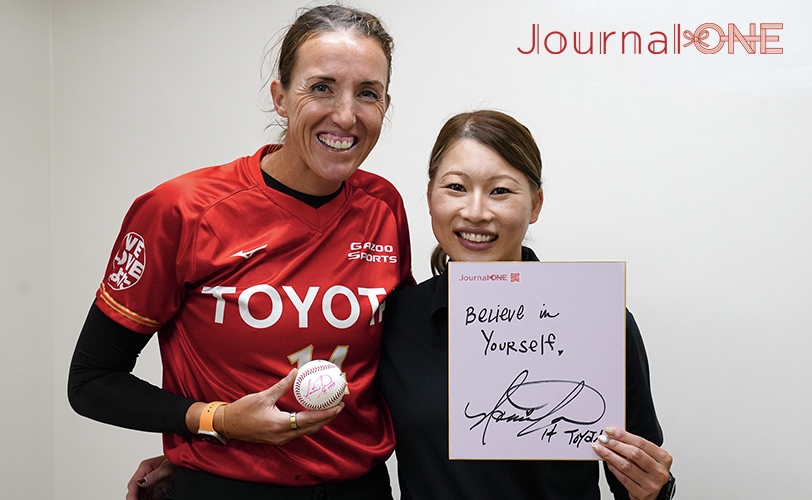 < After the exclusive interview >
I was very delighted our impression of each other, and the match that left the most impression on us after playing together for more than 10 years were the same, and I interviewed her with great joy and nostalgia about the days we spent together.
That situational fielding practice incident with Monica was a turning point in my softball career as well. From that turn at bat, I had more opportunities to get in games, and I was allowed to participate in the finals tournament as a DP (Designated Player). It is an important, precious memory with Monica that I will never forget.
For the time being, I want Monica to take her time and do whatever she wants.
If Monica has a chance to pitch in the U.S., I would definitely like to go see it.
You can see Abbott's last play in the Diamond Series, which will be held at ZOZO Marine in Chiba City, Chiba Prefecture on Saturday November 12, and Sunday November 13!
Please come and support her last brave performance of fighting for the championship with all members of Toyota Red Terriers, where she has played for 14 years.
After the interview, we received wonderful messages for the readers of Journal-ONE.
We will introduce them in the Instagram project "Powerful message from Athletes." Stay tuned!