The Ivy League is a group of private prestigious universities in the US. It is very famous, so you would have heard of it somewhere even if you were Japanese. 
Yale University, which has produced US presidents and politicians such as Bill Clinton, George W. Bush; Harvard University, which has the longest history in the country, having produced the largest number of founders of IT companies and Nobel Prize winners in the world; The University of Pennsylvania, which former president Donald Trump graduated; and Colombia University, which also excels in sports, having produced MLB's superstar, Lou Gehrig. 
And adding on to the list above are Princeton University, Brown University, Cornell University and Dartmouth College. All of these have produced world famous graduates, the leaders of political, academic, and legal worlds. 
Out of this Ivy League, 51 students visited Japan to play in the "Japan U.S. DREAM BOWL 2023", an international match against Japanese adult players selected from the X League. The Ivy League All-Star team were busy participating in events, not just doing practice and games. 
In Journal-ONE, we closely covered their stay in Japan!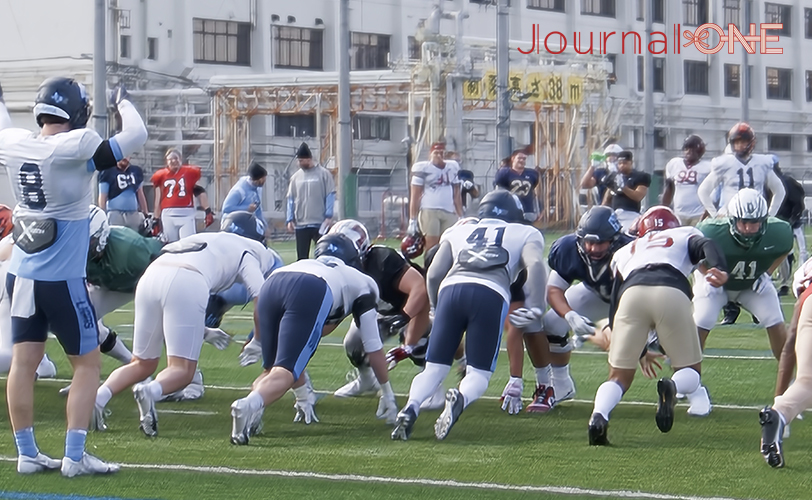 We will introduce the bond between the US and Japan, created by American football. Events that took place include: getting to know the latest Japanese technology by having a test ride of SCMaglev, invented by the Central Japan Railway Company; experiencing Japanese culture and history in Kamakura, Kanagawa prefecture; and having an international exchange with high school students in Kawasaki, Kanagawa prefecture, where the practice grounds are located. 
On this particular day, the players were gathered since morning as usual for practice. They are in the last half of their stay in Japan, and hands-on practice have increased. 
American football is one of the four most popular sports in the U.S., and its pinnacle, the NFL (National Football League), is said to have the country's highest box office revenue among all professional sports. There is also "College football", where universities that produce many future NFL players participate. This is equally popular, and its games are broadcasted on television, just like the NFL games. 
The Ivy League is a prestigious team of College football, however, because there is no scholarship given to students who excel in sports, they have to be also academically outstanding in order to play in the league! Players need to be a well-rounded student, just like the Japanese idiom, bunbu-ryodo (wielding both the pen and the sword)!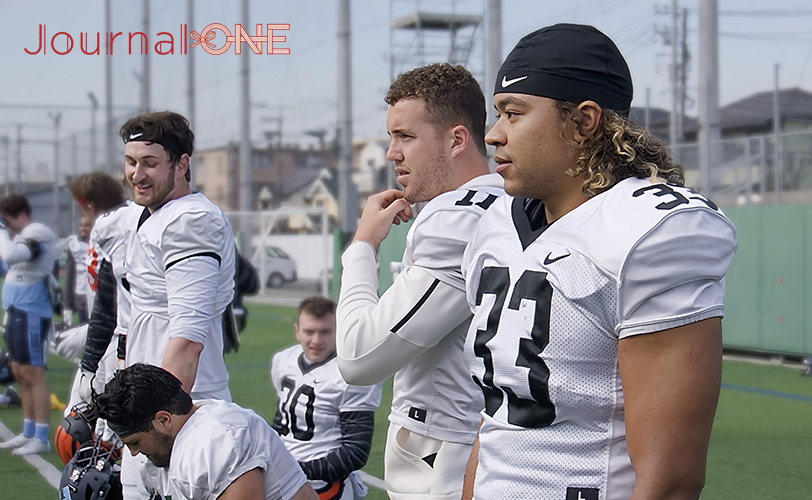 "We are coming close to forming the team, but since it is off-season, physical adjustments are quite difficult. Today, with head coach Ali Bagnoli's instructions, we did a little more training for better body movements than usual," said coach Frank Lisante, the Assistant Director of Sport Performance in Colombia University.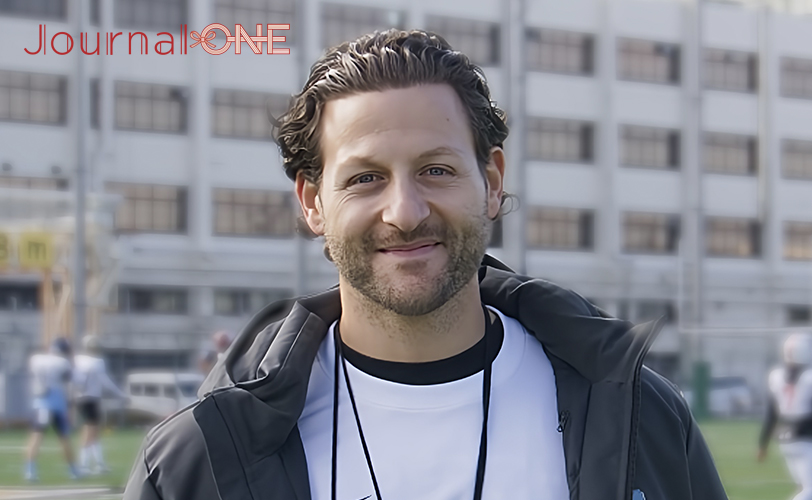 And when asked about his stay in Japan so far, coach Frank answered with great excitement, "The preparations for the football match are hard work, but I'm enjoying the different programs prepared for us and the experience in Japan during my free time. Yesterday, I took a test drive of the SCMaglev and it was a thrilling experience. I can't believe I went on a train that runs 311 mph! I sent a picture and a video of it to my cousin who is an engineer in the US, and he was amazed that a train running 311 mph was floating." 
"Today I'm going to be able to go on the Tokaido Shinkansen (the Tokaido bullet train)! The staff and I are going to see the grand sumo tournament held in Tokyo, and we are very lucky and excited to watch Japan's national sport, sumo, as well as being able to go on the Tokaido Shinkansen!" Coach Frank seemed happy to have been able to experience the punctuality, the comfortable ride and the Japanese technology of the fast-running train.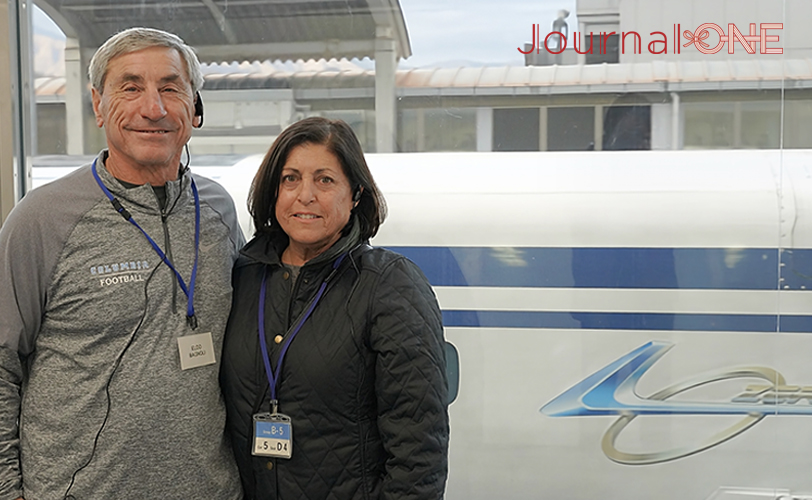 In football, diverse forms of teamwork are essential, and it is not until these are achieved with precision that the players become a team. On this day, the word "Communicate!" was let out by the coaching staff many times, and every time, the players stopped to check on the play's goal or each other's moves. 
Because each player is from a different university and usually play for different teams, we thought it would be difficult to understand each other in such little time. However, the players were communicating with each other with smiles on their faces. 
The Ivy League players were enjoying their practice even though it was hard and tiring. Watching these top athletes enjoying sports, we couldn't help but smile.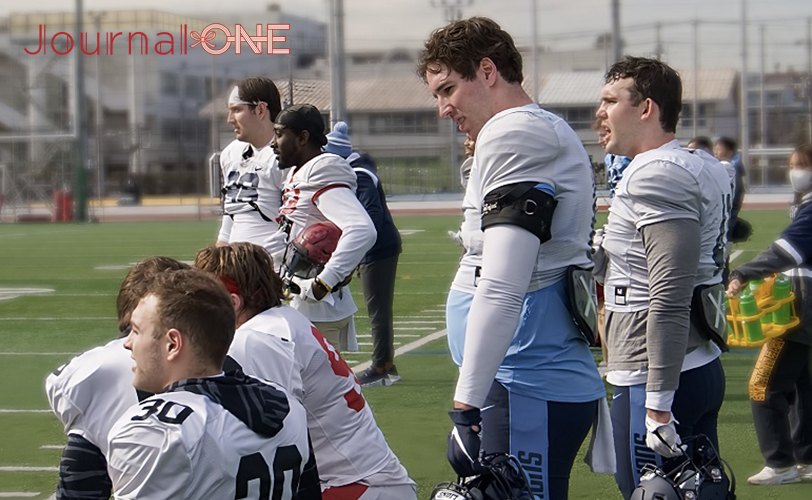 Many visitors were surrounding the field, and we interviewed one of them. "I am the mother of Ryan Young, #4. My son is very lucky to have been selected as player of the Ivy League All-Star team and be given a chance to play against Japanese representative players. This is my son's last game of his last year in university, and it is sure to become a memorial experience. I came to Japan with my husband, Rod, to have a look at the game for myself," spoke Sanura Young. 
Rod Young, who works in a business development company in Chicago also spoke, "I'm excited for my son's last game, but I'm also enjoying my first visit to Japan. We went to Shibuya, Meiji-jingu, and Asakusa. Are there any recommendations of where to go? It would be great if it is a place where we can know more about people in Japan." We had a lively conversation. 
We introduced Ame-yoko in Ueno, where shops selling Japanese foods and everyday goods stand in line. Sanura sounded interested, saying, "I see, it's a place where the Japanese go for shopping. I imagine it's great for buying souvenirs! We need to buy a lot of souvenirs."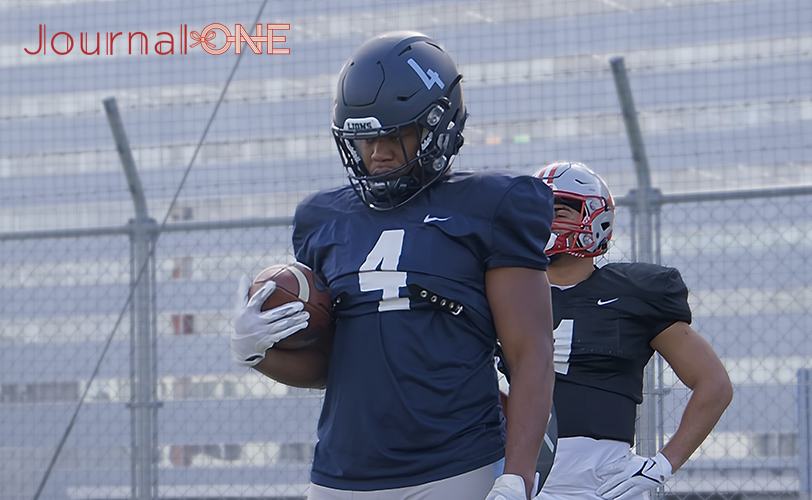 Ryan seemed very happy to have been able to visit Japan, telling us after his practice, "Japan is a very clean, safe country. I'm interested in Japanese history and culture, so I am very grateful for everyone to have been given me this chance. I'm continuing my training for the NFL tryout taking place in March and April." It looks like he is aiming to become a professional football player after graduating. 
We took a photograph together with the Young family, and it turned out to be a great picture demonstrating the US culture of treasuring one's family. Ryan even wrote a message for people in Japan for the project "Powerful message from Athletes" on Journal-ONE's Instagram!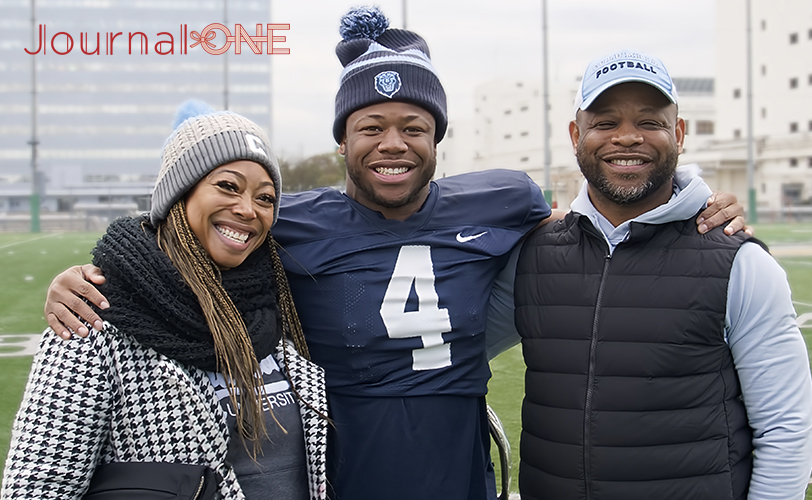 After their morning practice, the players split up in several groups to go to different events to experience Japan or to interact with Japanese people. We interviewed an international exchange event with high school students. We decided to wait for the players at the playing field of Tachibana high school of Kawasaki in Kanagawa prefecture, very close to the football practice grounds, along with the first-grade students of the sports department.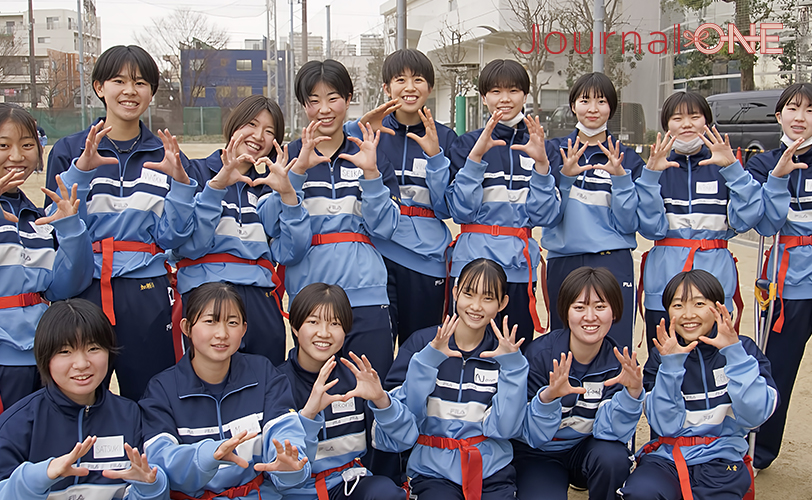 39 young athletes who aim for the number one in high school volleyball, track and field, baseball, soccer, soft tennis games welcome the players with energy. As they got off the bus, the 14 players including the captain, Scott Valentas, were greeted with cheers. With a little embarrassment in their faces, feeling like a celebrity, the players appeared in front of the students.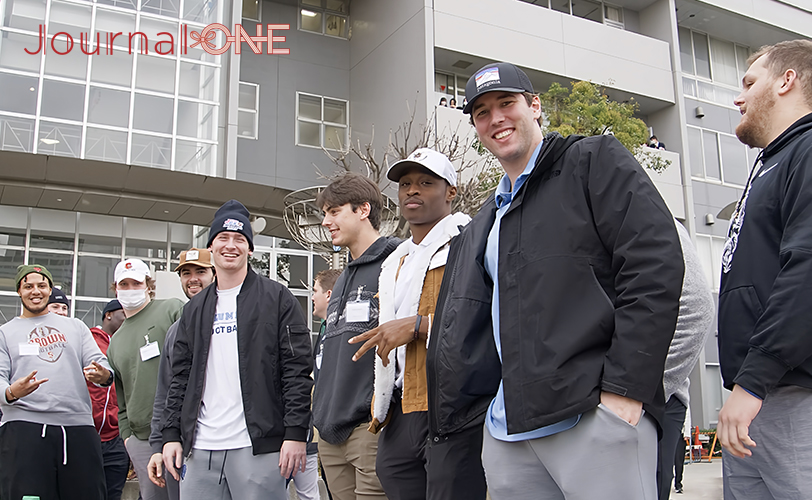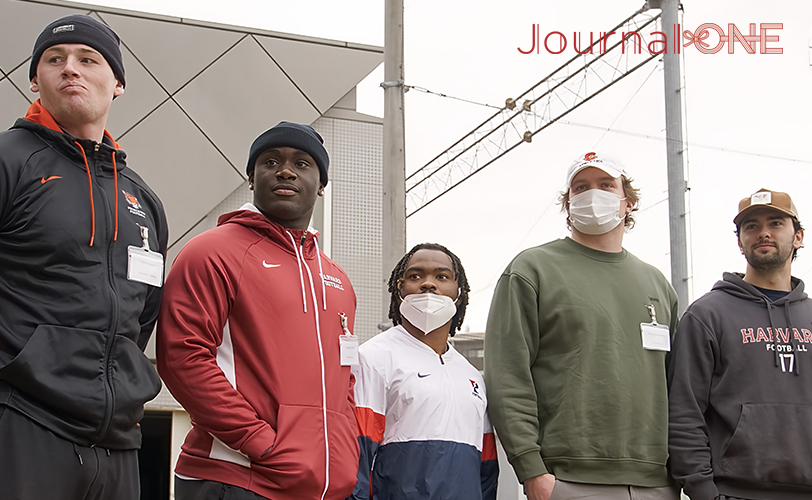 The activity that took place in the playing field was flag football. 
Flag football is a game where players try to take the flags tucked in both sides of the opponents' waist, rather than tackling. It is a type of sports where you can understand the rules of football, but without any danger of physical contact. 
First, they split up into small groups and the Ivy League players, using gestures, taught the students how to hold the ball, how to throw the ball, how to run, and how to pass the ball. Jack Bill, the wide receiver (WR) from Harvard University could be seen teaching students the correct way to hold the ball and throw it.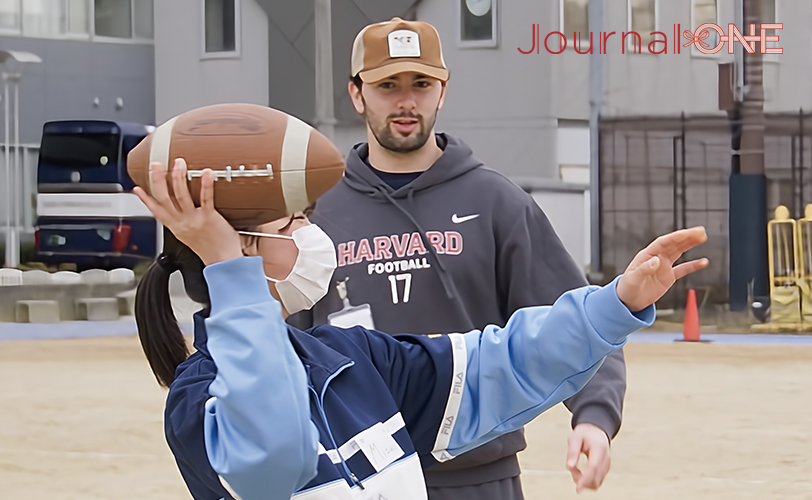 James Stagg, the defense line from Princeton University was seen teaching them an advanced technique, figuring out the best timing to run into your position and to pass the ball.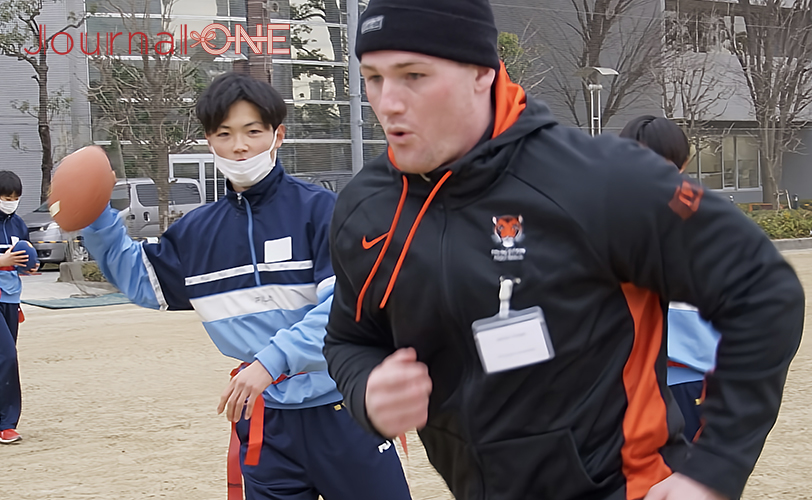 The students were shy at first, but as they communicated moving their bodies, which is something they are good at and love to do, their distance between the players became closer and closer. They even started giving high-fives and asked them questions using English. The playing field was filled with smiles. 
After an explanation of the rules to flag football, it was time to put into practice the best part of football – "set play".  
This time, divided into 4 teams and using half of the playing field, they took turns practicing defense and offense. The rule is simple. If the offense team achieves to cross the line located 10 yards away, it wins. If the defense team achieves to block the offense team, it wins. The students were itching to play the game.  
On the other side, the Ivy League players were writing out their game strategies, conversing with concentration. 
Diassa Diakite, the defensive back (DB) and Kobe Joseph, the linebacker (LB), a duo from Harvard University, were holding up panels on which each player's moves were written. They explained each student's roles and moves with great enthusiasm.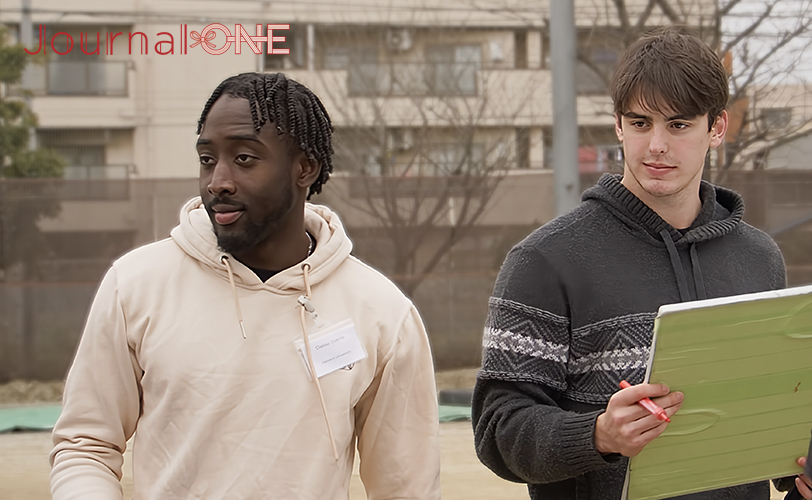 At first, the students seemed baffled at the tactics and the moves, but as they got used to the game, little by little, their moves began to look like a football player. At one point, one team was a move away from touchdown! But the player who received the pass gave out another pass. The Ivy League players laughed awkwardly, looking at the point gained by an action against the rule…  
However, with captain Scott's words that a point is still a point even in this case, the team cheered and shared their joy among themselves.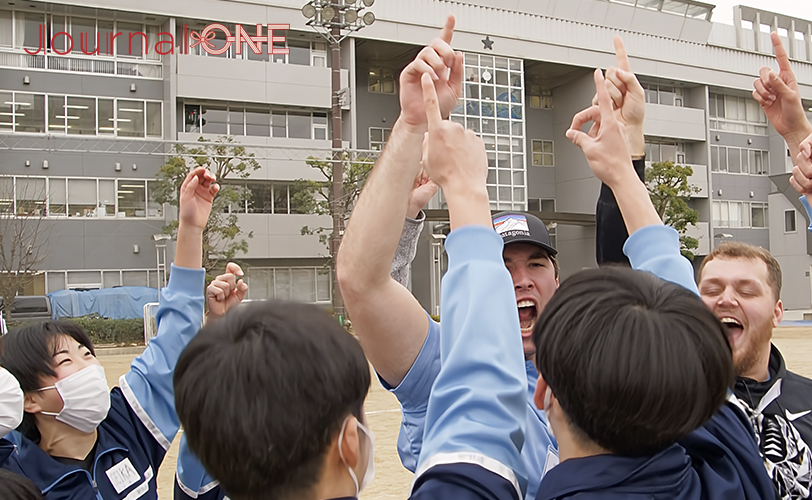 Time flew by, and the international exchange event came to an end. Although it was a short amount of time, they took photographs with their teammates and were reluctant to say their goodbyes. The interaction between the Japanese students and the US players, both young athletes, was filled with smiles.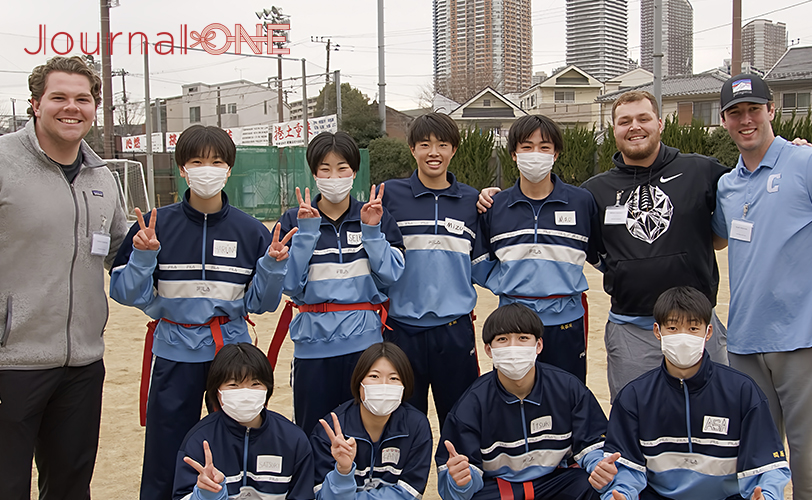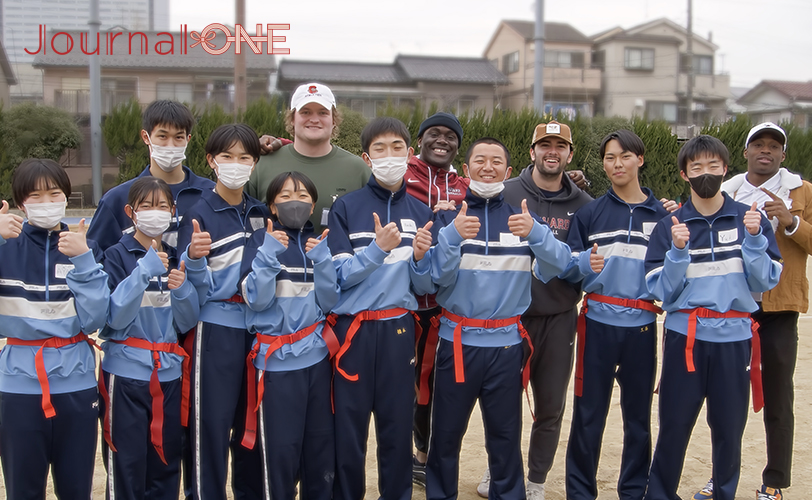 With little time left, everyone was in a muddle during the photo shoot! 
Parker Lefton, the long snapper (LS) from Colombia University could be seen with a big smile on his face. The most popular player to be asked to take a picture with was Mike Fluegel, DB from Colombia University. He happily responded to each student's requests.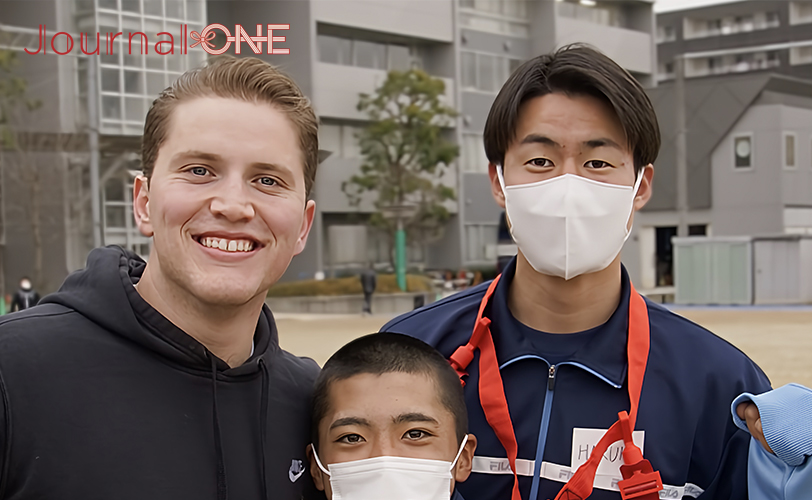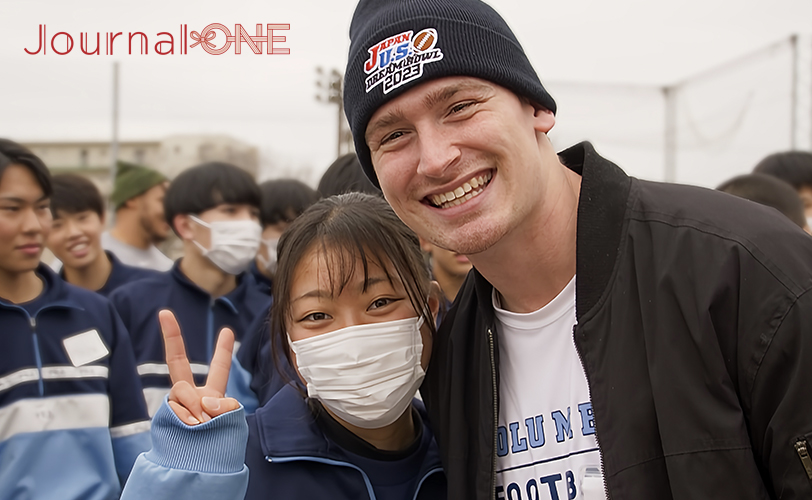 "I was worried at first, because I am an athlete of athletics and I have no experience of sports involving balls, and also because I'm not good at English. But I'm happy I was able to communicate using gestures!" spoke Haruka Sano happily, a student who does sprint in the school track and field club.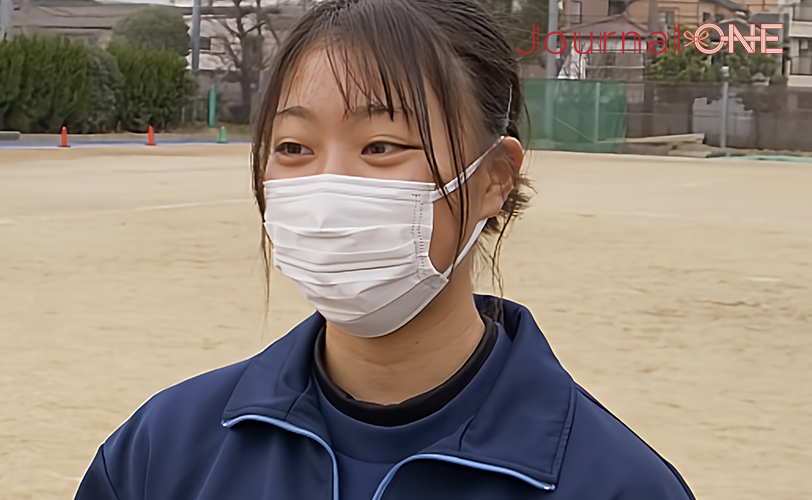 Japanese athletics is now rising to a world-class level, so maybe in the future, when Haruka competes with foreign athletes, she will look back to today's events. 
 Next, we went into the classroom to have a cultural exchange with the students of the international department. 
The players could not help but smile when they were greeted with "omotenashi", with the word "WELCOME" on the blackboard and the classroom full decorated with origami. 
Here, it looks like 2 or 3 students are teaming up with an Ivy League player and talk about one another. The students seemed a little nervous, but they were doing their best to express their thoughts in English, showing presentation materials they made with computers and boards. 
 Khalil Dawsey, the DB from Harvard University, concentrates on each student's words, trying to catch every bit of energy in them.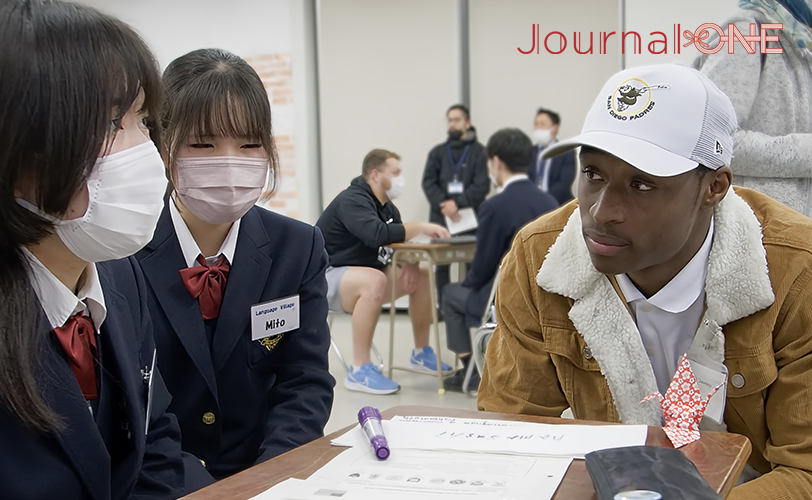 Isaiah Malcome, the running back (RB) from the University of Pennsylvania, who was awarded the MVP in the "Japan U.S. DREAM BOWL 2023", also listens to the students' presentations with great concentration, with the same energy in his eyes as during a match.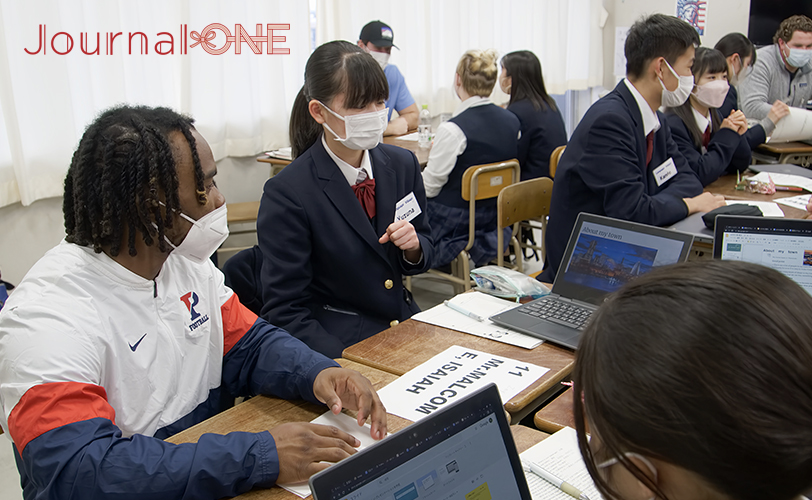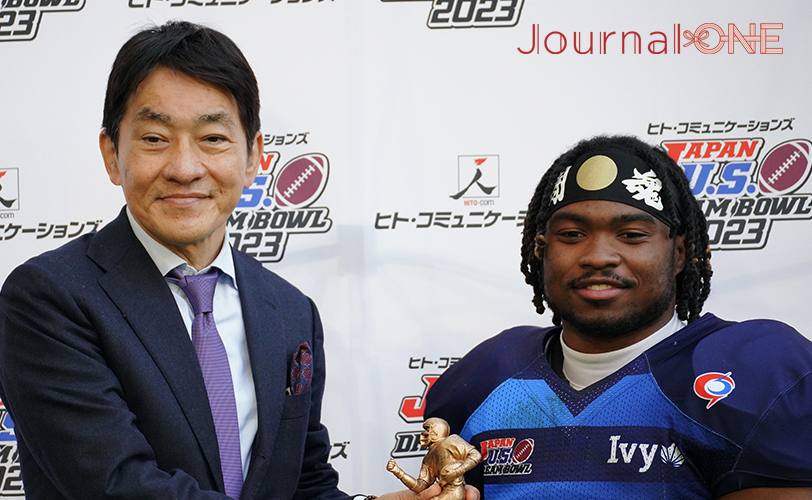 After having understood each other, they moved on to a challenge to make a paper crane with origami, an authentic Japanese culture. Here, unlike in the introduction presentation, both the students and the players folded their origami with big smiles. The players, with their large bodies, struggled with the detailed work.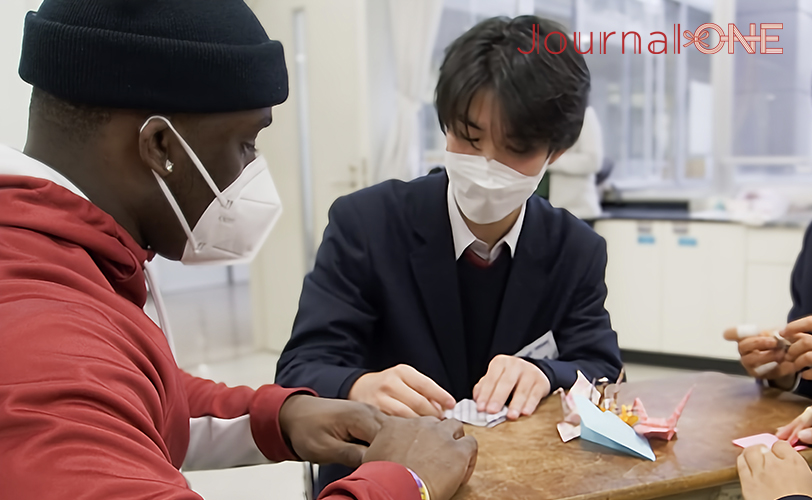 Chad Bloom-Webster, the offensive line (OL) from Brown University, hunched his wide shoulders and concentrated on the delicate work with his hands. On placing his hands together, the students said with great surprise, "Wow, your hands are very big!", and they were amazed at the size of them.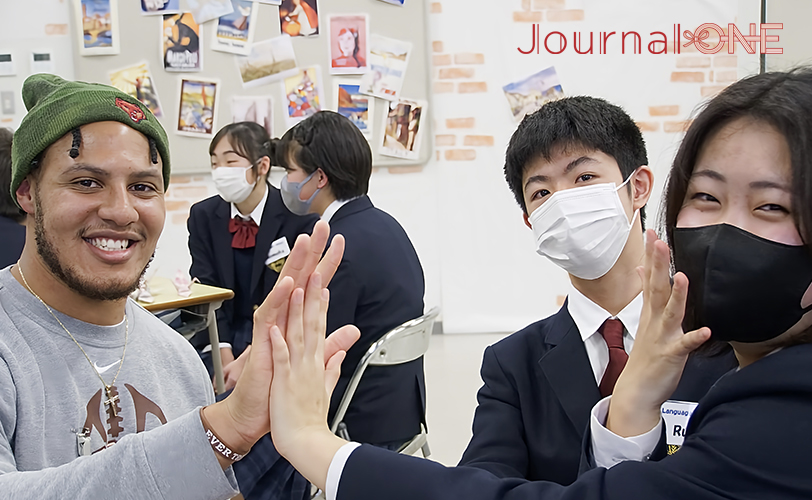 All of the players finished their paper cranes on time. Taking a picture happily with his paper crane, Jack said, looking back at the fulfilling time "Everything about today's international exchange event was amazing. In the presentation, I got to know a lot about the 3 students I teamed up with, and it was great. One of them told me he had a dream of becoming an interpreter, and another told me she had the same dream as me, to work as a person who supports athletes. It was great to find these out too."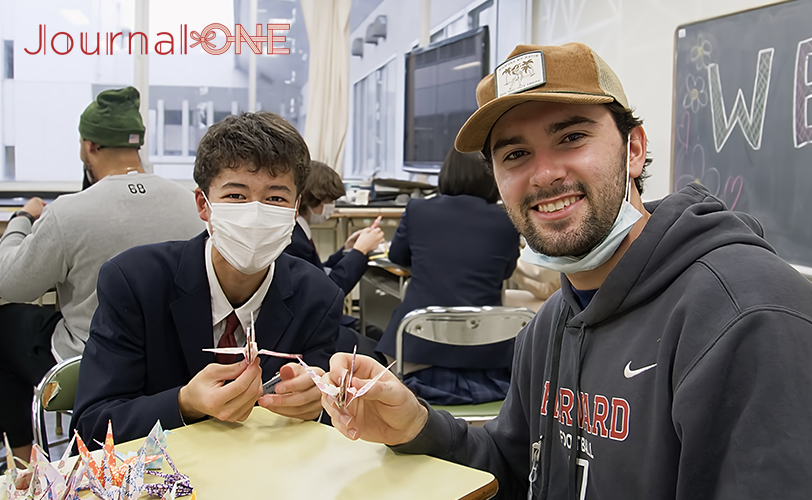 Momoka Oda, the student who has the same dream as Jack spoke to us with a little regret in her voice, "I want to be a sports nutritionist, so I wanted to ask Jack, who is a professional athlete, more about his diet and how he consumes nutrition." 
Sora Marumoto, a student who aims to become a firefighter, told us with a smile, "I was touched by Jack's kindness." With this comment, we felt the success of this event. 
Kawasaki, in the prefecture of Kanagawa, where Tachibana high school is located, is a city that supports community development through American football. It works together with sports organizations, the community, and its citizens to promote community revitalization and youth health development. Rather than just focusing on doing sports, the city incorporates international exchange events, an idea to incorporate as many citizens as possible. 
 Carolyn Campbell-McGovern, the deputy executive director of The IVY League, who came to Japan with the players, spoke to us, "This visit to Japan has become an experience to treasure for the players. Before the players visited here today, they were made to consider what they wanted to learn from Japanese high school students. I'm sure this cultural exchange has become a productive experience." She talked to us with great satisfaction, looking at everyone's smiles.