Koyasan: the sacred site of Shingon Esoteric Buddhism, opened by Kobo Daishi Kukai. Far from the city, on 800 meter-high Koyasan; why was a sacred site for training constructed in such a place?
Priest, Kokan Nakamura explained in fascinating ways the stories behind the founding of Koyasan, the scene when Kukai crossed to Tang (present China), etc., based on pictures on the sliding doors decorating the numerous rooms in the main building. Since each room is partitioned with colorful sliding doors, each giving a sense of different seasons and history, you are drawn into the world of the rooms, one by one. You cannot miss the large dry landscape garden (Banryutei) that expresses the dragon lying inside Koyasan.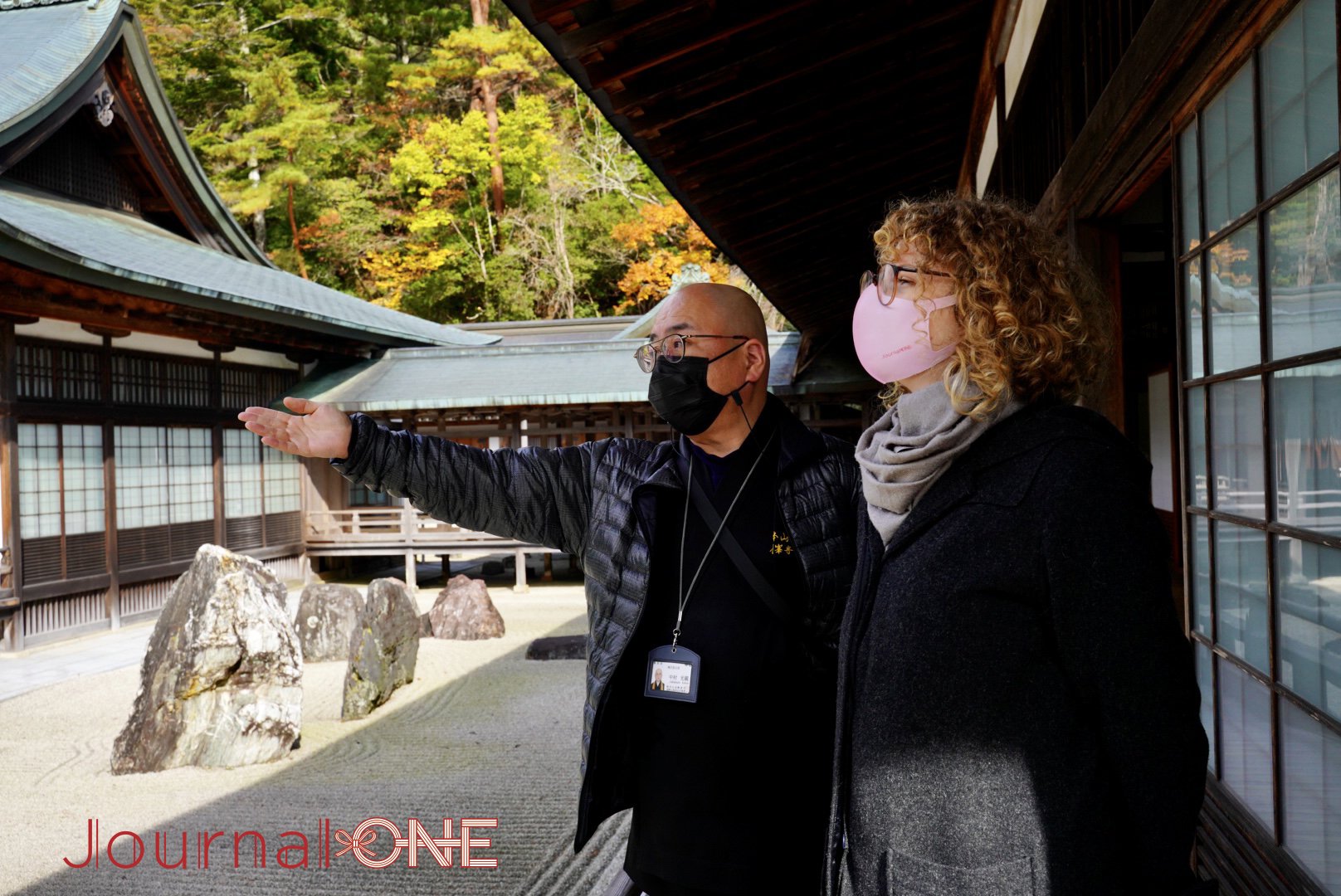 "Kongobuji Temple on the top of the mountain has been struck by lightning and damaged by fire many times. For that reason, tanks for storing rain water are installed on the roof, for use in distinguishing fire if the case arises," says Mr. Nakamura, pointing to the large roof of the main building.  They are an excellent device for being prepared, in this way, with natural fire defense equipment.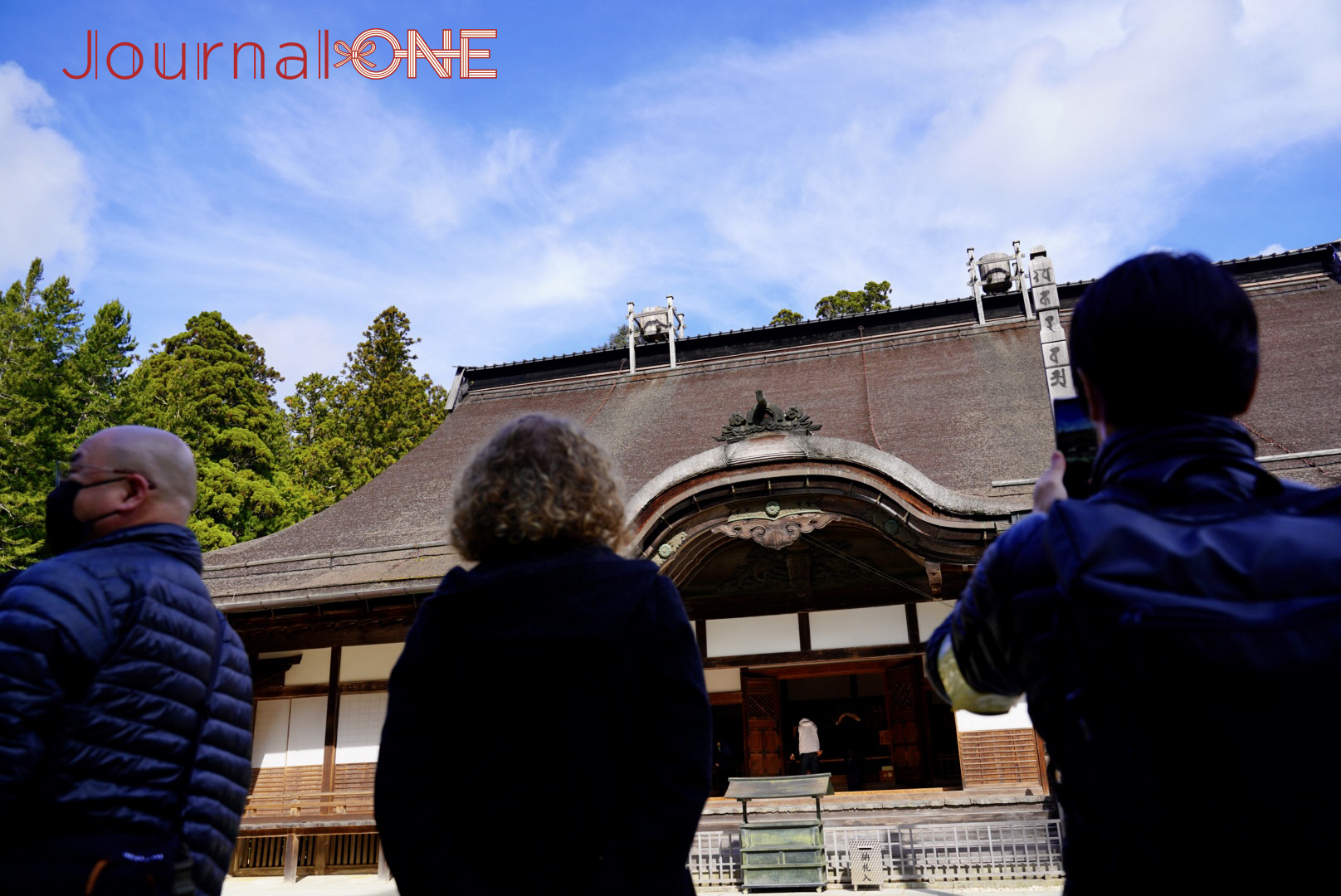 The main building alone has many things to see, but the precincts, too, of Kongobuji Temple are vast and with various places you should view. I was also shown around Danjo Garan by Mr. Nakamura.
At Danjo Garan, we were taught all about the numerous buildings – Chumon Gate, National Treasure Fudo Hall, Kondo Hall, Konpon Daito Pagoda, etc. – from their history to their uses. With so many buildings, I thought how complete Koyasan was as a sacred site for Shingon Esoteric Buddhism.
"In the same way that there is no end to training, Koyasan is still incomplete," Mr. Nakamura told me with a smile.  I was very intrigued as to what would be built in the next great turning point.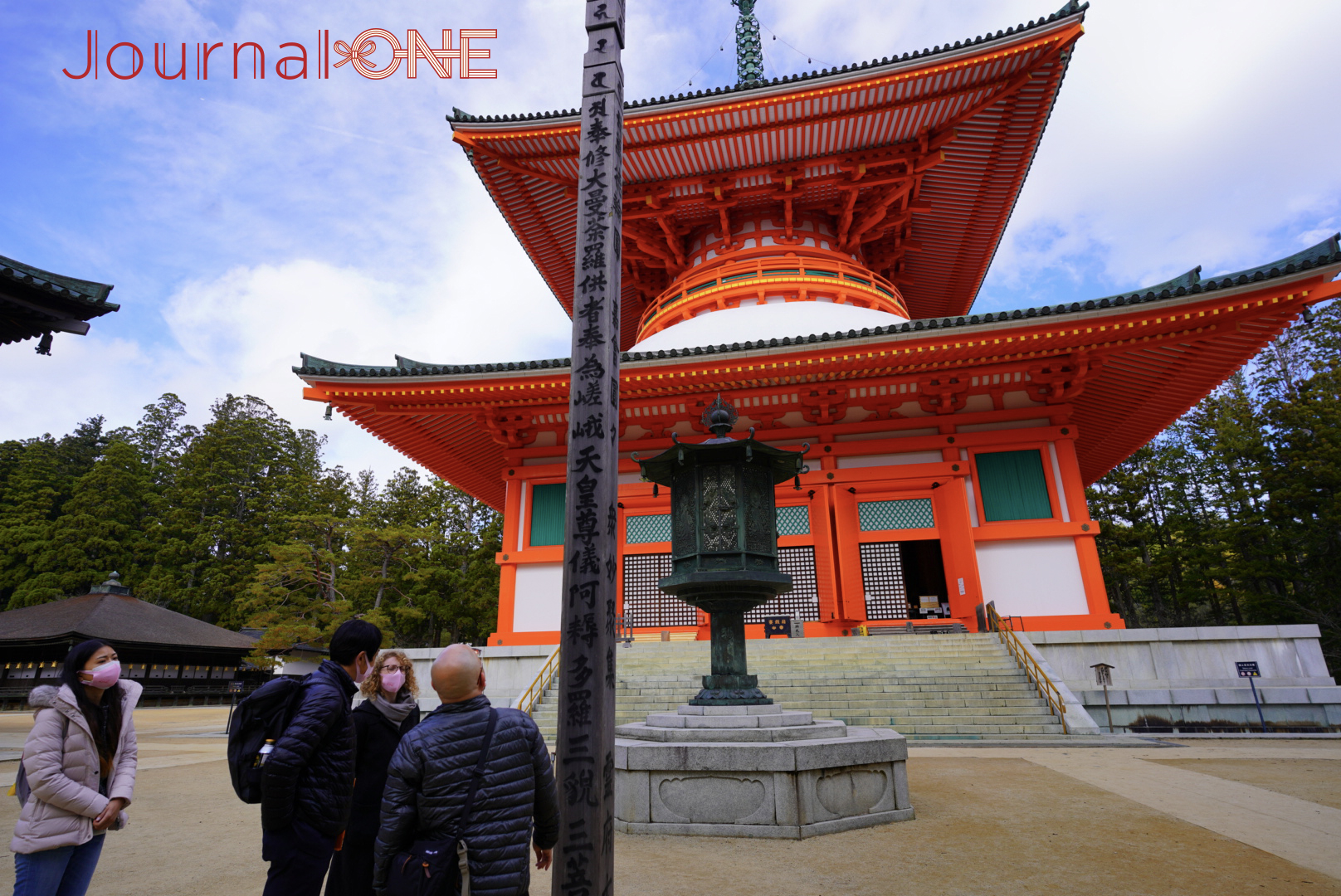 The latter half of November when I visited, was a little late for the high point of the autumn leaves, but here and there, I was able to see bright red leaves.
"In about a weeks' time, it will snow on Koyasan," said Mr. Nakamura.  Daimon Gate was surrounded by stunning autumn leaves; scenery that did not suggest snow would soon fall.