We travel for different reasons and purposes in search of something that can only be found away from our daily grind. Traveling is an act common to all humankind. And, when we select a train as the means for reaching our destination, we are not just choosing a vehicle to get from Point A to Point B, but a conveyance that is coupled with a scenic journey. In short, our "destination" turns into an excursion that allows us to enjoy the sights.
Before the pandemic, several trains offered scenic journeys in Japan. It was something akin to a tourist train boom with many Japanese as well as travelers from abroad visiting different regions of Japan to seek out these trains.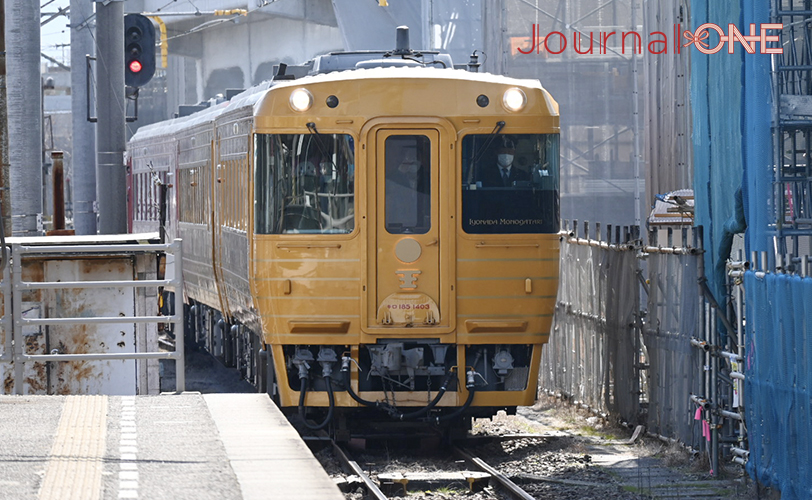 It was in 2014 when these scenic rides started to attract more and more attention that the Iyonada Monogatari became the first official tourist train to offer a scenic sightseeing journey in Shikoku. Operated by JR Shikoku, the Iyonada Monogatari has been one of the most popular tourist trains in Japan ever since.
Journal-ONE wanted to find out the secrets of the Iyonada Monogatari, so we actually boarded the train together with members of Iyo Bank Vertz, a women's Japan Diamond Softball League (JD League) team based in Ehime Prefecture.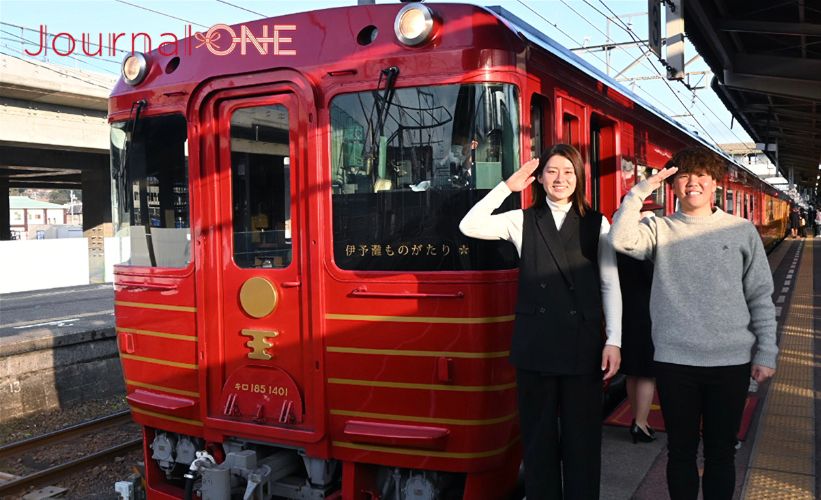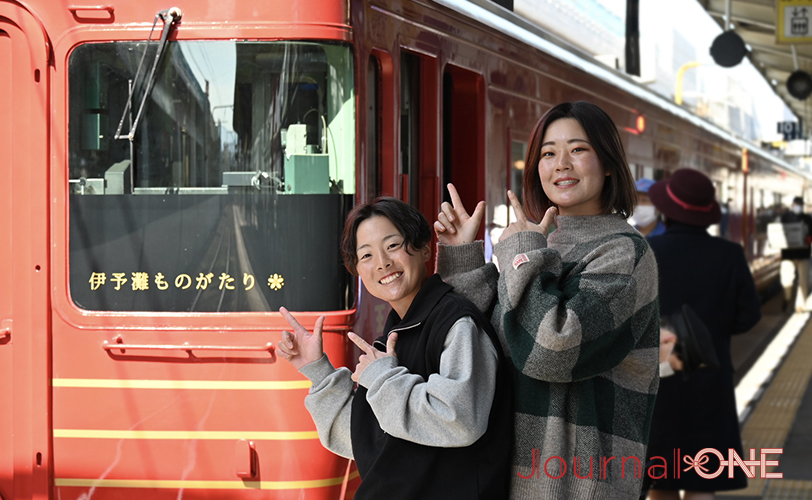 After enjoying this feature, be sure to check out "Support Shikoku Project: Dogo & Seiyo," the first ever report by Nana Shoji, the team's go-to pitcher, and the offensive & defensive key Minami Tsujii, as well as the "Support Shikoku Project: Tobe & Uwajima" by slugger & quick defender Kiho Honma and mood-maker Akiko Yoshikane.
Iyonada Monogatari: Four Trips (Stories) in One
Okay, let's start with everyone telling about her Iyonada Monogatari train ride.
Shoji: Tsujii and I boarded the Iyonada Monogatari bound for Ozu, which departed Matsuyama Station at 8:26 and arrived at Iyo-Ozu Station at 10:28. This was right during breakfast time, so we reserved ahead of time the Seasonal Breakfast for Savoring the Morning (¥3,000), which was excellent!
Yo-Yo Kitchen, a restaurant near Matsuyama Station, served up a healthy colorful meal comprised mainly of local fresh vegetables.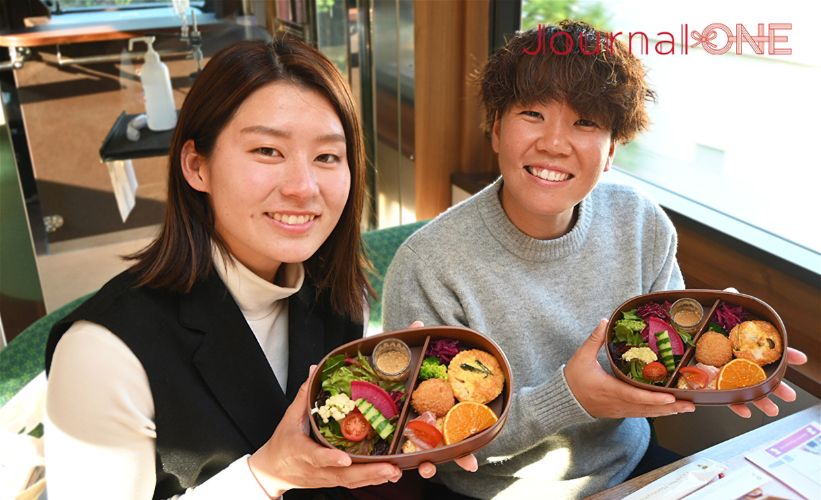 Honma: We boarded the Iyonada Monogatari bound for Yawatahama, which left Matsuyama Station at 1:31 p.m. and arrived at Yawatahama Station at 3:50 p.m. We were looking forward to the trip as we had heard that meals are served on cute tableware crafted in the Tobe-yaki pottery style, a traditional ceramic ware that is the pride of Ehime Prefecture. So, that morning, Yoshikane and I visited the Tobe-yaki Togeikan Pottery Museum to learn from Toberite pottery masters how each piece is hand painted. After that, we boarded the train. By the way, meals aboard the Iyonada Monogatari are served on pottery produced by Toberite masters.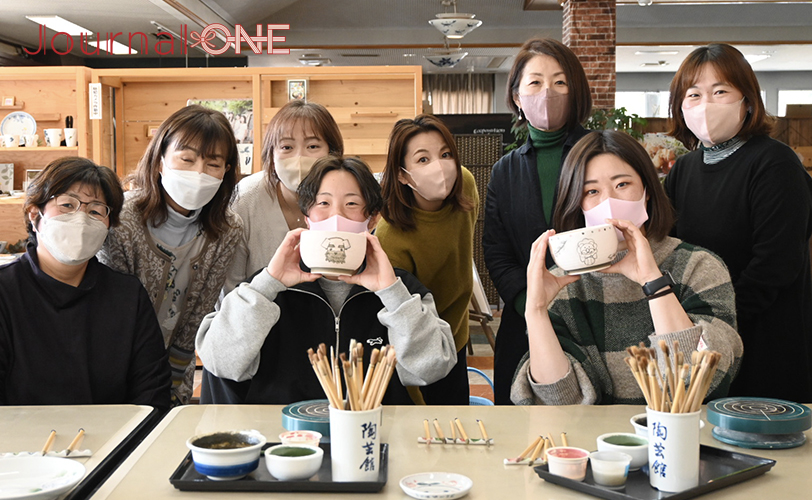 Tsujii: I am originally from Wakayama Prefecture, so I had never heard of the Iyonada Monogatari until now. After it was decided that we would do this story, I asked one of my coworkers who had been on the Iyonada Monogatari to tell me more about it. But, that did not prepare me for how luxurious the train actually is when I saw it arrive at the platform! Onboard, I saw the big tables and sofas and thought interior looked like a hotel lobby. It was much more magnificent than I had imagined. My interest was really piqued, so we looked over every inch inside the train in doing our research for this story.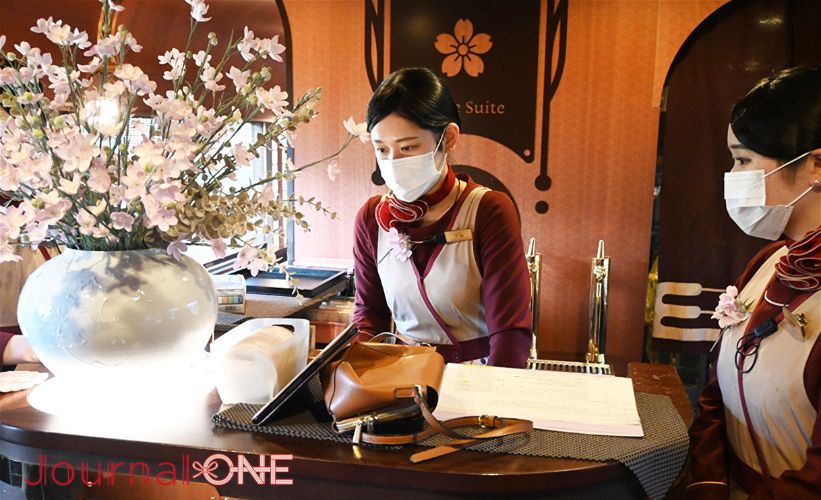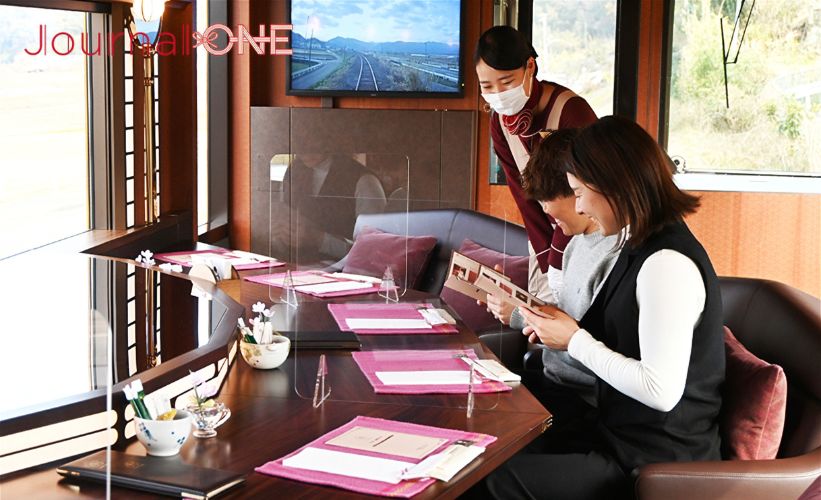 Yoshikane: Just like Shoji, I'm also from Ehime Prefecture, but this was my first time to actually see the Iyonada Monogatari! Everything was magnificent and gorgeous. We reserved the Kadota French: Iyonada Mini-Course (¥5,500). However, I was a bit nervous because I had never had such fine French cuisine like that from Restaurant Kadota, a Seto Inland-style French restaurant in Matsuyama City that prepared the meal.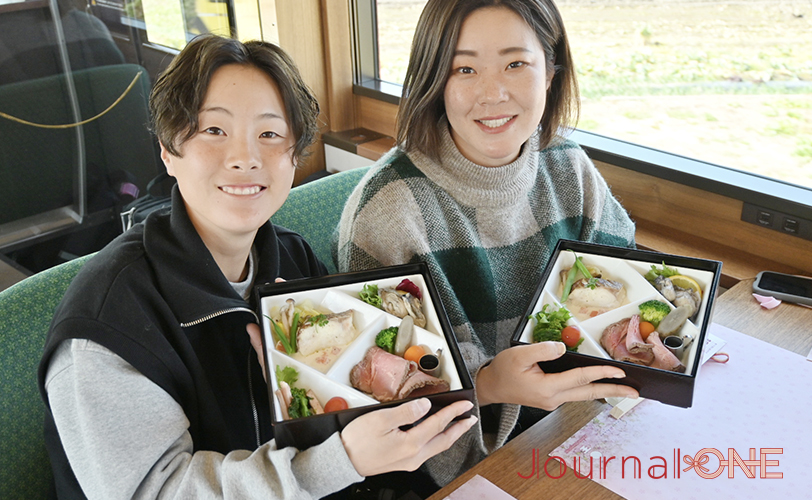 Iyonada Monogatari Concept: Retro-Modern
Homma and Yoshikane, I heard you interviewed some people involved with the Iyonada Monogatari before you boarded the train.
Yoshikane: Yes. We talked to Hitoshi Kubo, Director of the JR Shikoku Iyonada Monogatari Planning Office, and Mika Yamamoto, one of the attendants. They told us, "A retro-modern concept was adopted for the train. As you gaze out the window at the Iyonada scenery, we hope you will also fully enjoy the cuisine and interior décor, which employs plenty of Ehime's traditional crafts, as well as the charm of Ehime Prefecture." I felt very proud to have such a wonderful tourist train in my home prefecture of Ehime. More than 140,000 people have taken the train since it started operating in 2014!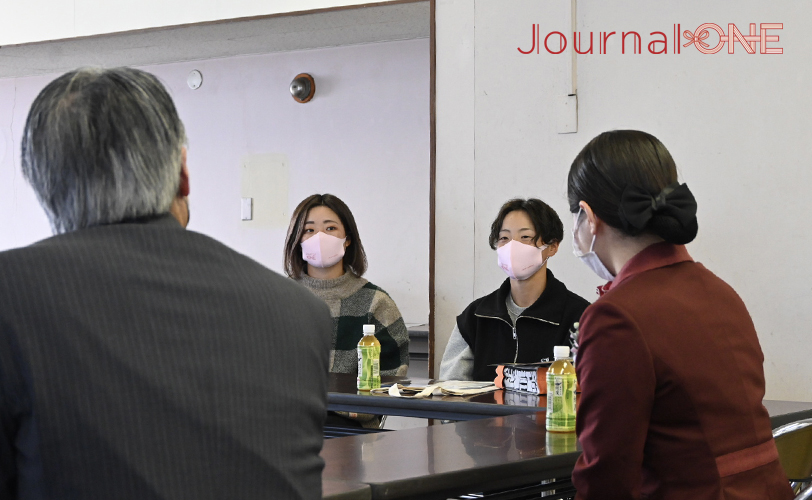 Shoji: Along with the Tobe-yaki tableware, the interior is also wonderfully designed with cute lights that look like the local specialty mikans. Many of the good things that I love about Ehime Prefecture are wonderfully done up, and it made me very happy to know many visitors from other prefectures and countries have enjoyed all of this.
Honma: We also found out the present train is the second-generation of the Iyonada Monogatari. Its colors, a red madder similar to the blazing red of the Iyonada setting sun, which was very popular on the previous train, and gold epitomizing the sun and citrus fruits in Ehime, were reformulated to create a slightly metallic appearance, so the train shines brightly when the sun hits it. We took a video of the Iyonada Monogatari as it arrived at the platform in Matsuyama Station. We were able to capture the beautiful train carriage as the sun hit it. I wanted to show my parents in Chiba Prefecture how wonderful this is, so I sent them the video.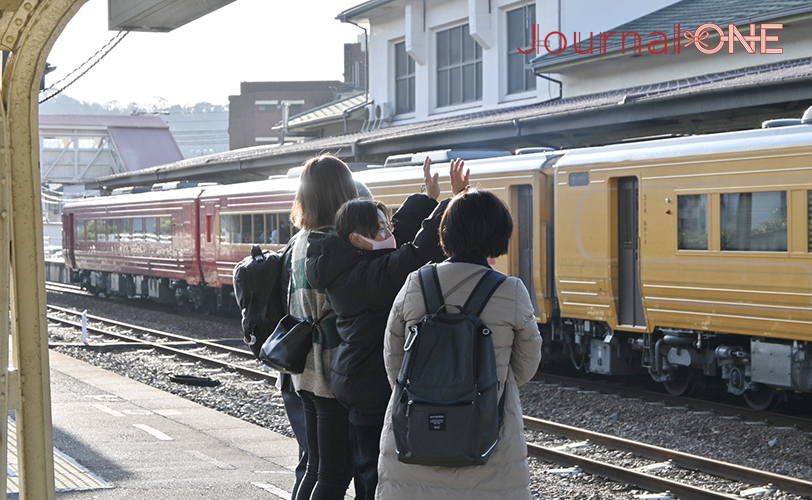 Tsujii: A new third car, the Haruka Chapter, was added. It is so named in the hope that passengers will enjoy a special time with their dearest ones. This private coach is available for groups of 2 to 8. The attention to detail is meticulous. From the stylish interior colors to the chandelier lighting, everything integrates to create a serene atmosphere in the midst of opulence. I thought I would also like to take a trip together with my family aboard the Haruka Chapter.
Yoshikane: What? Director Kubo didn't say anything about that. How do you know so much?
Tsujii: Well, although our assignment was the first car Akane Chapter just as Yoshikane was given, we also got a special tour of the third car!
Honma: What?! I wish we could've seen it to. We did a lot of research on the meals for our report, so we didn't have time to look around the third coach. Other than meals reserved in advance, passengers may purchase sweets, original drinks, and even souvenirs on board. Everything is delicious too! We took a lot of photos of these items against the backdrop of the train interior and scenery outside the train windows to post on social media.
Delectable Dining with Scenery Changing Throughout the Day and Seasons
Four Iyonada Monogatari trains run a day, each offering delicious cuisine (advanced reservation required).
Shoji: I mentioned it briefly earlier, but Tsujii and I boarded the train to Ozu and had the Seasonal Breakfast for Savoring the Morning. Chilled dishes were served on a specialized tray which allows you to feel the natural warmness of wood, part of this was a salad in a bento box marked with the train's logo. Seeing the colorful local fresh vegetables and mikan, I couldn't stop smiling after I took the top lid off.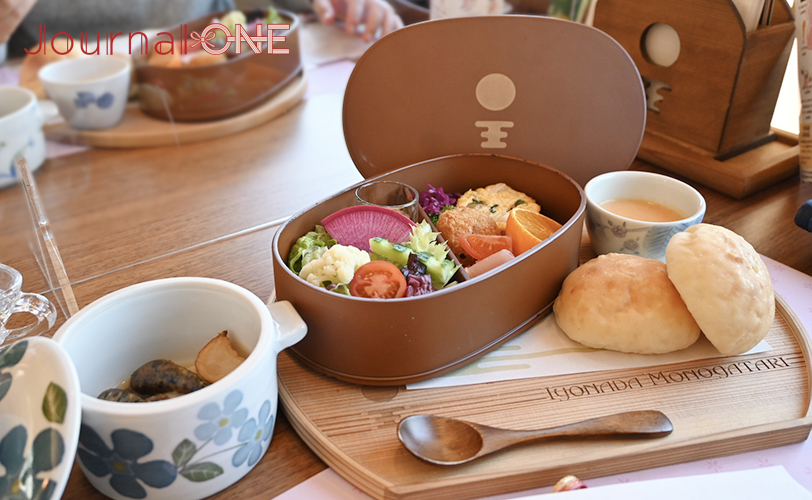 Tsujii: Potage and grilled vegetables filled cute Tobe-yaki bowls. The entire menu was too sumptuous to simply be breakfast. In fact, we had a very hearty and satisfying breakfast at Hotel Dogo Yaya, the accommodation that we covered the day before. The Seasonal Breakfast was so delicious that we finished every morsel. We hope you also read about the hotel in our other Support Shikoku Project article.
Honma: On the train bound for Yawatahama that Yoshikane and I rode, we had the Kadota French: Iyonada Mini-Course (¥5,500). It started off with soup, followed by some chilled dishes and warm dishes, then authentic French cuisine, which we leisurely enjoyed as we gazed out the window at the Iyonada Sea, islands and boats passing by. We felt as though we were experiencing true elegance.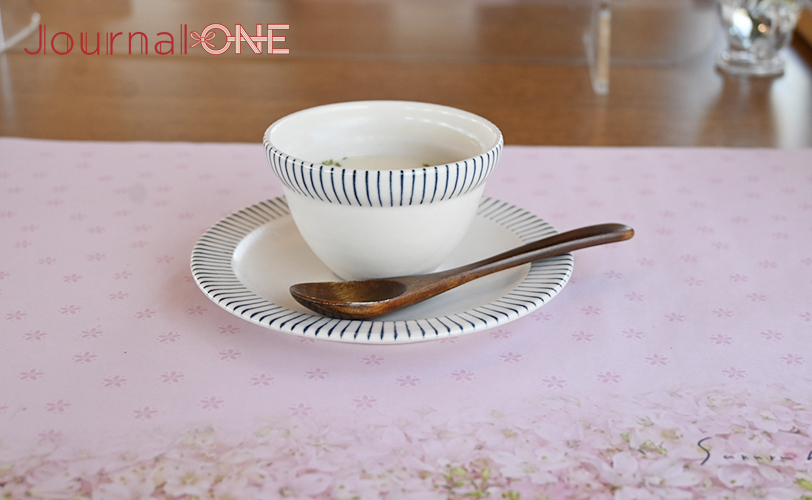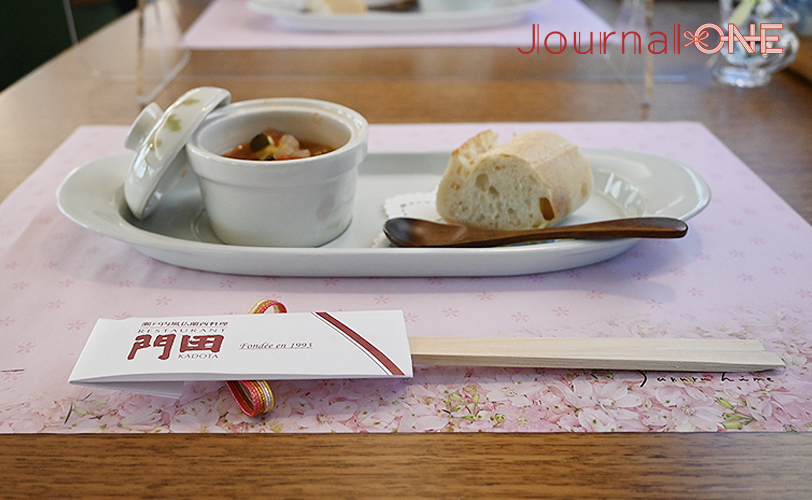 Yoshikane: The individual dishes were beautifully arranged on lovely Tobe-yaki tableware made by the Toberite masters. Homma and I kept looking back at the menu as we savored each dish. We also had a good time asking the attendants: "Oh, is this plate one of Yamada-sensei's works?" and "This cup was made by Shiraishi-sensei, wasn't it?" How could we forget the smiles of the Toberite masters that morning as they graciously showed us how to hand paint Tobe-yaki pottery. The attendants coordinate the tableware, selecting different pieces that perfectly match each guest's aura. Homma and I compared ours. We both felt the selections were very much our style.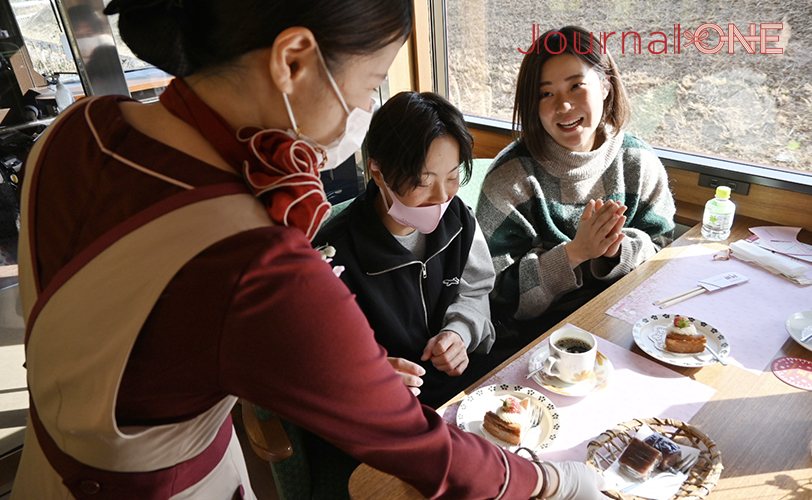 Sumptuous Onboard Menu of Sweets, Drinks, Souvenirs, and More!
Did you fully research the Iyonada Monogatari's extensive onboard menu?
Honma: Of course! More than anything else, we have to introduce the sweets. The train offers many well-known Japanese sweets, which make good souvenirs of Ehime Prefecture. The ones that I recommend are the cakes. I tried both the Rabukan Framboise and Strawberry Chocolate Cheesecake (¥600 each). Both were delicious with just a hint of sweetness. The cakes were served on these very cute clear heart-shaped dishes! The sweetness of the rare (no-bake) cheesecake and the sourness of the framboise sauce blended well. Hidden inside the rare cheesecake were mikan and chocolate, adding variety to the taste. The photo of us with the cakes next to the window and Iyonada Sea in the background is one of my favorites.
Tsujii: The mild sweetness of the Strawberry Chocolate Cheesecake was superb! In fact, the cream holding up the strawberry was white bean jam! Its smooth texture made the crunchiness of the baked cheesecake crust even more enjoyable.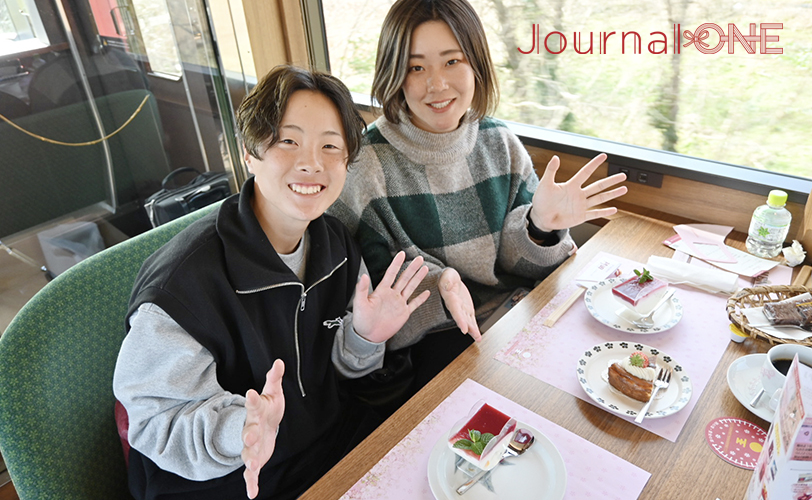 Yoshikane: Let's not forget the drinks. I ordered Nostalgic Cream Soda Namiaya × Blue Curacao (¥800), one of the original soft drinks on the menu. The clear blue soda in the glass shined brilliantly against the blue of the Iyonada Sea. You must absolutely post the drinks on social media, so don't drink it right away. First take a whole bunch of pictures of the drinks placed around the interior of the carriage and against the backdrop of the train windows. They also have a wonderful selection of alcoholic beverages, including a local sake taster set (¥1,200) to compare different local sake breweries. But, be careful not to drink too much of your favorite.
Shoji: Even though we were on assignment as part of the very fun Support Shikoku Project, we felt we had to get souvenirs for our teammates. But, they are all from Ehime Prefecture, so we didn't think we could find something truly special. However, we did. The Iyonada Monogatari Cookies (¥600)! If we got them cookies stamped with Akane Chapter, the first Iyonada Monogatari car and the one that we rode on, then that would be proof of our trip. Also, if we got cookies that were a bit big, it would really delight our teammates who have a weakness for sweets!
Honma: Unfortunately, the cookies sold out when we were on the train. So, that's a lesson that you have to get the popular souvenirs early. Yoshikane and I bought key holders (¥1,200) for ourselves as a tangible memory of our trip. The simple design is quite cool in a glittering gold color. We thought these would be good for carrying our dormitory and car keys. I also recommend these to everyone as a very practical souvenir.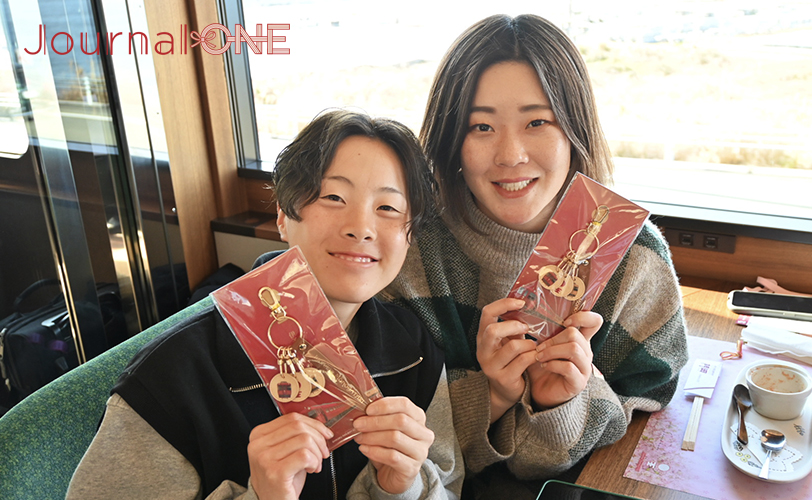 What is the Secret to Iyonada Monogatari's Continued Popularity?
You all really covered everything for this assignment. Before we finish, I would like to focus on a core question. Why is the Iyonada Monogatari so popular?
Honma: The two-and-a-half-hour train ride was over before we knew it. The hospitality was truly wonderful and that, I think, is the secret to its popularity. If I had to say what the best thing was, it would be the warmth of the local people. The hospitality shown by people living along the railway, attendants, JR Shikoku staff, and everyone waving hello and smiling provided me with warmhearted memories that will last a lifetime.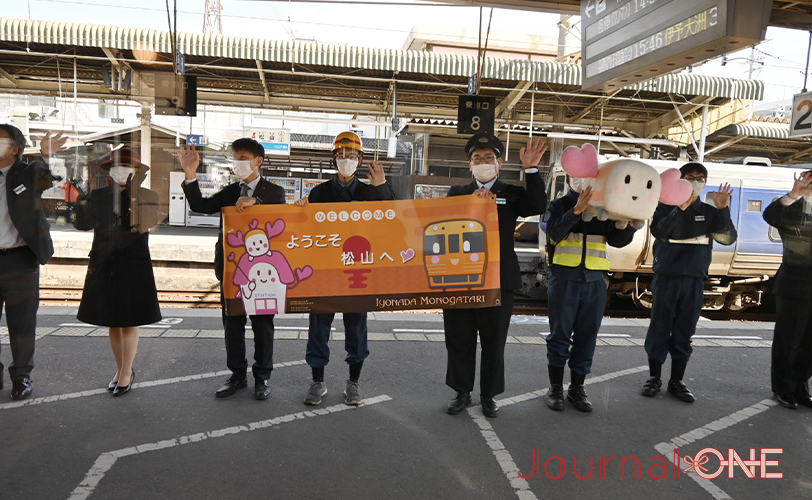 Shoji: Without a doubt, one of the secrets to this train's popularity is the wonderful Iyonada scenery rolling by outside the windows. It starts with the touching sendoff by JR Shikoku staff at Matsuyama Station holding a banner and waving, then each announcement asking people to look outside the windows, and the warm welcome shown by people along the railways as they wave to everyone. Their warmth so moved me that I thought I would almost cry. The people of Ehime Prefecture are absolutely wonderful. They wholeheartedly welcome visitors who come to ride the Iyonada Monogatari, the pride of Ehime Prefecture.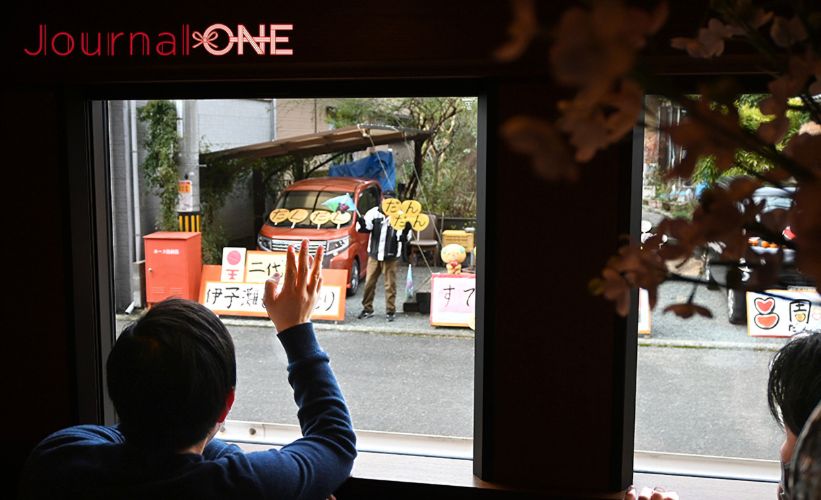 Yoshikane: Children would stop practicing baseball to wave. Members of the local community at Shimonada Station would loan out handmade panels or flags to help create commemorative photo. At Goro Station, little children dressed up like raccoons and many members of the community came out to the platform to wave. The smiling and waving people looked like they were right outside the train window. Seeing their handsome smiles moved me even more. Each time someone waved, it brought tears to my eyes. It also made me wonder if the people who come and watch our games are moved like this. I waved back at everyone as best I could, hoping they would be as moved as I was.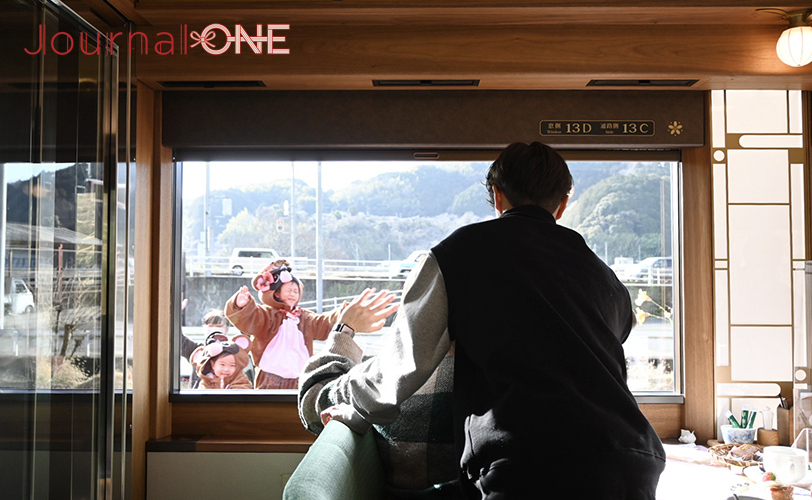 Tsujii: I had been to Shimonada Station before, but that time a teammate and I drove there. That was when the movie Spirited Away had just come out. I thought it was a beautiful station to post on social media and a location where movies and dramas have been filmed. This time when I took the Iyonada Monogatari to Shimonada Station, I got a chance to experience the smiles of people in the community who came out to give us a cordial welcome when we arrived. I realized this wonderful sightseeing spot is not only about scenery. I felt a strong desire well up inside of me to play good softball and win so we could bring joy to everyone in this community.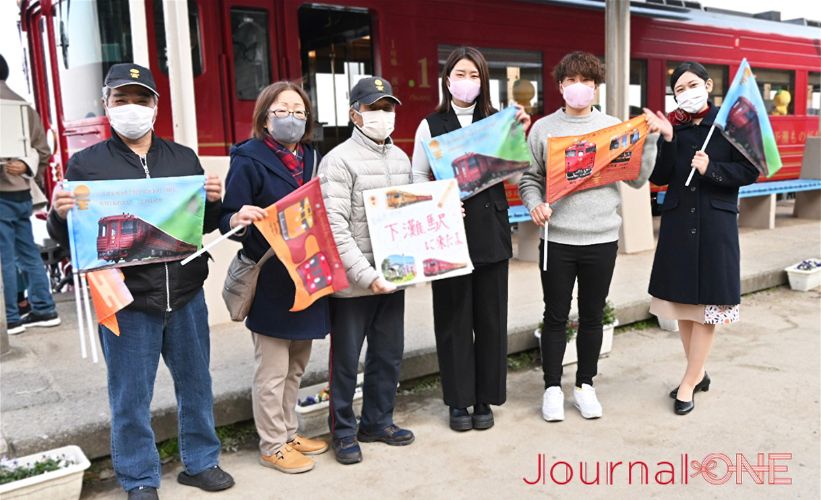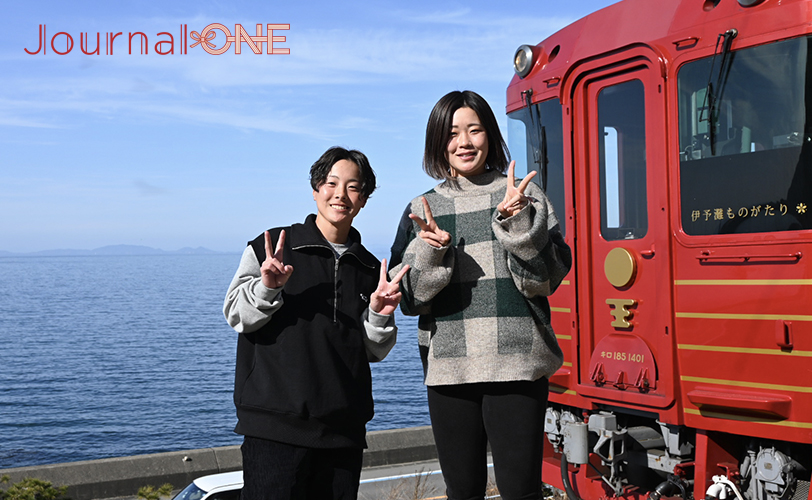 Shoji: The people of the community who work in the tourism industry have always supported Iyo Bank Vertz. The Support Shikoku Project was supposed to be a chance for us to return that favor. Instead, they ended up encouraging us. This project showed me many wonderful things about Ehime Prefecture and I also got to know the fantastic people who support the industry. I want to do my very best to integrate the advantages of both sports and tourism to help empower the community.
Before the start of the 2023 season, Iyo Bank Vertz's Nana Shoji, Minami Tsujii, Kiho Homma, and Akiko Yoshikane prepared this report supporting the community and highlighting tourist destinations in Ehime Prefecture.
Be sure to also read the wonderful articles by each player recounting her own experiences.
JD League, in which the Iyo Bank Vertz team plays, will start its season on Saturday, April 15. Regular-season games will also be held at Uwa Field in Seiyo City, Ehime Prefecture on Saturday, June 17 and Sunday, June 18.
Journal-ONE hopes fans will fill the stands and the Iyo Bank Vertz team, which always gives 100% for the community and fans in every game, forms even stronger bonds with the people of Ehime Prefecture.
When you come to Ehime Prefecture to support Iyo Bank Vertz, stay one more night and add a fantastic trip (monogatari = story) just like these Iyo Bank Vertz players experienced.