Golden Week (Japan's own consecutive holidays) has gradually returned to normal after overcoming COVID-19.
More people are gradually meeting their loved ones whom they have been waiting to see for a long time, and taking memorable trips with smiles on their faces. It has been a long time since we have seen news reports of boarding gates of international flights, crowded with people traveling overseas in search of extraordinary experiences.
Did you know that on May 4th, exactly 90 years ago, a historical figure who traveled around the world by sea for the peace of Japan, passed away?
That person is the founder of Judo, as well as the "father of Japanese athletics", who took part in the Olympic Games and helped sports take root in Japan: Kano Jigoro Shihan.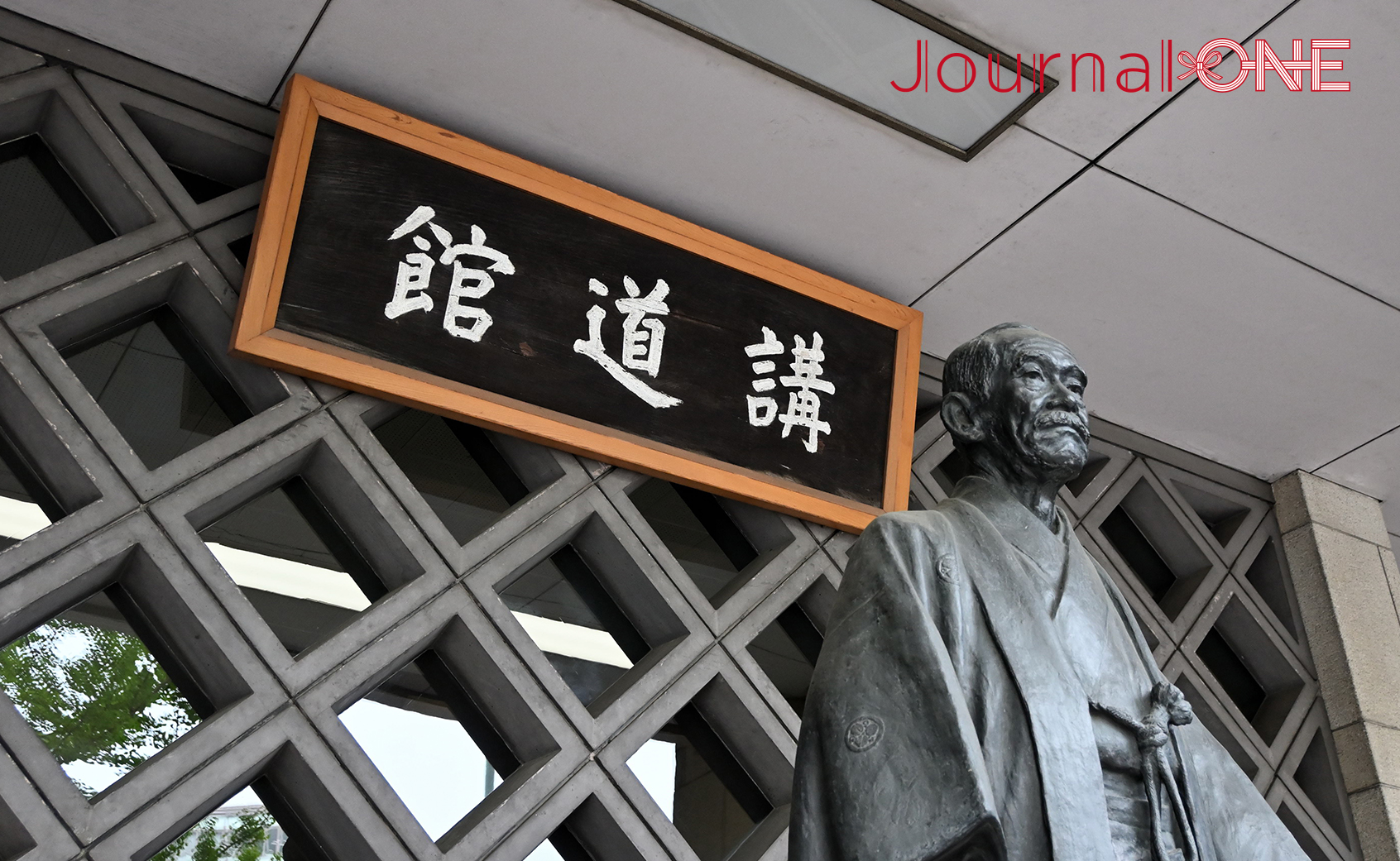 The "father of Judo" who travelled all around the world
By 1889, just seven years after the establishment of Kodokan in 1882, Kano Shihan was travelling around European countries to promote Judo.
In 1912, Kano Shihan took part in Japan's first participation in the Olympic Games in Stockholm as the leader of the Japanese delegation, and in 1936, he traveled to Berlin as the first Oriental member of the International Olympic Committee (IOC), where the vote to decide where the host city of the 12th Olympic Games would be held.
The Tokyo Olympic Games were decided by IOC members who agreed with Kano Shihan's belief that the modern Olympic Games should be open to all nations and peoples, and that holding the Olympics in Asia would be a new step towards peace.
In 1938, from Cairo in Egypt, Kano Shihan wrote: "I am pleased to report to the people of Japan that the Olympics will be held in Tokyo. If we can spread the spirit of mutual respect and trust around the world through sports competitions, we will surely be able to create a peaceful world." He reported this to the Japanese population through a radio broadcast.
He then visited IOC commissioners in various countries and died of pneumonia on board the Hikawa-Maru, which he boarded to return home from Vancouver in Canada. He was 77 years old.
At that time, despite him being 77 years old, he travelled around the world and promoted Judo and sports for the purpose of world peace can demonstrate his vitality, which we could feel by the last piece of calligraphy he left behind before he passed away, shown to us by Kodokan president, Haruki Uemura.
The graveyard where Kano Shihan sleeps
Kano Shihan's grave is located in the Tokyo Metropolitan Yahashira Cemetery in Matsudo City in the Chiba Prefecture. Yahashira Cemetery, a park cemetery built on a small hill and on its valley, is a vast cemetery covering 105 hectares (approximately 10,000 square kilometers), an area equivalent to about 20 Tokyo domes.
In one corner of the cemetery, surrounded by stone torii gates and stone monuments, there is a grave that looks like a dome made of stacked stones. This is the very place where Kano Shihan sleeps.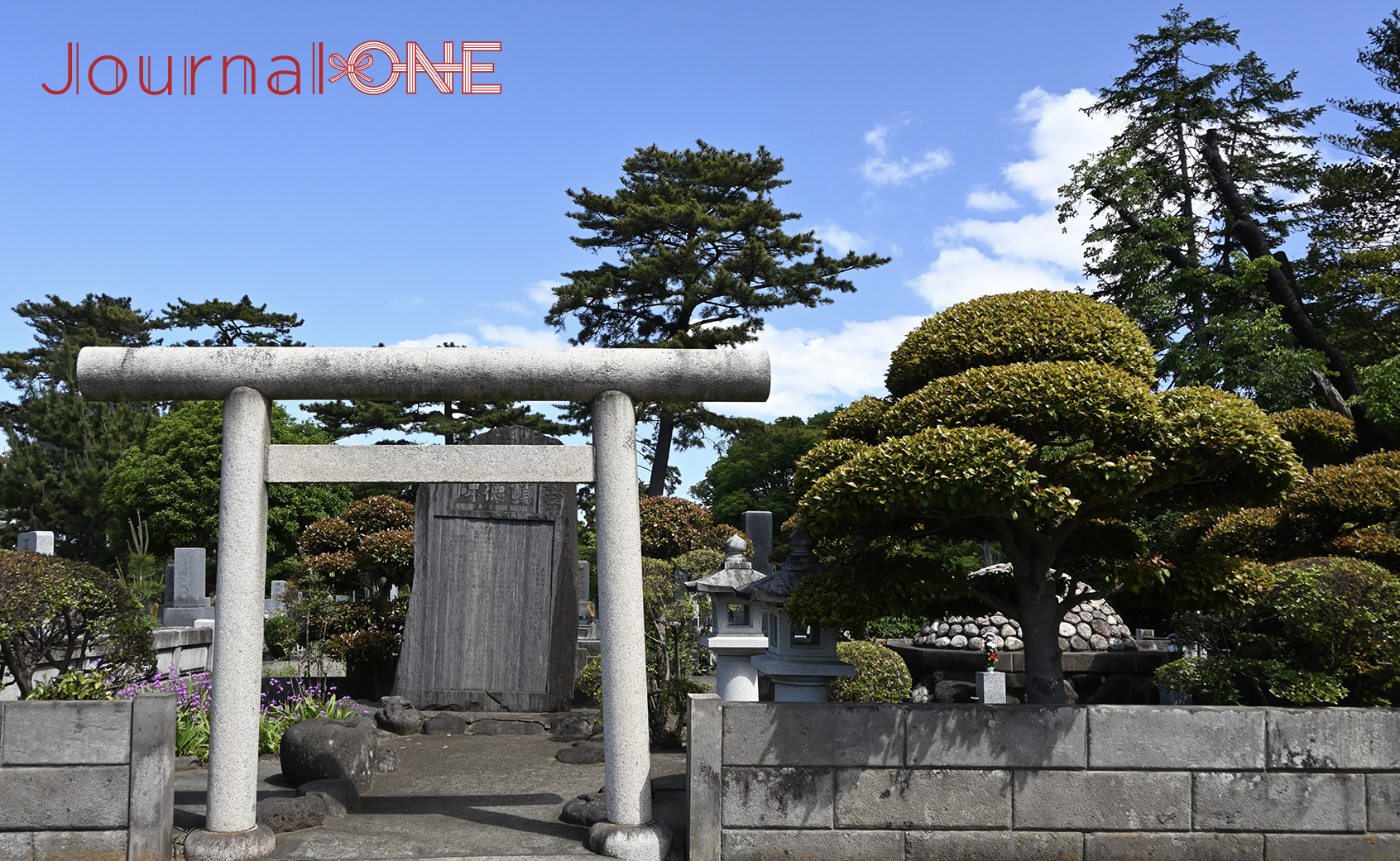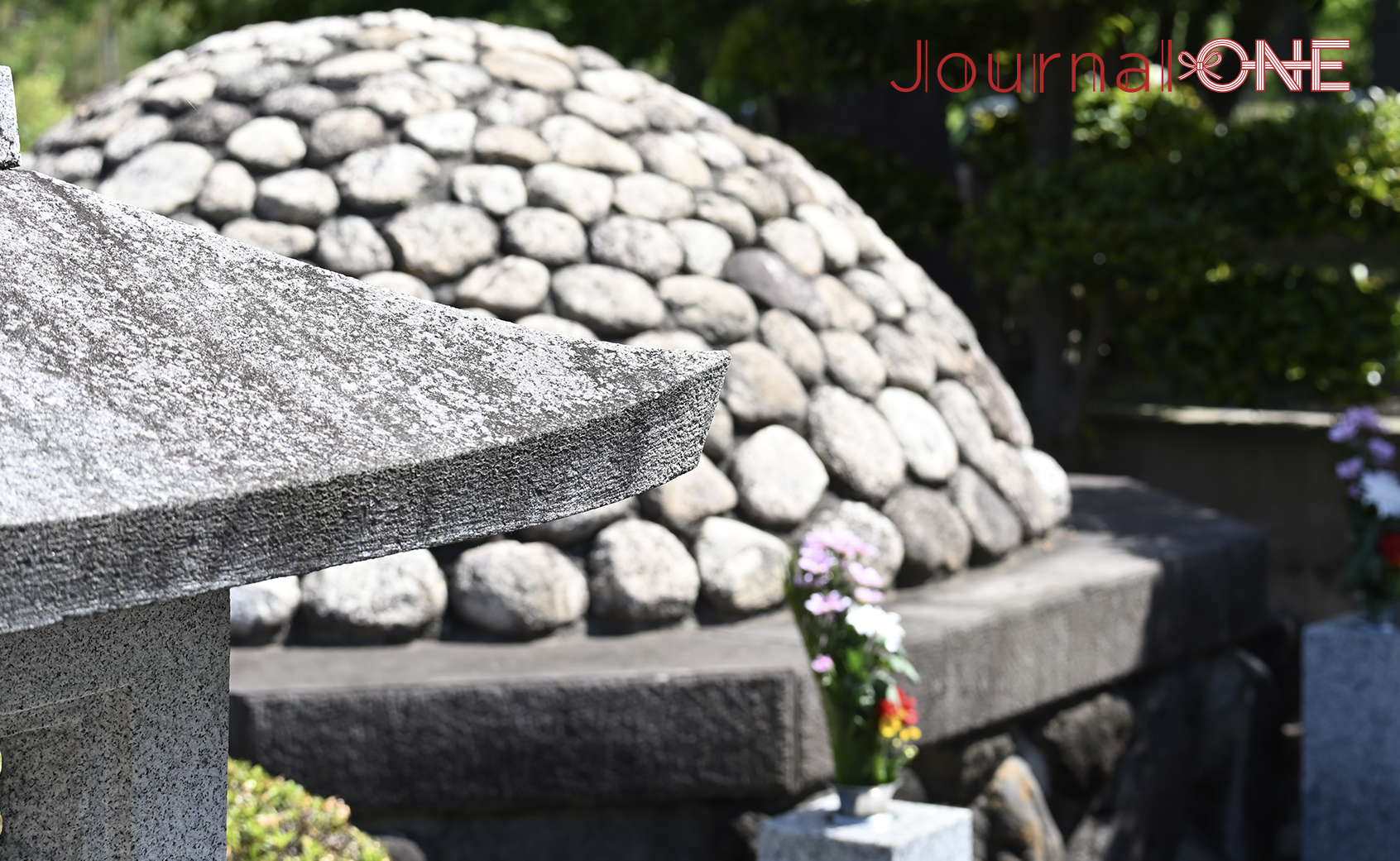 Matsudo City in the Chiba Prefecture, where Yahashira Cemetery is located, is also the site of the Tojo Residence (a National Important Cultural Property), the villa of prince Akitake Tokugawa, who led a Japanese delegation to France in 1867 as the representative of the 15th shogun, Yoshinobu Tokugawa, and was the person who guided Japan to participate in the 2nd World Exposition in Paris.
It is a place where one can feel a mysterious connection between these two historical figures who went abroad in difficult times and pioneered the internationalization of modern Japan.
Every year, the graveside service is visited by many people involved in Judo. On May 2nd, when this year's graveside service was held, we covered the ceremony attended by nearly 30 people, including Mr. Haruki Uemura, the 5th president of Kodokan!
This interview gave us a glimpse of the reason why Judo, which Kano Shihan spread, has been popularized all over the world by many Judoka.
An important day for Judoka
As the contrast between the beautifully arranged lush green trees, colorful flower offerings, and the clear blue sky create an atmosphere for a special occasion, president Uemura places a tamagushi (skewer) and quietly offers a prayer, and participants follow one by one.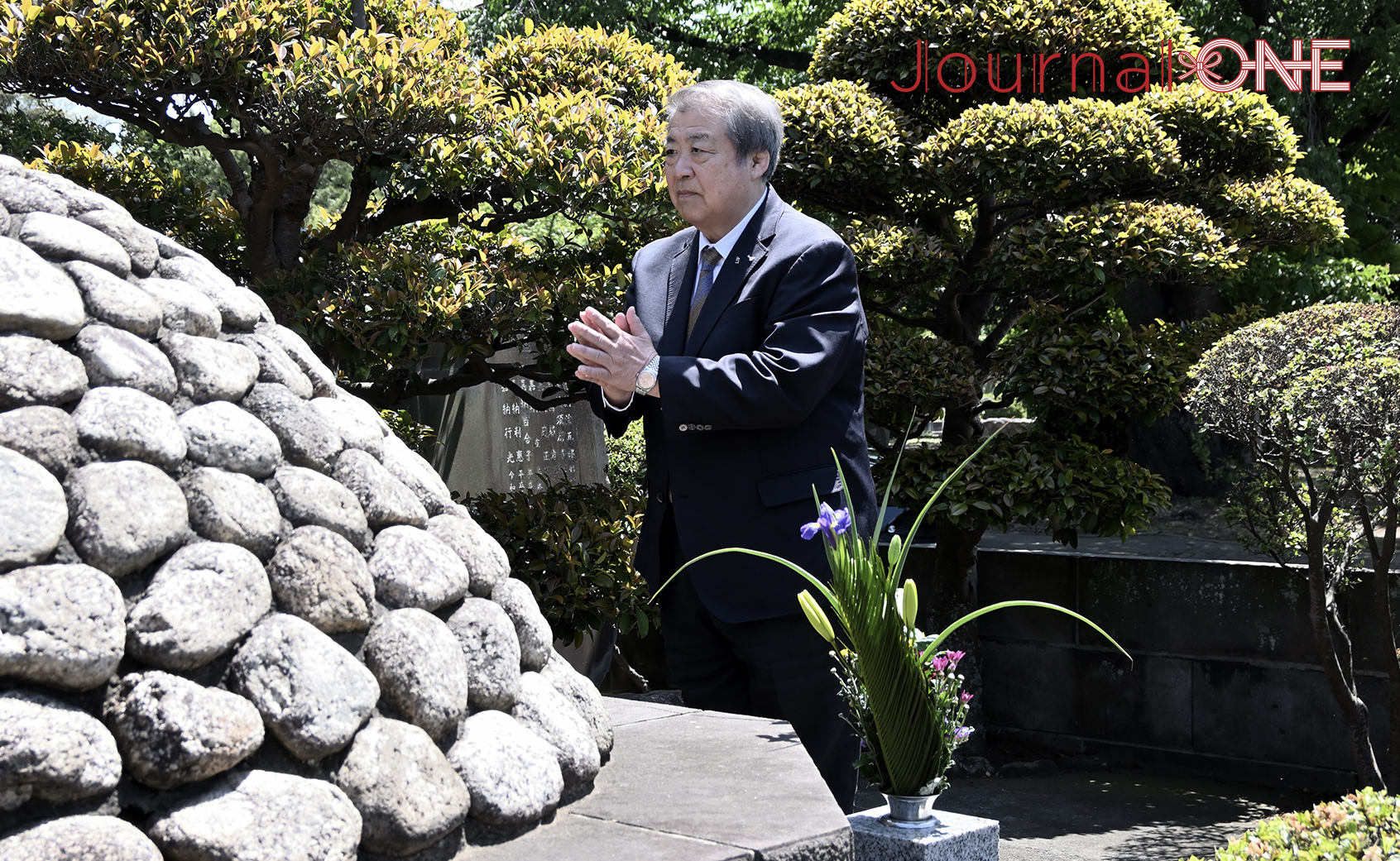 "The cemetery of Kano Shihan is a very sacred place for Judoka, and the day of his death, May 4th, is a very important day for Judoka. Judoka who could not attend the graveside service today, find time to visit him on a different day. Japanese Judo athletes who compete in the Olympics and World Championships pay their respects to Kano Shihan and pledge to fight well," said president Uemura.
After the service, president Uemura will head to the World Judo Championships in Doha, Qatar, starting on May 7th. "No matter how busy I am, I will attend this graveside service. Before COVID-19 struck the world, I used to travel abroad about 10 times a year, but now I only go about once every two months, so it's much easier."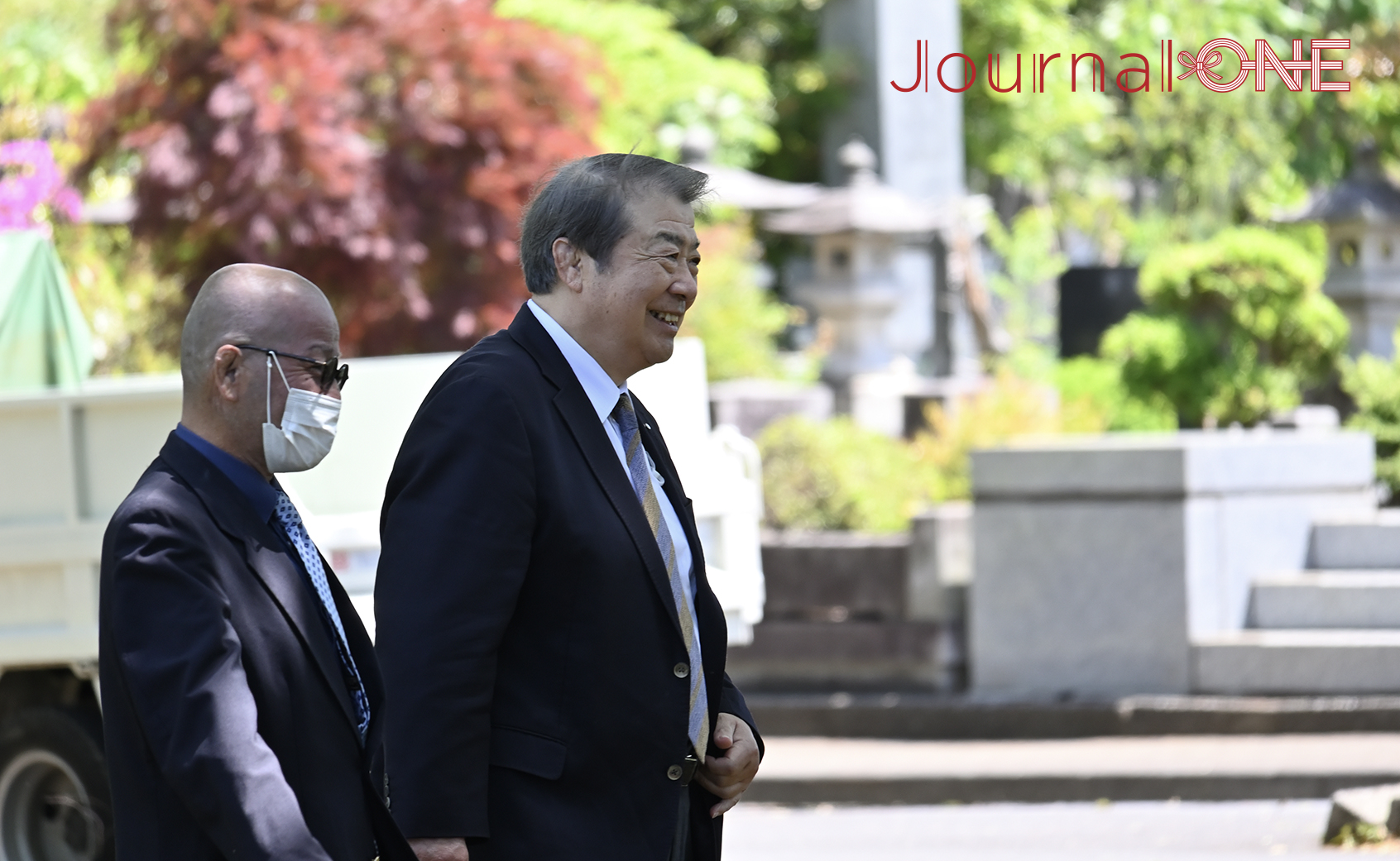 I think it is hard enough to travel abroad once every two months… I am truly amazed at the vitality of all Judoka. I see that Kano Shihan's desire to correctly spread and promote Judo around the world and to correctly transmit Judo to future generations has been passed on to his disciples.
"I came to Kano Jigoro Shihan's grave for the first time. It is a very moving experience." Said Raymond-Yves Cairaschi, a Judoka from France.
He came all the way from France to visit the cemetery of Kano Shihan. I wanted to know more about the charms of Judo which fascinate him that much, so I listened to his story.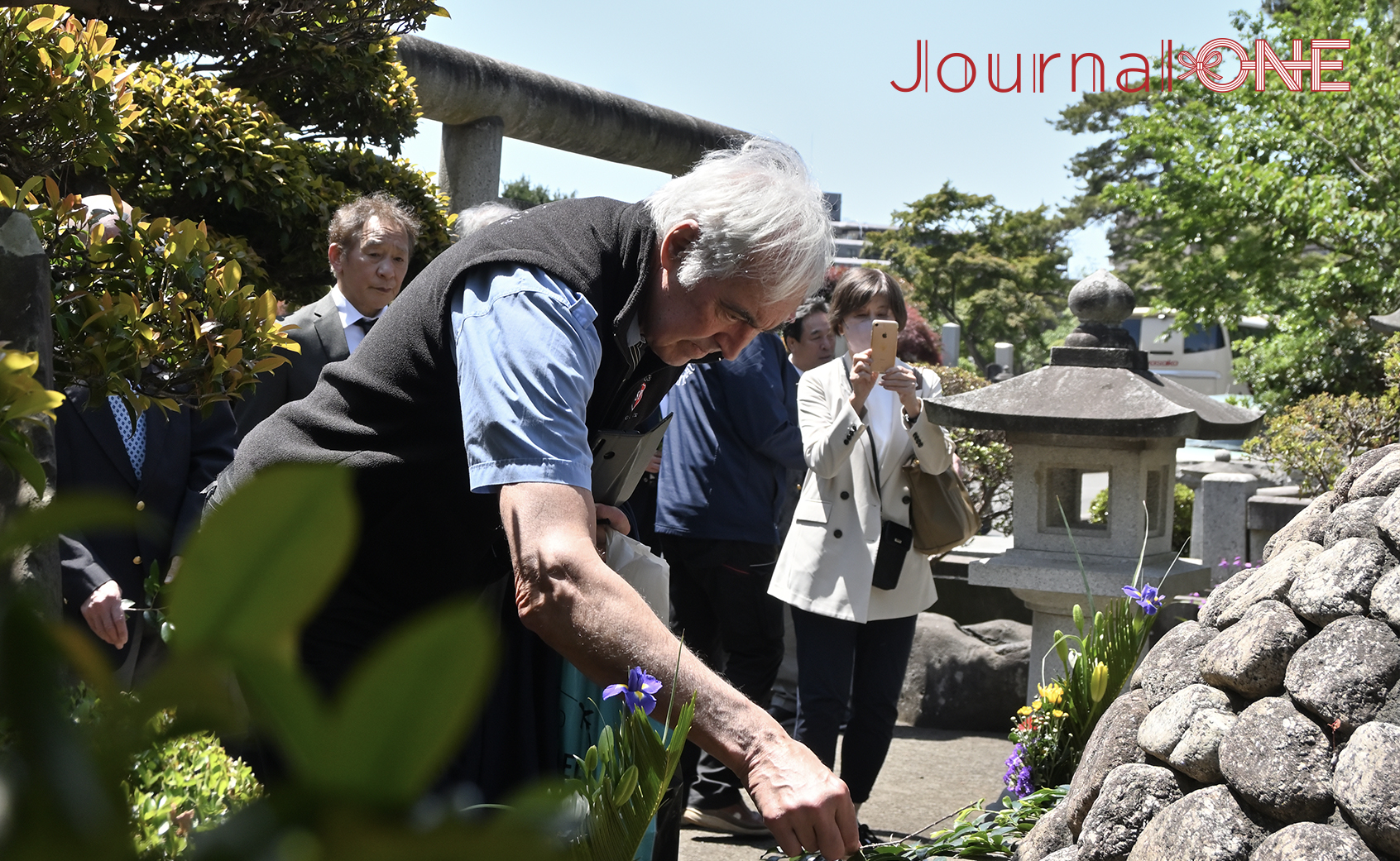 Why do YOU practice Judo?
Attending the graveside service that day were Mr. Kalesi and Mr. Jean Claude Blouin. Both at 73 years old, I could not hide my surprise of their vitality.
They said they came to Japan to watch the 2023 All Japan Judo Championships held at the Nippon Budokan on April 29th. After that, they visited Toshogu Shrine and Lake Chuzenji in Nikko, and participated in the graveside service on this day (May 2nd), which is a very hard schedule!
Despite their busy schedule, tiredness cannot be seen in Mr. Kalesi's face even when he says, "I am a little tired," with a smile on his face.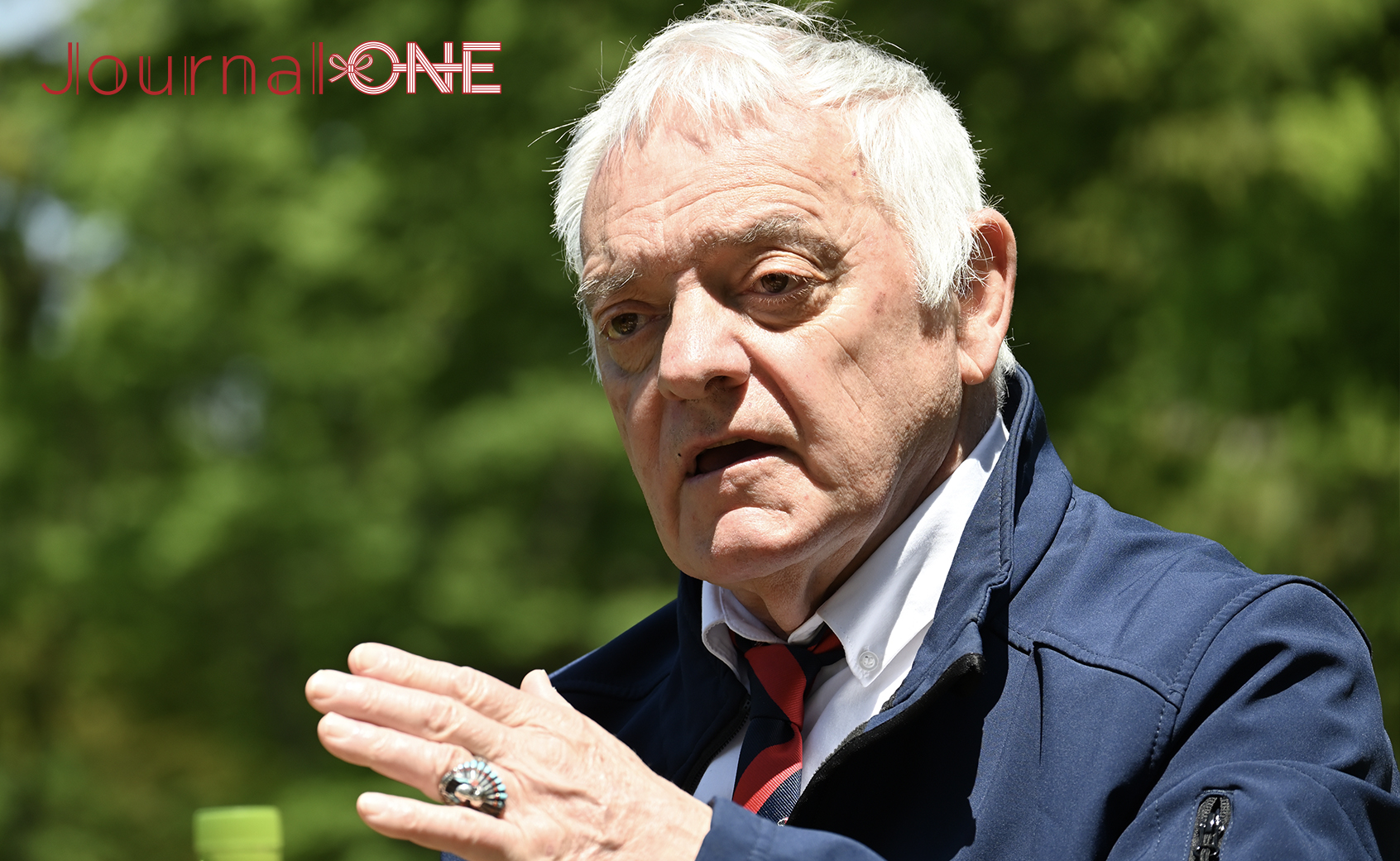 We asked Mr. Blouin from Normandie about his Judo history, and he replied, "I started Judo when I was 5 years old. It all started when I was in kindergarten and my "rival" hit me and I went home crying. When I went home and told my father about what had happened, he said, "Why did you let him do that to you? And he hit me (laughs). Then I started Judo right away."
Mr. Kalesi, who is from Cannes, said, "I started Judo when I was 10 years old. My uncle, who was a Judoka, recommended it to my father, and that's when I started going to the dojo. I think it was because of the amazing coach I met there that I was able to keep going until now." He talked while looking back on those days with nostalgia.
"When I first went to the dojo, a boy who had been my "rival" at school had joined before me, and I was like, "What?" But as he taught me various Judo techniques and training methods, we became good friends." He also shared an episode of friendship nurtured by Judo.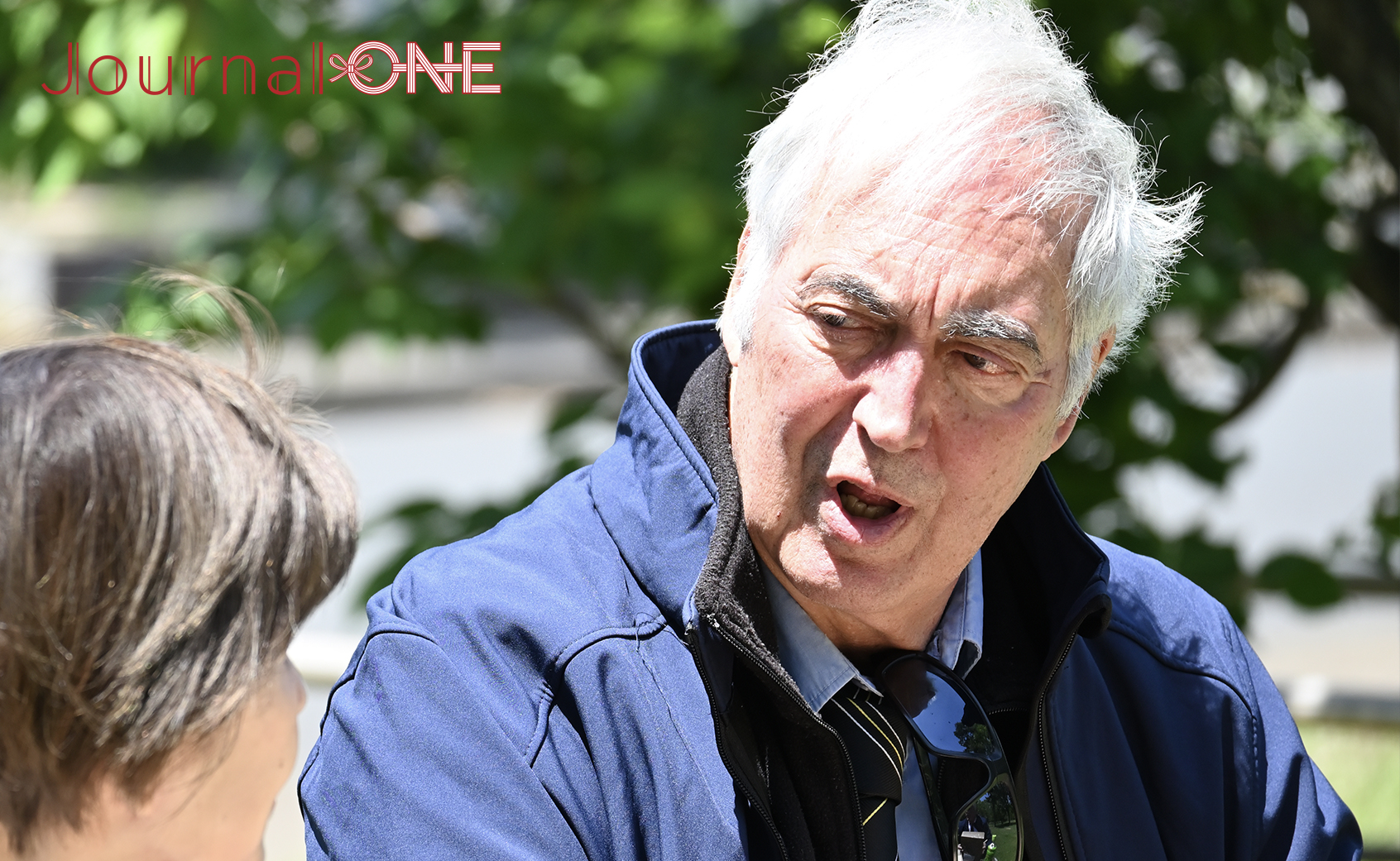 "When we were 17, we both made the French national Judo team. We have been friends ever since. At the time, the Berlin Wall existed, and I couldn't even imagine interacting with Eastern countries. However, France decided to have exchange games with East Germany and the Netherlands, and we once entered East Germany to play a game. That was the event that left the biggest impression on me." said Mr. Kalesi, about their friendship and the impressive events of those days.
Even when there are conflicts between nations, sports can transcend these conflicts and bring people together. So, Kano Shihan's desire to bring the Olympics to Japan and create a peaceful world was realized!
What parts about Judo fascinates you so much that you continue it until 73 years old?
Mr. Kalesi and Mr. Blouin are now 73 years old. I asked them about the appeals of being involved in Judo for more than half a century.
"Judo taught me to respect others. Also, through Judo, I was blessed with friendships and had the opportunity to meet some great people. After I finished Judo, which was mainly about competition, I met a great master who brought me to Kodokan several times to learn the spirit of Judo. That was the biggest thing for me." Said Mr. Kalesi, sharing his history of encountering a new fascination of Judo over time.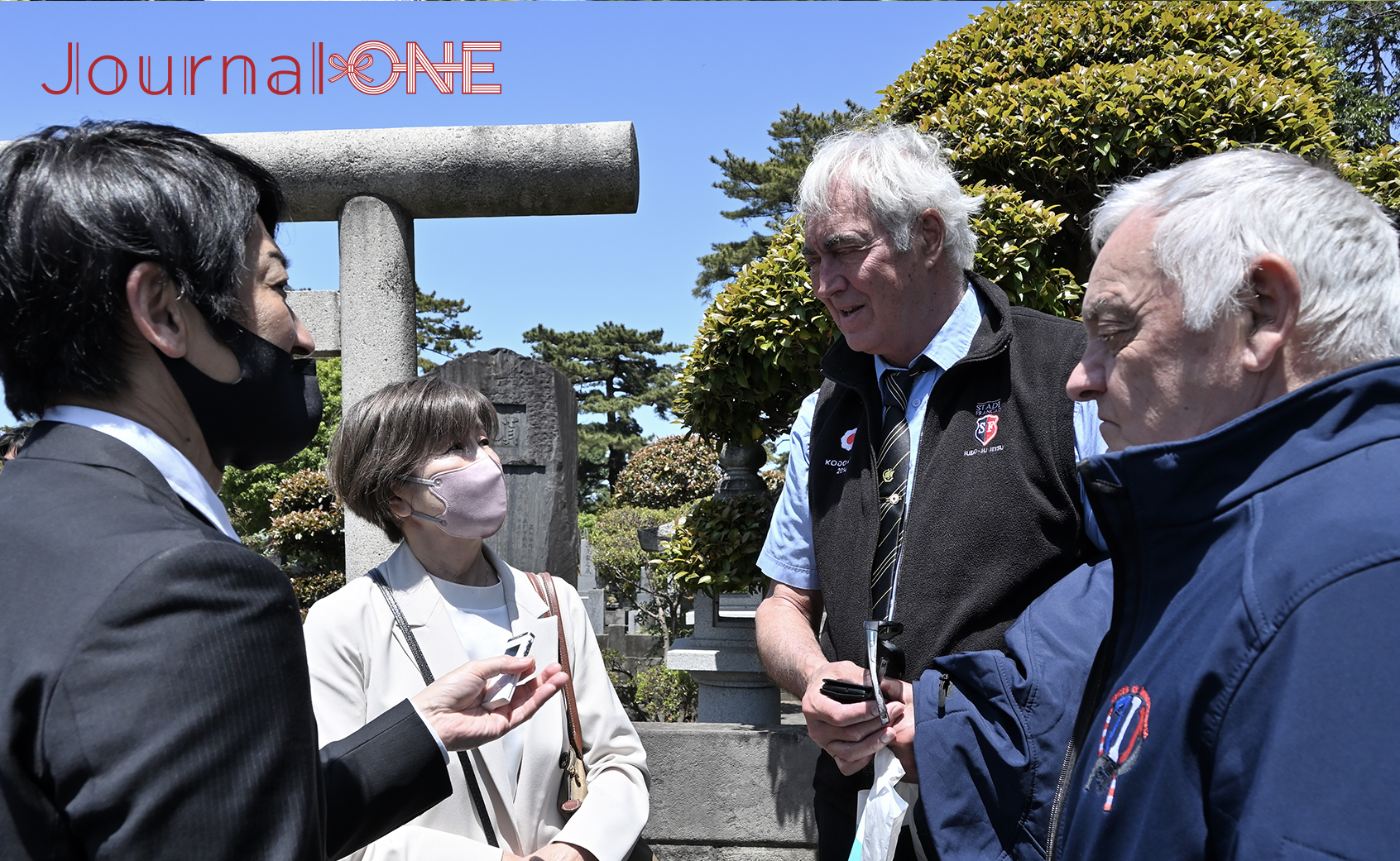 "I told my father who was a baker, that I wanted to become a Judo teacher in the future. He told me, "First, get certified in bread-making. After that, you can do whatever you want." so I qualified as a baker, and then I left Normandie for Paris to study judo at INSEP (see below)." Mr. Blouin recalls that he, too, came to Paris because of his fascination with Judo.
"Later, I got a job with a security company because of my Judo background. I was a bodyguard for the CEO of Volvo and the descendants of Louis Vuitton. After that, I made my own security company when I was a bodyguard for Mr. Bernard Jean Etienne Arnault (The current Chairman and CEO of Moët Hennessy Louis Vuitton, the "King of French Fashion" and one of the richest men in the world). I retired from the company about 10 years ago and now I only do Judo related work." said Mr. Blouin.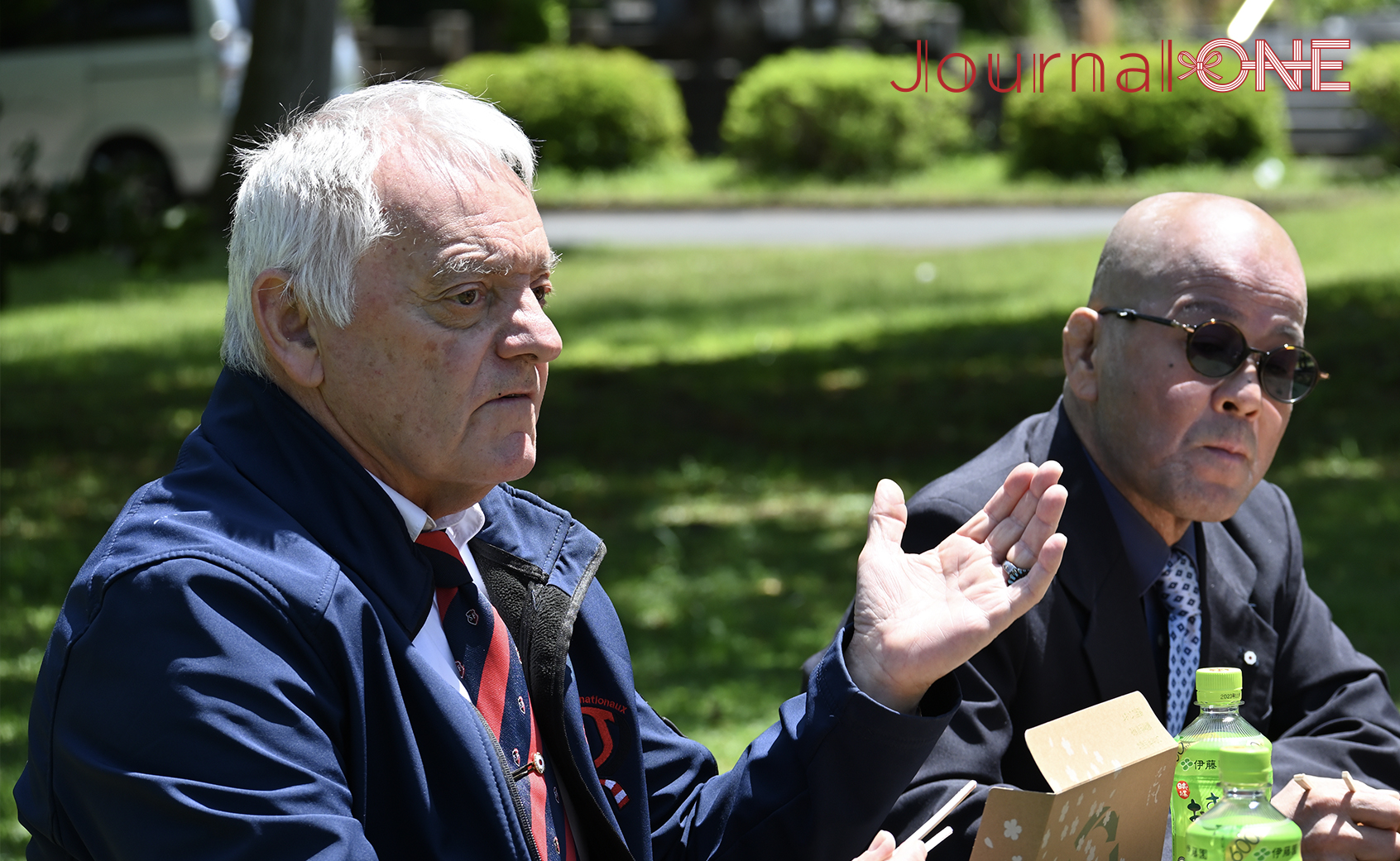 Judo brought people together in a wonderful relationship that we could not have imagined, and I felt the destiny of Mr. Blouin being involved in Judo for a long time.
The path of teaching learned at INSEP
What is INSEP where both Mr. Kalesi and Mr. Blouin learned?
Founded in 1945, the French National Institute of Sport, Expertise, and Performance, or INSEP, is France's leading training center for elite athletes, combining academics, training, and sports medicine. Using a variety of facilities on an exceptional 28-hectare campus in the heart of Paris' Vincennes Forest, INSEP is not only a training center for top athletes competing in the Olympic and Paralympic Games, but also a highly influential institute in France's elite sports policy.
They paved the way for their careers as Judo instructors at this institute, which provides training programs, medical care, research, and mental health services suited to individual athletes, as well as training and competition instructors.
"At INSEP, we were taught that Judo is always about being polite and showing good mannerisms. Then we learn friendship, self-control, humility, and respect for our opponents. As an instructor, I believe it is of utmost importance to pass on to children that Judo is more than a sport; it is a life lesson itself." said Mr. Kalesi, speaking of the teachings and purpose of Judo.
"It is also important for us to teach Judo so that French and Japanese children can communicate with each other through Judo, so we sometimes bring French children to Japan with us." said Mr. Blouin, who told us that there is an educational program for international exchange through Judo.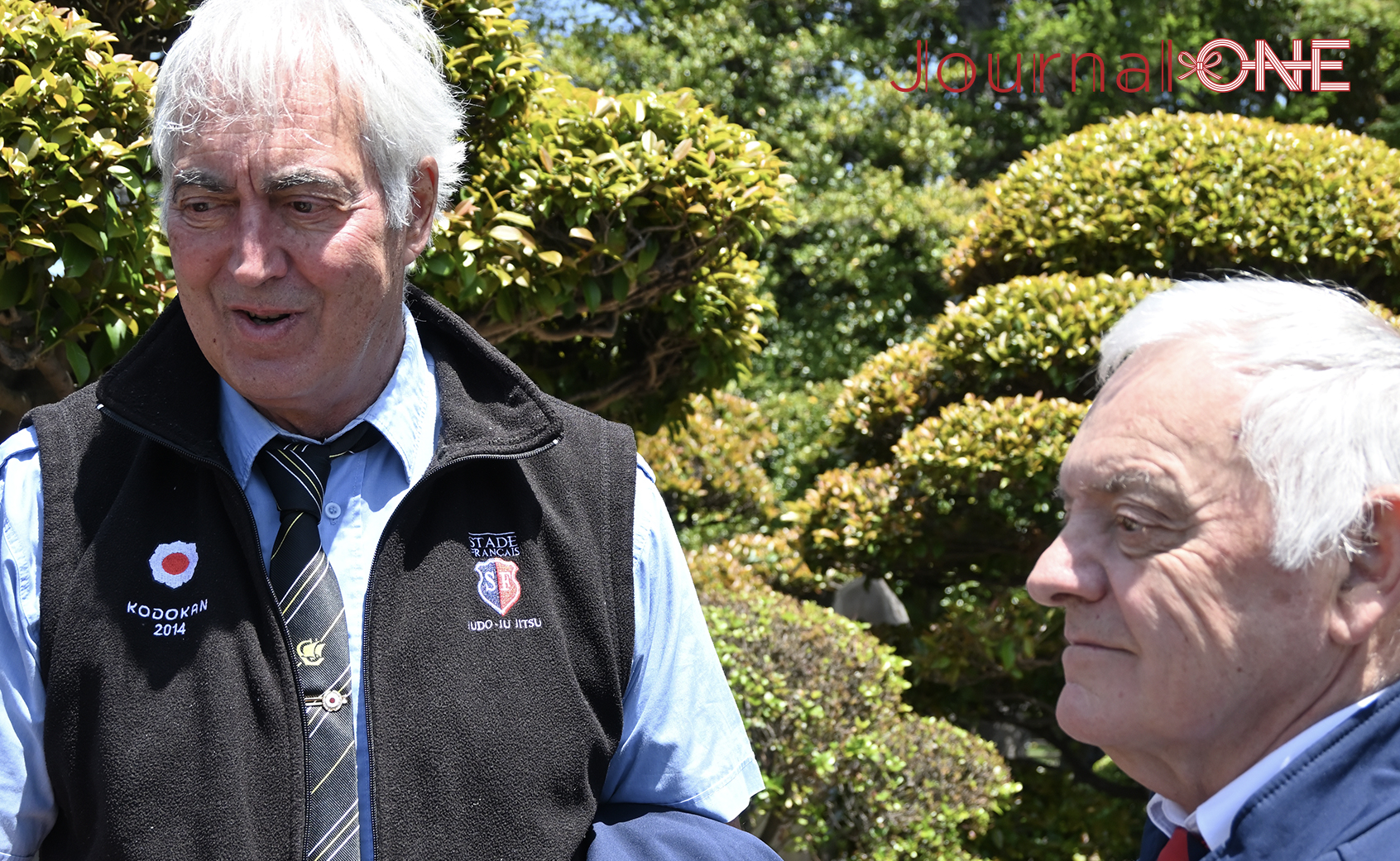 "There is a French song called "Au Champs Elysées," and we have a program to teach Judo "tai-sabaki" to children to the tune of this song. The words "tai-sabaki" and "Au Champs-Élysées" sound good together, and the rhythm is just the right tempo for practicing, so an expert sent by the Kodokan introduced this program to us. Mr. Kalesi explained as he sang.
"Shortly after, when the Japanese instructor went to France, he was surprised to see the French children practicing while singing "Ta~i sabaki~ (O~ Champs Elysees~)"" The fun episodes with the children, who blended each other's cultures, made me feel warm.
Incidentally, the person who helped them visit the graves on that day was Mikihiro Mukai 7-dan, Deputy Director of the General Affairs Department of Kodokan, who developed the "Au Champs Elysees bodywork". Hearing of this unusual connection, they were again grateful and moved to participate in the gravesite service.
"Jean-Luc Rouge, who won the gold medal at the 1975 World Judo Championships, is the Secretary General of the International Judo Federation. I have also supported Teddy Riner (holding impressive achievements such as bronze medal at the 2008 Olympic Games in Beijing, gold medal at the 2012 Olympic Games in London, gold medal at the 2016 Olympic Games in Rio de Janeiro (all in the over 100kg weight class), and gold medal (mixed team) at the 2022 Olympic Games in Tokyo), who is a French Judo treasure who is from INSEP like us. I have known him since he was 13 years old. I also supported him in three Olympic Games." He also told us that French Judoka are making extensive efforts to nurture the next generation of Judoka.
Dreams go on
"This is the tenth time I visit Japan. In 1973, when I practiced Judo competitively, I stayed in Japan for three months and traveled to Tenri University (Nara Prefecture) and Tokai University, among others, to compete. Along the way, I did some sightseeing in Kyoto and Nara. I had a lot of experience in Japan," said Mr. Kalesi.
When I asked about his dreams, he said, "Until now, I have visited Japan once every three years. But I would like to come to Japan again in two years, as I will reach the age of 75 in two years. I would like to meet various teachers." He told us that his immediate goal is to come to Japan again in two years, still in good health.
"Guy Pelletier (Judoka known as a pioneer who deeply studied the spirit of Kodokan Judo under Abe 10-dan and devoted himself to the development of French Judo), our teacher, was about to retire at the age of 65 when he saw his teacher Ichiro Abe, Kodokan Judo 10-dan, still teaching at the age of 80 and continued to do so until he was 85. So, we would like to continue Judo in the same way." Mr. Blouin also shared his dream with a smile.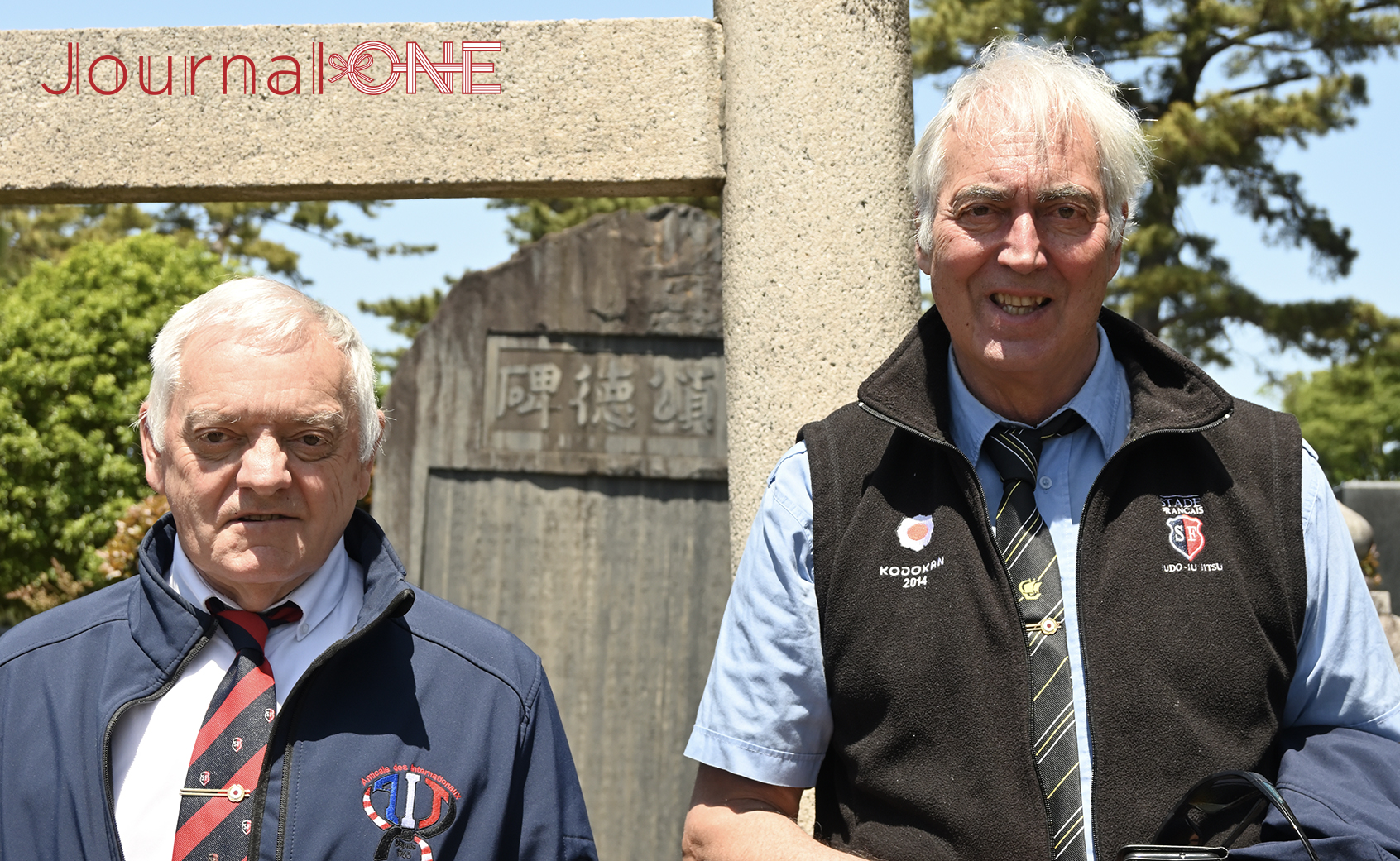 To begin with, the highest dan in Kodokan Judo is 10-dan (jyu-dan). There are only 15 Judoka who have ever been awarded 10-dan! One of them, Abe 10-dan, was a Judoka who was sent by Kodokan to visit France and other European countries shortly after the end of World War II, and made great contributions to the development of international Judo today.
In fact, the French interpreter for the day was Ms. Hiroko Tanaka, the daughter of Abe 10-dan, and I was surprised to learn that Judo has connected Japan and France in this way!
"My father invited many Judoka from France to Japan to stay at our house. My family and I took care of them and showed them around Japan in place of my father, who was away at work, and we became friends. We still have a relationship with them, and they are staying with us and participating in the graveside service this time as well. But, as expected, they were tired of going to Nikko and coming back in two days. The thing I liked the most was the public bath in the neighborhood, which my father also liked to go to, and I go there every day." She told us that she has inherited the bond of Judo between Japan and France that her father, Abe 10-dan, who passed away last year, had fostered.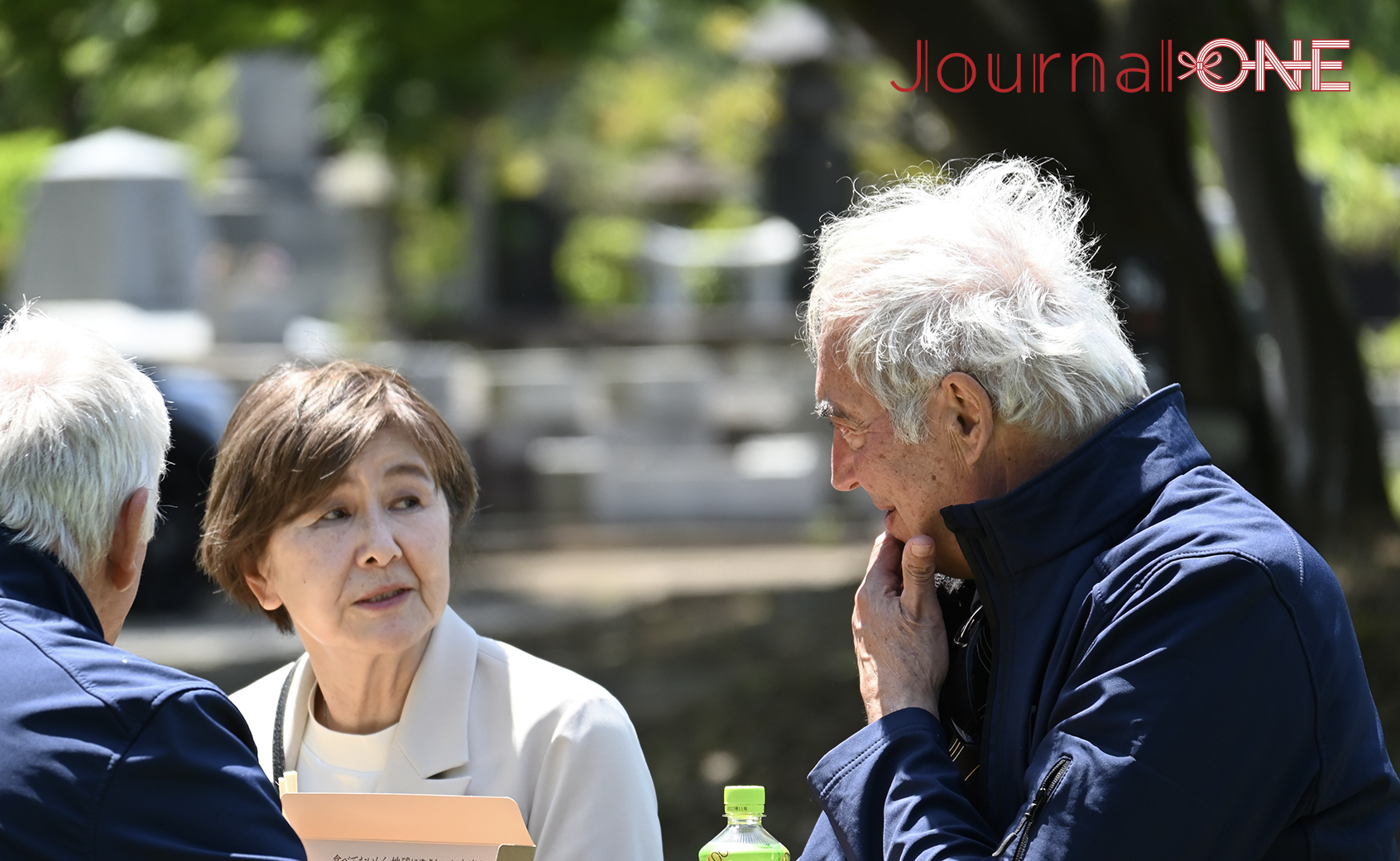 Kano Shihan's graveside service was attended by leading Judoka, including president Uemura. Seeing everyone's beautiful smiles, I am sure that Kano Shihan is also looking at his students with a beautiful smile, who are correctly spreading and promoting Judo all around the world and correctly passing on Judo to future generations.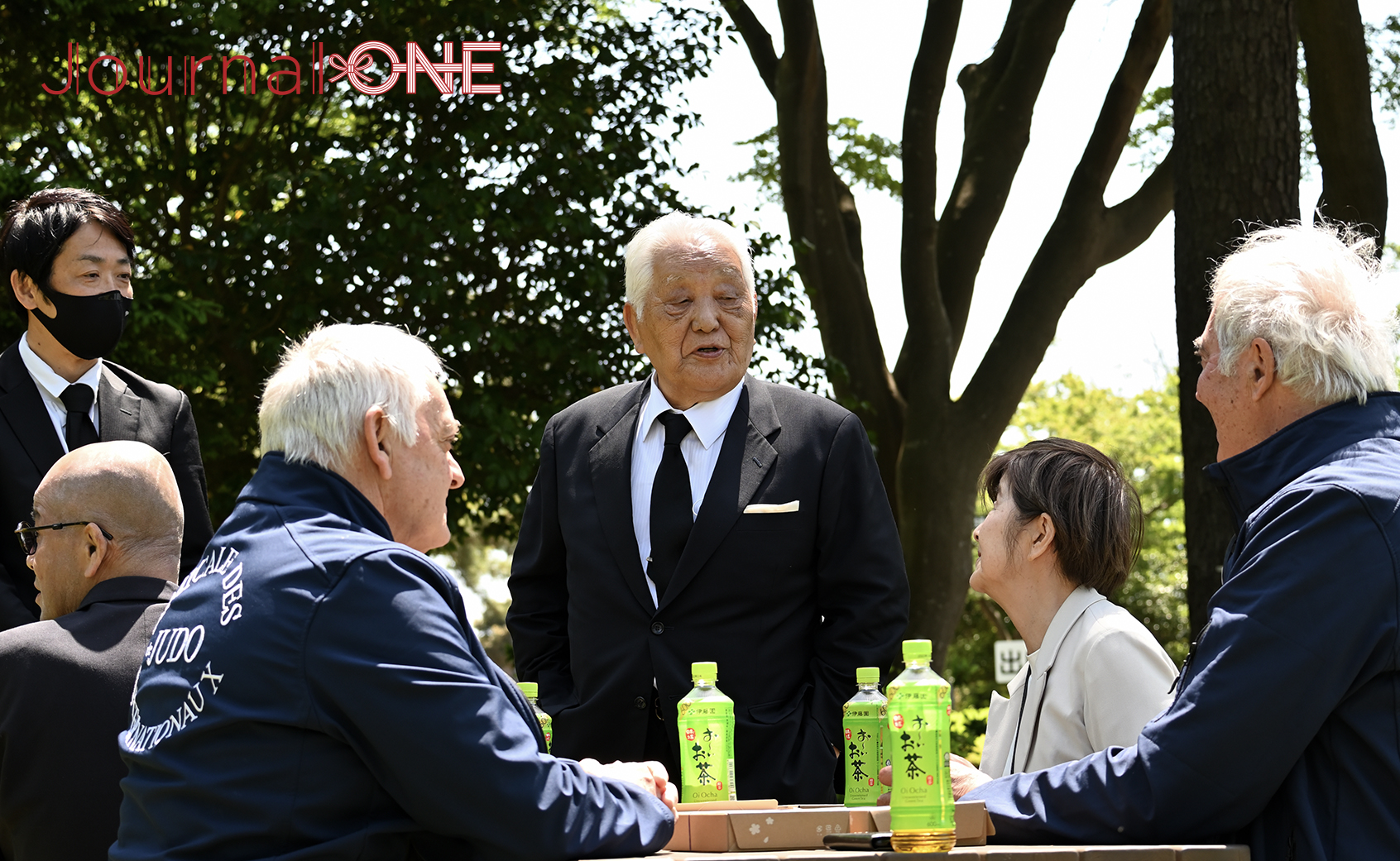 Journal-ONE, with the cooperation of Kodokan, will introduce the fascination of Judo, which is loved around the world, in a series of articles leading up to the upcoming 2024 Paris Olympic and Paralympic Games.